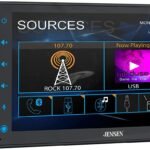 A lot of people enjoy the aesthetics and comfort of having a Double Din Car Stereo in their vehicles. Pumping out their favorite tunes as they drive. Being able to purchase a device that not only acts as a car stereo but doubles as a backup camera. A GPS navigation tool and lots more is very necessary and this is where the Jensen CAR68 Car Stereo comes in.
This device is one compact technology that comes with a lot of functions that the user would find extremely useful.
About Product
The Jensen CAR68 Double Din Car Stereo has a dimension of 14 x 11 x10 inches and weighs 4.04 pounds. It comes with Bluetooth Wireless Technology that allows you easily pair your devices with others that have Bluetooth functions. Moreover, With this, you can receive phone calls hands free.
The Jensen CAR68 comes has a 6.8 Inch LED/LCD touch screen that is highly sensitive and responsive to touch and affords you the ease of operating and streaming your favorite contents with just the touch of a finger. It comes with a backup camera that acts as a surveillance device for when you drive.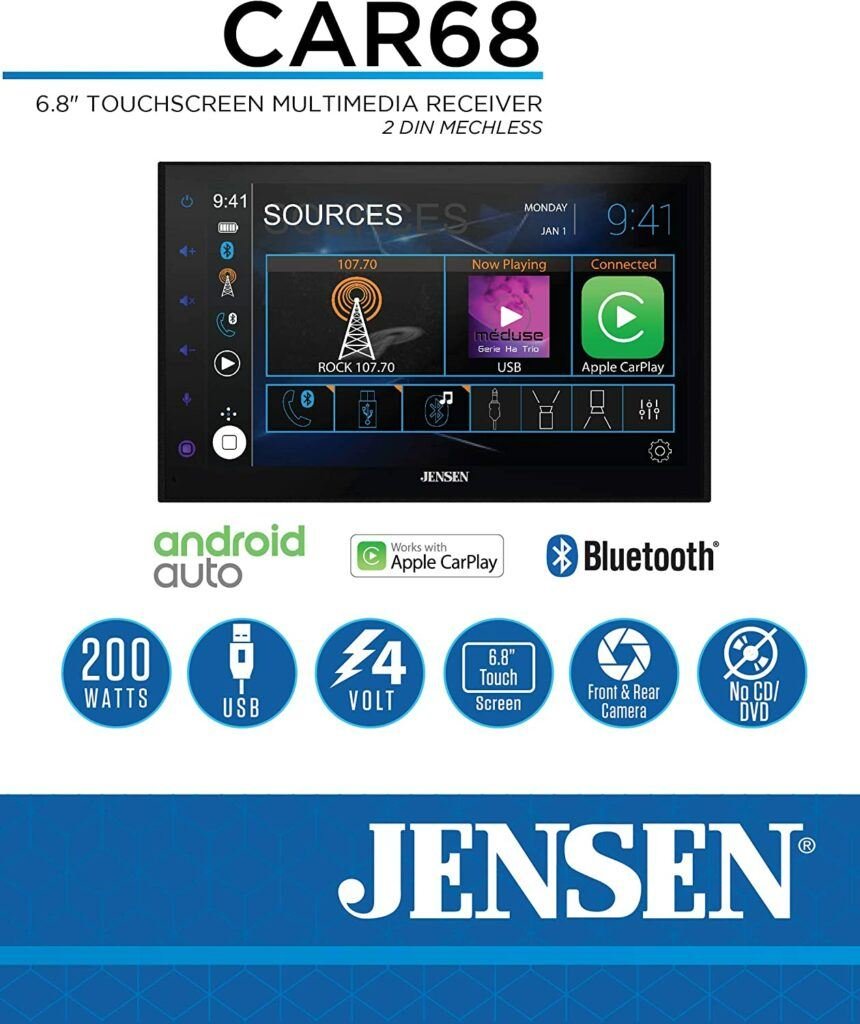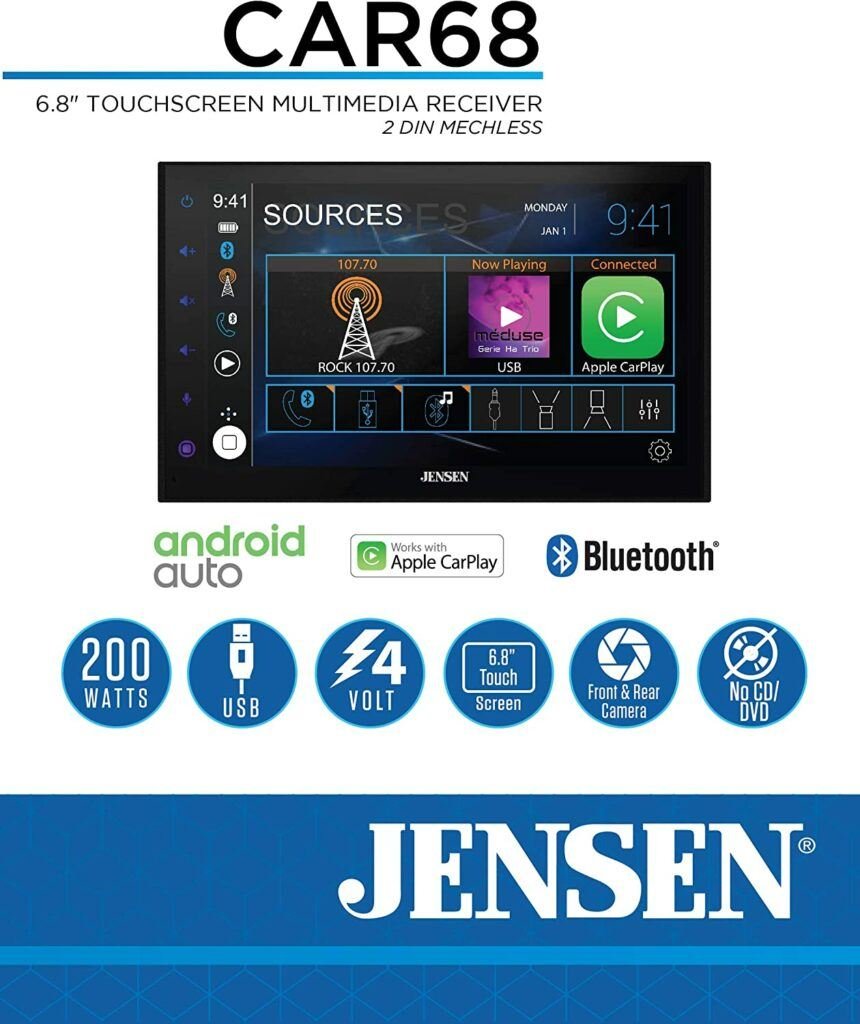 This device is also equipped with Apple CarPlay and Android Auto system that helps you discover and navigate unknown routes and locations, displaying maps and traffic information and estimated time of arrival on your 6.8 Inch LCD Touch screen, using either your SIRI or Google assistant to stream music, receive text messages, make calls and act as a personal navigation system.
You also get to stream music from your favorite apps like Spotify, iHeartRadio, Pandora as well as listening to them from your smartphones. The video output of the Jensen CAR68 6.8 Inch Double Din Car Stereo is supported by MP4 and Xvid.
The device also comes with a built-in Steering Wheel control that allows you perform some functions without necessarily touching the device as you can control it through your steering wheels.
Finally, you get a year warranty that ensures that you get your money's worth coupled with excellent service from the product's support team.
What is Product For
This product is design to offer audio quality service to drivers as they commute daily. It also acts as a navigator and with its backup camera addition. Moreover, the Jensen CAR68 6.8 Inch Double Din Car Stereo is use to ensure that the driver experiences comfort and ease while on transit.
Who is it for and how helpful can it be
Moreover, The Jensen CAR68 6.8 Inch Double Din Car Stereo is designed for use by drivers of various levels.
Determining how helpful this product can be is actually based on individual experience, but this device is beneficial to drivers as it guides you as you drive.
Eliminating the fear of receiving calls as you drive as it comes with a Bluetooth Wireless Technology that allows you to operate your smartphone hands free.
Finally, its built-in backup camera acts as a security tool, giving you information of all that goes on as you drive.
FAQs On the Jensen CAR68 Double Din Car Stereo
● Does the backup camera of this device work perfectly?
Yes, the backup camera that comes with this device is also a Jensen camera product and it works perfectly well for safely backing up and parking your vehicle.
● Does this device come with a USB port?
This product comes with a USB port that is useful for audio playback as well as helping you charge your phone's battery.
● Is it possible to use my Siri or Android assistant with this device?
Sure. The Jensen CAR68 6.8 supports both Android Auto™ and Apple Carplay™, allowing you to use your personal assistant like Siri or even Google assistant to operate the device with convenience.
How to install it in a car
To install the device, you'd have to download the instruction manual online. However, here is a quick summary of how to install the device on your vehicle, although it is recommend that you allow a professional technician to do this for you.
1. Disconnect negative battery terminal.
2. Connect vehicle harness and antenna to your unit's harness.
3. Reconnect negative battery terminals.
4. Test to see that product works perfectly.
5. Secure to your dashboard and snap trim ring in place.
Pros
● Boots fast
● User interface is intuitive.
● Highly responsive touch screen.
● Screen is well lit.
● Moreover, Highly functional rear camera.
● Comes with an external echo canceling microphone.
● Has 200 Watts max power.
● Supports Android Auto™ and Apple Carplay™.
● USB interface.
● Radio works perfectly.
● Bluetooth works great.
Cons
● Play cable is short.
● Sound quality is just slightly above average.
● Screen is too reflective.
● Muted sound when reversing.
● Needs to be updated to turn it on.
● Sounds get distorted when raised to the highest volume.
● Control buttons are too small.
● USB doesn't charge your smartphone
● Touch screen goes blank sometimes
Conclusion
Persuading you to get this device would appear a bit too desperate but with your new-found knowledge of all that the Jensen CAR68 6.8 Inch Double Din Car Stereo is capable of, I'm sure you should already be finding reasons why you should purchase this device.
Compared with other similar devices that go for much higher prices, the Jensen CAR68 at a price of $195.48 offers some top-notch functions that makes it a product of great value.
Although there are few issues with the product. Moreover, its performance is solely dependent on how the experience the user has with the product.
However, it's safe to say that the Jensen CAR68 6.8 Inch Double Din Car Stereo is a good option when you're considering getting a multi functional double din car stereo for your vehicle.
Furthermore, We hope you found our Jensen CAR68 Car Stereo review interestingly helpful. If you have a comment or question, leave it in the box below. We will be glad to hear from you.