Now and then, vehicles are needed to embark on road trips. It might be a family vacation or a personal day off on the road. If it's not a road trip, it's a lovely evening cruise around the neighborhood. Either that or the need to just sit back and relax in the car.The Hikity Single Din Car Stereo comes with a handful of the perfect functions and sleek appearance.
If you have decided to up your car's stereo, then this is the stereo for you. It comes with all these benefits and more.
What better way to accomplish the perfect drive or little moments of relaxation in the car without some soothing country music or jazz songs from the car speakers?
Car stereos have been recognize as a distinct and rather important part of a vehicle. It could be to listen to the radio, for ease of calls when using the hands free option, to soothe the ears with beautifully filtered songs, or for the comfort of a perfect and complete dashboard.
About Product
Coming with a 7-inch HD digital TFT LCD folding touch screen with 800 × 480 resolution is the Hikity Single Car Din Stereo. This offers you a clear view of all images and video clips displayed on your screen.
Along with the multiple functions of the uniquely built stereo, it also comes with a built-in free offline map of North America. This allows you to easily navigate your way through town.
The pre-downloaded map has real people voice navigation, built-in voice informer. Which informs you about incoming sharp curves, speed changes, red lights, and school zones.
This digital touch screen device also comes with a dynamic and intuitive menu interface which serves as the command function to access the functions of the device which very distinctly includes the Bluetooth music player; a high-quality digital stereo FM radio, which can search channels in full-automatic ways with about 18 present Station and so much more
You can also operate your stereo and still receive calls as the Hikity single din car stereo comes with a built-in stable microphone to receive and make phone calls. Moreover, the device also has USB connection technology which allows you to connect your cable to the USB port.
Hikity Single Din Car Stereo
The multi-format audio and video recording support 1080P full format, brightness adjustment. Moreover, Its subwoofer audio output allows you to have easier access to high fidelity audio which is the main function of this $113.99 high-quality stereo.
The device also comes with a rearview camera that is activated when the car is in reverse mode; ensuring that you see all that happens behind you and allow you back up safely.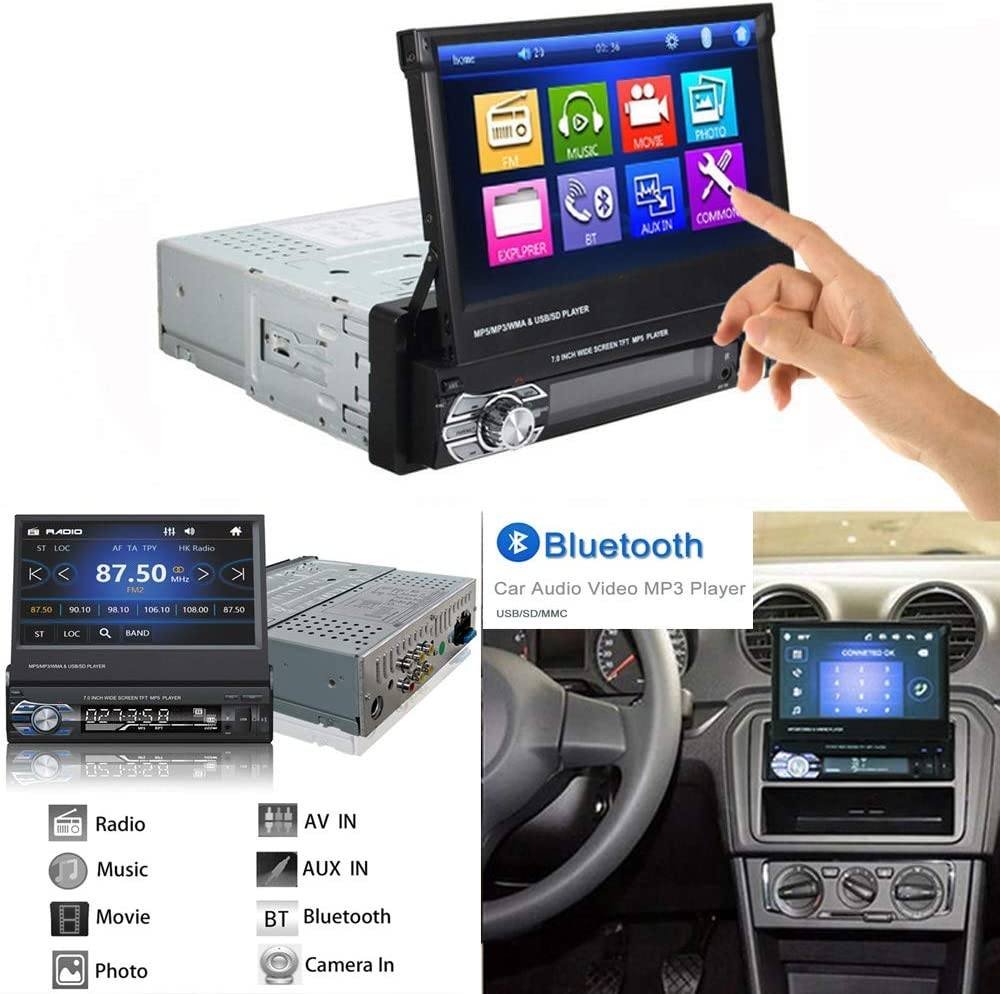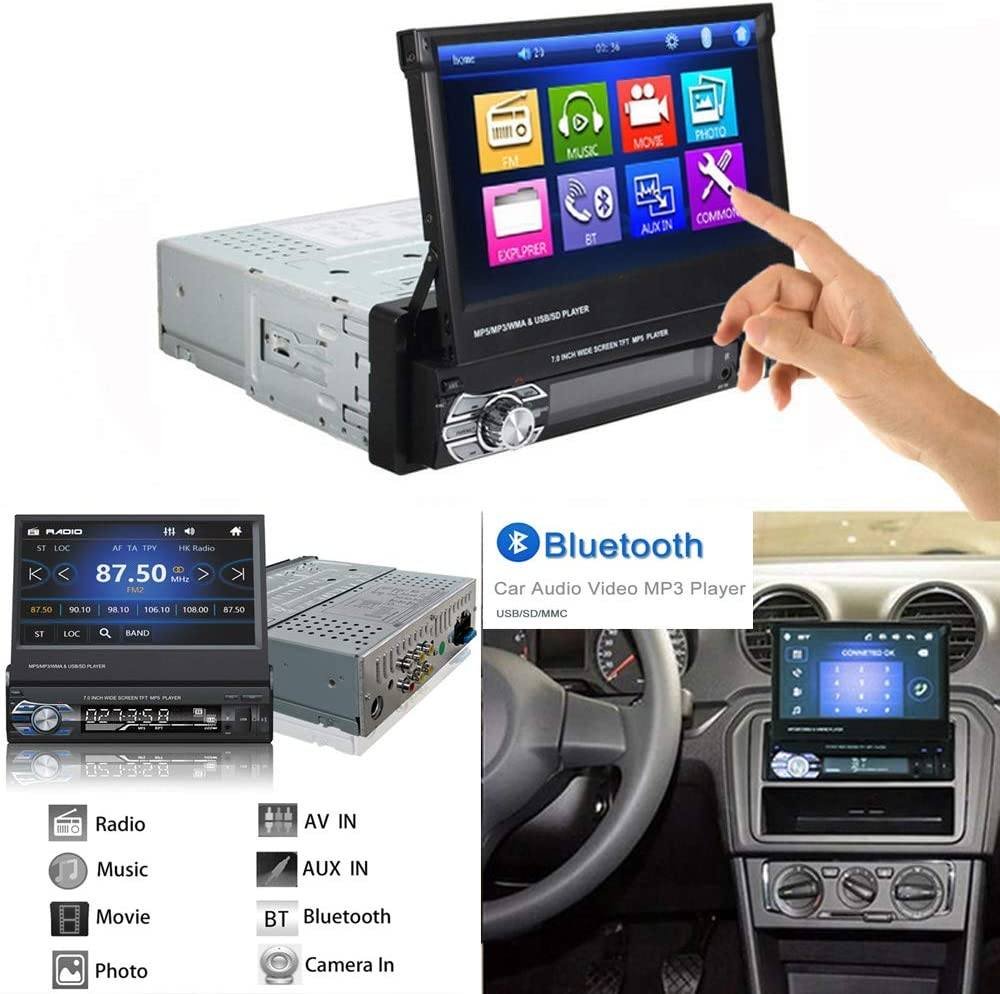 Hikity Single Din Car Stereo also has a mirroring function which makes it possible for you to watch videos on the stereo after connection, and amazingly, this function is compatible with Android 5.1 and IOS (iPhone 7 and below) mirror link.
For lovers of black, the Hikity Car Din Single Stereo comes in color black and supports MP3/WMA/WAV/APE/FLAC sound format and RM/RMVB/AVI/MP4/MKV/3GP video format. For pictures, this device supports the JPEG picture format.
It also has a power output of about 60W and an optimum working temperature of about -10°C to 60°C which requires roughly about DC12V as standard working voltage to function properly
The product is user-friendly as it also supports about 13 languages including English, Chinese, Spanish, Portuguese, etc
All mentioned languages are available for selection. Therefore, it's easy for you to use the product as it is suited to specific languages for all types of users.
What is the Product for
The product has a wide range of functions but is primarily installed in a car for music play options and hands-free calls.
Who Is It For And How Helpful Can It Be?
Car audio technology has taken amazing strides, and the best stereo systems make listening to music a joy.
This product is designed for all types of drivers and is readily available for entertainment and up-to-date news effect of the radio function. The rearview camera also allows for a wide view range of all that happens behind your vehicle without much stress.
FAQ's Related too Hikity Single Din Car Stereo
● Can I receive calls with this device?
Yes. You can receive calls using this device. It comes with a microphone that allows you to make and receive calls hands free
● Does the Hikity Single Din Car Stereo come with an external microphone?
No. The Hikity Single Din Car Stereo device doesn't come with an external microphone. However, it comes with an inbuilt microphone that provides you with fantastic audio quality.
How to Install it in a Car
Moreover, While the details of car stereo installation may vary from vehicle to vehicle and among different receiver models, the basics are typically the same but should be done under close supervision as you'll need to join bare wires.
Pros
● Built-in free offline map.
● 7″ touch screen.
● Bluetooth and FM radio.
● Mirroring function.
● Rearview camera.
● User friendly.
Cons
● GPS navigation does not support online maps.
● The wireless connection does not include WiFi.
● The mirror function is limited to specific phone versions.
Conclusion
The Hikity Single Din Car Stereo surpasses the primary function of serving as a music play device. And its accompanying functions cannot be overemphasized.
Although it would seem like the 12-month warranty period is a rather short time for users to enjoy the benefits of full product check by the company with subsequent malfunctions or complaints.
Notwithstanding, the product is rather outstanding in its class of specifications. It's worth the purchase.
We hope you found our Hikity Single Din Car Stereo review interestingly helpful. If you have a comment or question, leave it in the box below. We will be glad to hear from you.