Instead of calling to ask for directions, or occasionally stopping to ask if you are going the right way, why not pay for a permanent driving companion that will constantly inform you of what directions to take and what routes to follow without asking anyone? The Navruf GPS Navigation device can do all that and more for you. It goes for $65 on Amazon and it offers real-time map updates with voice direction that serves as the perfect driving companion.
About Product
The Navruf GPS Navigation device is a professional GPS device that functions with all vehicle types: RVs, cars, trucks and it provides easy access to the routes to follow from one destination to another. Whether on vacation trips or simple rides with family and friends.
This product from Navruf has a 7 inches LCD touchscreen with a high-quality resolution that functions as the command receiver. With this product, you don't need to worry about pushing buttons to input commands, all you have to do is swipe and tap your finger on the screen.
Navruf GPS Navigation
The Navruf GPS Navigation has an active voice direction feature that coordinates your movements. You do not only get to keep your hands on the wheel, you also get to maintain your eyes on the road, as this feature will tell you when to take the next turn.
This product is multifunctional and uniquely designed with a sophisticated physical appearance to be just the right unit for any vehicle. Furthermore, it supports the latest maps with complete updates and locates destinations via postal codes, addresses, and any other search related to points of interest.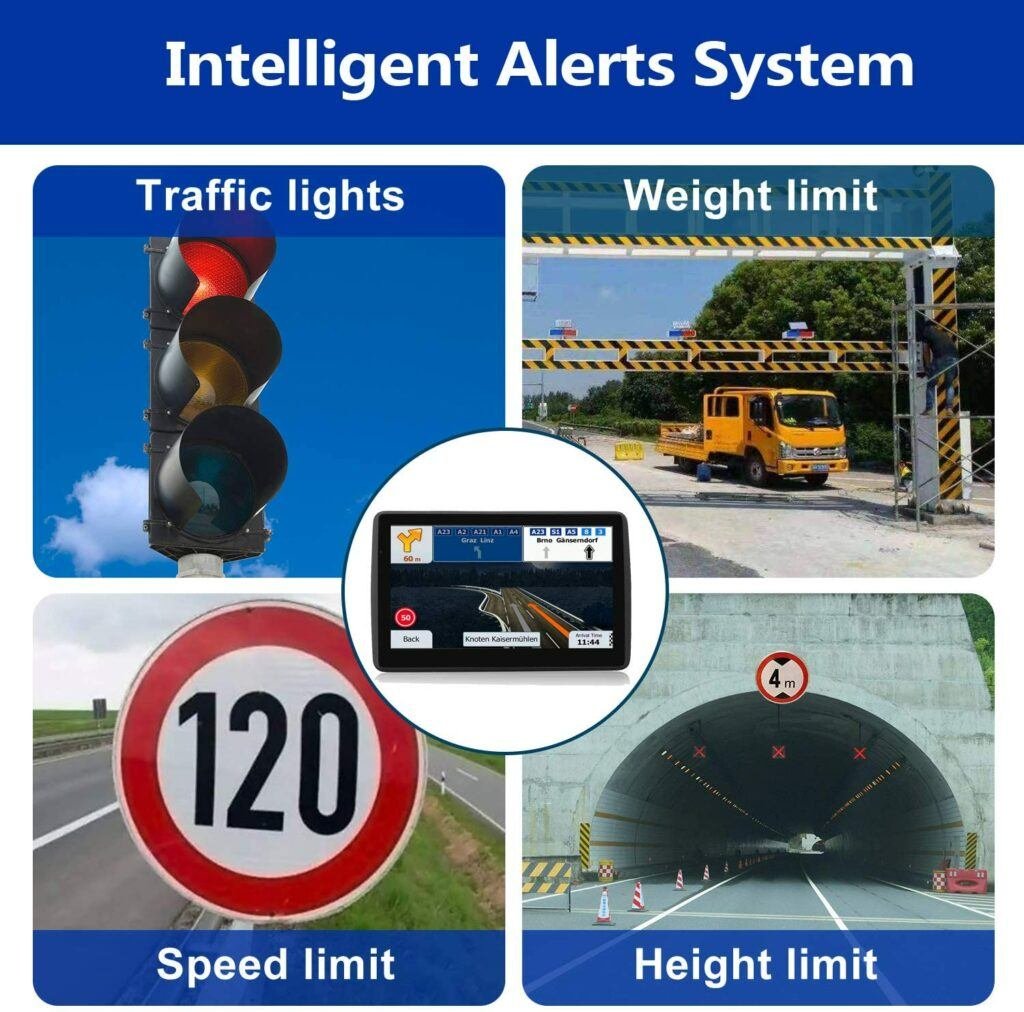 Interestingly, the Navruf GPS Navigation device is not just interested in guiding you to your destination, but has concerns for your safety as well. This device has been well wired to give warning alerts for dangerous turns, safety cameras for acceleration and speed limits, school zones, and traffic lights.
Plus, it isn't restricted to the conventional routes that would take you to your required destination, as it can also develop a different route plan just for you.
It is noteworthy to appreciate the developers of this device for letting users in on about 7 different modes of operations present in this device. This means that the device can function not only while driving a car but also for pedestrians, bicycles, buses, taxis, trucks, and emergency sessions.
What Is Product For?
The Navruf GPS Navigation device comes in handy when unprecedent comfort is require while driving, serving as a GPS navigator and guide for locations with active real voice direction.
Who Is It For And How Helpful Can It Be?
This product will fit perfectly for any car owner whose desire is to find the safest possible routes through places either urgently or for leisure/vacation road trips with family or friends, with real voice prompts serving as a guide without having to look at the screen, and maintaining eyes on the road and hands on the wheel.
FAQ's Relate to Navruf GPS Navigation
Where do I get a manual for this product?
The Navruf GPS Navigation device comes with its user guide in the delivered package.
Please, contact the customer support service for a step-by-step procedure and a link for map updates.
Is it possible to load overlay maps?
Yes, it is very possible. The device is compatible with reading SD cards for the installation of the required map(s).
How To Install It In a Car
Take the device out of the original box and locate the instruction booklet. It is always important to follow any specific guidelines that are give in the manufacturer's instructions.
Firstly, place the GPS device into the holder. Next, mount the device inside your vehicle. It is highly ill-advise to mount the device on a portion of your windshield where it will distract or block your view of the road.
Secondly, the safest place to mount your GPS device is on your dashboard. Either, in the center or to the far left of the driver's seat. You may have to moisten the suction cup to successfully affix it to either surface.
Plugin the appropriate end of the power cord into the GPS. If your vehicle has a cigarette lighter, remove it before plugging the other end into the twelve-volt power outlet. Situate the extra length of the power cord so that it will not become a distraction while driving.
Pros
User friendly.
Real voice direction.
Real-life accurate location even when offline.
Sun visor to protect the device's screen.
7″ Widescreen
Easy to read and smooth interface.
Sold at a decent price.
Not bulky. Just sturdy and thin.
Cons
The base attachment might be a bit wobbly and weak.
Conclusion
With guaranteed unprecedented comfort while driving the sleek Navruf GPS Navigation device with a sophisticated design would be the perfect fit for any car's interior.
For $65, you can have the best easy-to-use GPS device with accurate directions even when offline. And it is an outstandingly good buy. At last, we hope you find our Navruf GPS Navigation review interestingly helpful. If you have a comment or question leave it in the box below we will be glad to hear from you.