Searching for the perfect device that offers the function of monitoring your driving activities and ensuring that you and your vehicle is protected from hit-and-run drivers?  What you need is a dash camera that also doubles as a backup camera and not just any camera, you need the Wolfbox Mirror DashCam with Backup camera for your vehicle.
About Product
The Wolfbox Mirror Dashcam comes with a 1296P Mirror Dash Cam and a backup camera with 1080P camera quality. It also comes with an external GPS antenna, rubber straps, a 11ft car charger, a 20ft cable for the rear camera, a 32G TF card, screws, a 3M tape as well as a user manual.
Its LCD display screen is 11.66″ with a total dimension of 13.4 x 3.9 x 0.4 inches. Wolfbox lane Departure Warning System (LDWS) helps in securing your vehicle by alerting you when your vehicle is already going off track and into another lane which is superb for drivers who are just starting out or those who travel for a long period.
Also, offers a visual angle of 140° 1080P camera quality that allows you to get a clear picture of what's behind you as you drive, and also serve to assist you when you're trying to park or reverse.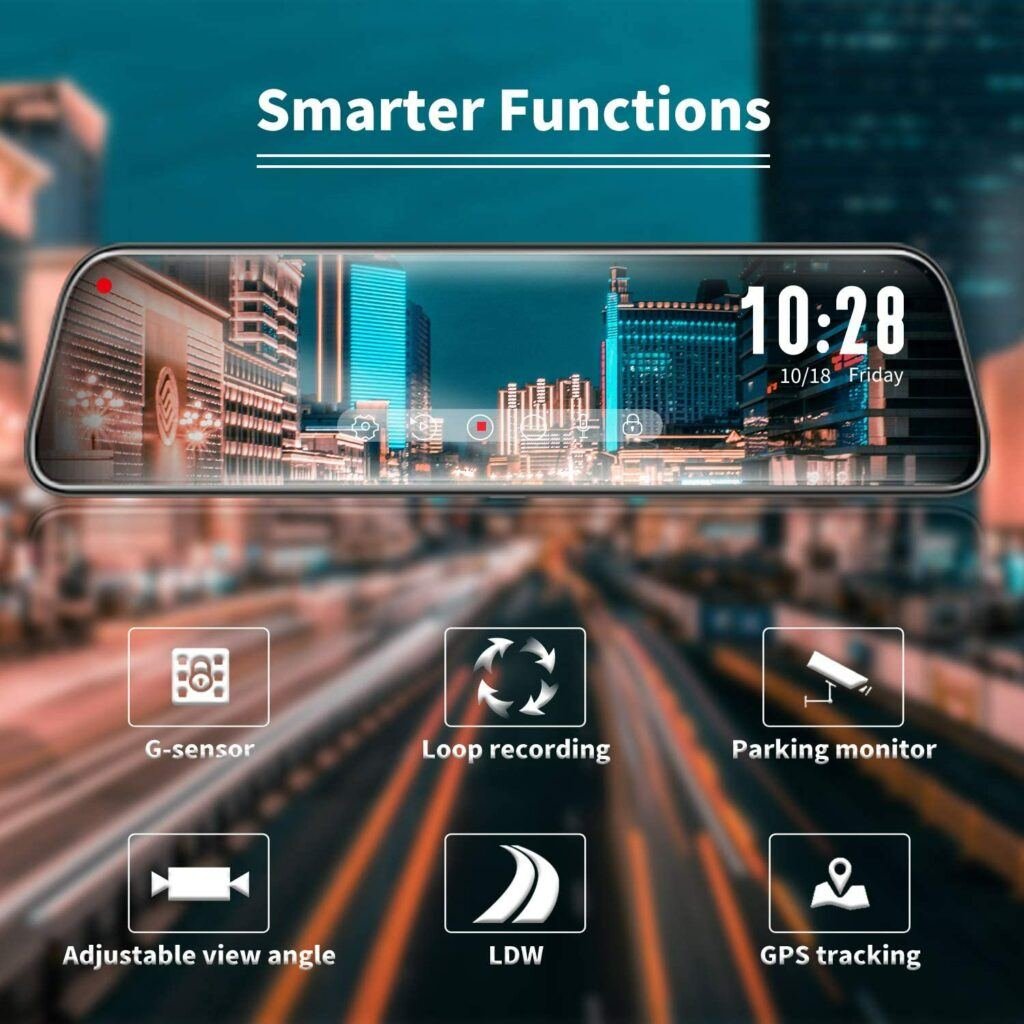 Wolfbox Mirror Dash Cam is also suitable for any climate condition as it can operate under a temperature of between -4°F to 167°F. Furthermore, it is equipped with a 6-layer glass lens that allows your camera record clear pictures and videos irrespective of what the weather is like.
This Mirror Dash Cam G-sensor technology allows your camera to automatically record whenever there is an impact on your car and these video files are immediately locked and stored, ensuring that no important evidence is lost.
Equipped with a GPS module that records the precise speed, direction, altitude, route, longitude, location and latitude data of your vehicle while driving.
You can access real-time information on all that you do with your vehicle and the external GPS logger also helps to retrieve all these important information while you replay the recorded videos on your computer.
What is Product for
This product is an upgraded and highly functional device that is designed to protect driver and vehicle from accidents, record driving speed, and also save other important information about that might be useful.
Who is it For and How Helpful can it Be
Whether you're a private or commercial driver, this device is one that you should own for the safety of your vehicle.
The Wolfbox 12 inch Mirror Dash Cam is helpful to you as a driver because it provides security and safety for you and your vehicle, keeping you abreast of all that is happening behind your vehicle while you drive.
As long as it concerns the safety of your car, the Wolfbox Mirror Dash Cam is a useful product that will be of great benefit to whoever purchases it.
FAQs on Wolfbox 12″ Mirror Dash Cam
What is the length of the original rear camera cable?
The length of original cable for the rear camera of the Wolfbox Dash Cam is 20 feet, which is basically suitable for most car models.
However, if your vehicle is probably more than 18ft, there are 33 feet rear camera extension cables that are sold separately. You could purchase that.
 Can my mirror dash cam also function as a normal rear view mirror?
Yes, you can choose to make your mirror dash cam function as a normal rear view mirror. All you have to do is to turn off the screen display. Once this is done, you can then use it as a normal rearview mirror, although the dash cam will keep recording.
Is it okay to use other accessories apart from the ones that came with the box?
It is advisable that you use original accessories provided in the package, because they're more compatible with the device. If you use other accessories, especially a 2 or 3 in 1 cigar socket, this may lead to some inconsistencies in the device's performance.
 Noticed my car battery drains faster whenever I use the parking monitoring function? What can I do to stop this?
The parking monitoring function takes a lot of power when working. Therefore, you have to select the time-lapse recording mode when driving. If you don't, your car battery will quickly drain.
How to install it in a car
Installing the Wolfbox 12 inch Dash Cam is simple as it also comes with a 12v power supply.
To install the front camera, use the rubber straps that come with the package and hook it to your car's rear view mirror.
Plug in the dash cam to the power supply and watch your camera come on.
To install the rear view camera, find a suitable mounting spot, preferably close to your license plate. Run the rear cable from the rear to the front unit of your car.
Pros
 Suitable for all weather conditions.
 Easy to install.
 Excellent packaging.
 Lane departure warning function.
 Great nice screen saver mode.
 Functional GPS.
 Large 12″ inch display screen
 Dual function.
Cons
 No wireless file transfer function.
 Device is not glare-resistant.
The Lane Departure Warning System doesn't work consistently.
Doesn't automatically adjust brightness.
 Can't change the speed limit.
Conclusion
The Wolfbox 12 inch Mirror Dash Cam is a great device that comes well packaged which to most people is an indication of a quality product.
Sold at an affordable price of $139.99, the product functions as both a mirror dash cam and a backup camera that is effective for monitoring all that happens close to your vehicle and still serve as a parking assistant for when you're backing up or trying to park.
This device functions excellently and it is a top choice among drivers who have used the product. Although there are certain factors that need to be looked into and upgraded, there is no denying the fact that the Wolfbox Mirror Dash Cam is one of the best deals for drivers who are searching for a product that offers optimal support and protection from accidents.
Another reason why the Wolfbox Mirror Dash Cam is an excellent choice is the fact that they have awesome customer service that respond to any inquiries you might have and all is usually within 24 hours. So if you want to get a dash cam that is worth the money spent, you should opt for the Wolfbox 12″ Mirror Dash Cam with Backup camera.