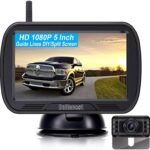 Having backup cameras became mandatory in 2018 as the safety of driver and vehicle became ultimate priority. These backup cameras come attached to the rear of your vehicle from whence it sends footage to the monitor attached to your windshield, normal rear view mirror stand or dashboard. The DoHonest Digital wireless Camera is enabled with a two-way DVR video input which allows you to add up to 2 cameras.
Some of these backup cameras have sensors that beep when you get too close to another object, some others too have grid lines which usually appear on the screen to show you how close you are to objects in view.
The DoHonest brand of wireless backup camera comes in different varieties and is made to deliver unique experiences when it comes to your safety as you travel. This is more possible because it has a super long digital wireless transmission of 1500ft and a built in wireless digital transmitter that enables point-to-point transmission.
DoHonest backup camera also comes with an enhanced multiple methods to mount the monitor, giving you the option to either mount it on the fan-shaped bracket or the windshield. Its upgraded IR Night vision makes for an even clearer picture quality at night.
What's more is that this device has adjustable Guide Lines that can be adjusted to match the vehicle's width. Its camera supports normal or mirror image. The camera is also a waterproof standard camera of IP69 that ensures it withstands temperatures between 4oF ~ 149oF.
The varieties of the DoHonest brands afford you the opportunity to pick a suitable device within your budget range that will give you unique security and protection you need whilst traveling; one of such is the DoHonest Digital Wireless BackUp Camera system.
About the Product
The DoHonest Wireless Digital Backup Camera is enabled with a two-way DVR video input which allows you to add up to 2 cameras. It offers a FHD 1080P image with 15 infrared light and a Sony CCD sensor that displays images at  a high definition.
In addition, its advanced technology generates HD color Night images ensuring more excellent visuals even if the environment is really dark.
The waterproof camera is fog resistant and can be installed anywhere near the reversing light. It is also very easy to hook up and is highly efficient in defying bad weather, with an amazing 150 degree viewing angle that allows for an even wider view.
Price range for this device
The DoHonest unique device has prices that range from $100 to $390.
Who is the device for and how is it beneficial
The DoHonest Digital Wireless BackUp Camera system is specially built for trucks, Trailers, 5th wheels, Campers and owners of small compact vehicles.
Its upgraded IR night vision ensures a clearer picture quality even when you drive at night, and there's usually no worries and need to panic while you reverse your car because the camera is built to transmit signals from a wide range of 150 degree view, hence it can cover large distances to make reversing easier.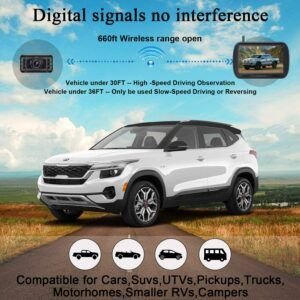 This backup camera supports a long distance transmission up to 1500ft for effective transmission. Moreover, its fog resistant waterproof camera ensures seamless transmission even when the weather is foggy.
Moreover, since the monitor can support 2 cameras, it makes it possible to cover even more width with an option to either single view or dual view clips while you're driving. The days of neck straining to check your rear view mirror as you drive or reverse is gone for good.
How it can be installed
1. Attach the camera to the rear of the vehicle
2. Set up the monitor on your dashboard or on your windshield
3. Connect them to a power source which is usually your cigarette box power box in your car
check here for more backup camera review
PROS
● Superb image quality
● Excellent in combating weather condition.
● Excellent recording even in fog
● Super stable signal even on high speed
● Durable cameras
CONS
● A bit difficult to set up.
● Limited functions
FAQs on DoHonest Digital Wireless Backup Camera
● What temperature limit can this device withstand?
The DoHonest Digital Wireless BackUp Camera can withstand temperature ranging from 4 degree F ~ 140 degree F
● Can I tilt the camera's antenna to the side?
This camera is detachable and thus, you can screw it on at the sideways angles if you so desire.
● What if I want to connect the monitor with a wired camera, is there any video input connector there?
Unfortunately, there's no video input connector for the device.
● What can I do when my video stops coming on? How can I get the cameras back on?
All you have to do is to simply restart the monitor.
● Can I purchase a replacement for just the camera?
It is absolutely possible to get a replacement for your DoHonest backup camera.
● I want to use one camera with two screens, will this work?
Sadly, the DoHonest backup camera isn't designed to work this way.
● Hey, what if I want a second camera?
You can simply request for it after you've received your camera system.
● Is it possible to add another kind of rear camera to this?
DoHonest Digital Wireless BackUp Camera doesn't support the addition of another kind of rear view camera.
Conclusion
The DoHonest Digital Wireless BackUp Camera is a trustworthy product as the company can in fact  send a full replacement system if you've got issues with your camera.
This Backup camera offers unique features for the price and I say it is one viable product to get for your vehicle.
Moreover, with this brand, there's no fretting when it comes to bad weather conditions. It will absolutely deliver clear picture images notwithstanding. The fact that it is also wireless saves you all the many connection troubles.
Overall, you can trust the varieties of this brand as they are worthy devices worth investing in. We hope you found our DoHonest Digital Wireless BackUp Camera review interestingly helpful. If you have a comment or question, leave it in the box below. We will be glad to hear from you.