Many vehicle owners enjoy the leisure of using a stereo in their cars or trucks as they commute. If you're one of them, then perhaps you are also considering getting a stereo for your vehicle (or replacing your stereo). If you are, a good option is the Eincar store Double Din 6.2 Car Stereo. Just in case you're asking why? It's because Eincar double din 6.2 isn't just any ordinary stereo.
It comes with a 6.2-inch touch screen, steering wheel control, Car radios, WiFi and USB input options, GPS navigation, Bluetooth, and a DVD player. Moreover,  Read on to learn more about this car stereo in this Eincar double din reviews.
About The Product
The Eincar Double Din Car Stereo is a 6.2-inch device with a touch screen, GPS navigation, DVD/ CD player, and Bluetooth. It comes with a video included multimedia system. The device has a product dimension of 10 x 10 x 10 inches and weighs about 6.6 pounds.
Its highly responsive touch screen comes with an 800 x 480 resolution and can respond to even the slightest movement of your hands over the screen.
With this gadget, you can listen to your favorite songs through your stereo and share files instantly via Bluetooth using your smartphone. Moreover, The DVD player supports a HD 1080P playback system allowing you to listen to music and watch HD movies. Secondly, The stereo comes with a free rear view camera and an equally free 8GB map card. These features ensure that you're getting value for your money.
The device allows you to enjoy the ease of playing music via an SD card or your mobile device. It also has both night vision and color view.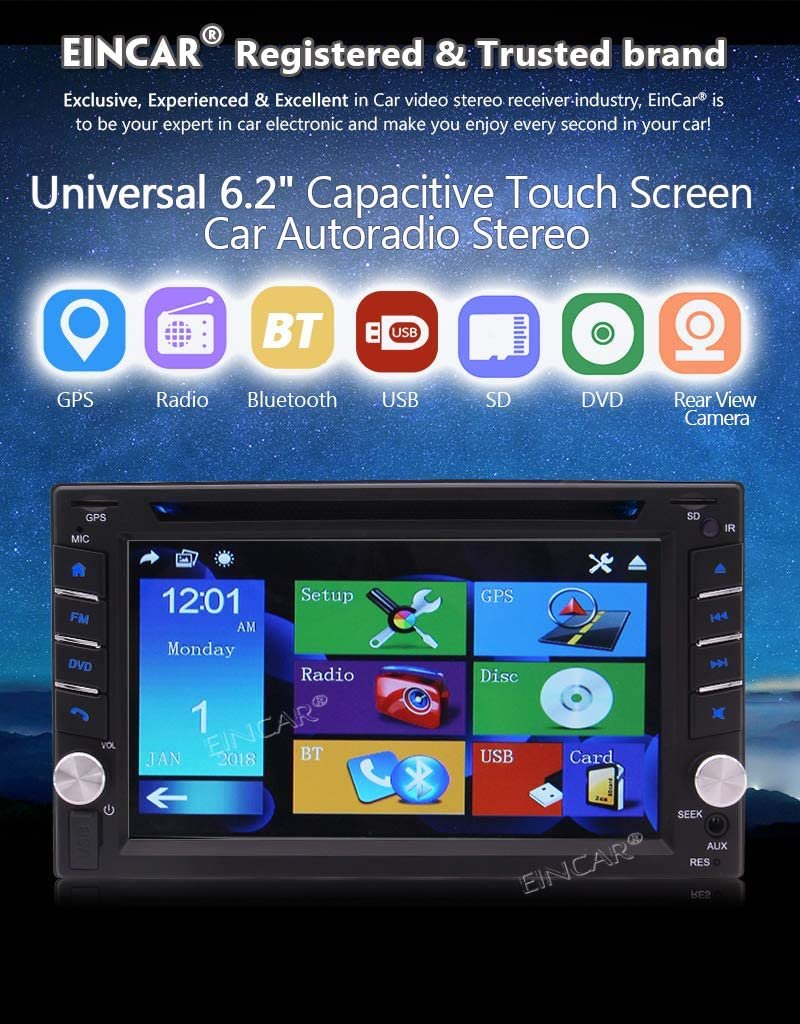 The GPS navigator also includes the option of voice guidance, so your eyes never have to leave the road. Apart from that, it also comes with steering wheel control.
The radio allows you to record your favorite radio station and listen to the radio even while in navigation. It does this with the help of the product's dual-zone.
The Eincar Double Din 6.2 Car Stereo comes with a wireless remote control that makes it easy for both front and back passengers to easily operate the device with ease.
What is the product for?
The Eincar double din 6.2 stereo is an android device that functions as a stereo and a GPS navigator. It also acts as a radio and DVD player while allowing its user to make hands-free calls.
Who is it for, and how helpful can it be?
The product is meant for car owners who enjoy listening to music or the radio as they drive. Moreover, It also functions as a GPS navigator, so it helps drivers who often find themselves in unfamiliar terrain. Furthermore, It can be beneficial as it performs multiple functions and possesses several features.
FAQ's related to Eincar 6.2 car stereo
● What map does the device use?
The device is supported by various maps such as iGO, SYGIC, PAPAGO, KUDOS, and NDRIVE. Moreover, its free 8GB SD card is already preinstalled with a map.
● Can I install apps on the stereo?
Yes, you can. The Eincar double din stereo runs on the latest Android 10.0 technology. This allows the device to be compatible with an extensive range of android apps. You can install any app of your choice from the google play store.
● Does the product come with map updates?
Yes, unlike several of its competitors, the Eincar stereo comes with continuous updates. You can always be sure of getting the latest maps available.
How To Install It In A Car
If you do not have prior knowledge of auto mechanics, it is much safer and less stressful to take your car to an auto technician to get your Eincar stereo installed.
Secondly, This ensures that the installation is done right and you do not risk harming your vehicle or your device.
Pros
● Free waterproof reverse camera and 8GB SD card.
● Reverse Camera for parking safety and night vision.
● Station Memory function allows you to keep a record of your favorite radio station.
● GPS navigation comes with voice guidance.
● Multi-language.
● Bluetooth technology for hands-free calling and music player.
● Awesome audio quality.
● Allows video in multimedia.
● Radio.
● Wireless Steering control.
● Dual-zone allows you to listen to music and enjoy navigation at the same time.
● Compatible with an extensive range of apps.
● Continuous map updates.
● 1-year warranty.
● Supports 3D maps to give you a dimensional view
Cons
● It doesn't come with batteries.
● Even though it supports an OBD scanner that allows you to monitor your car engine, the device doesn't come with an OBD scanner.
● No gesture control
Conclusion
Running on the latest Android 10.0 technology and built with several features, it's not hard to see why the Eincar double din car stereo is such a great device. Moreover, Its features are updated and performs efficiently.
This product is sold for $215 on Amazon, and you might be a bit skeptical about getting it because it appears pricey, but when you compare its features to its competitors, it's a little difficult not to choose the Eincar.
Though the device also comes with its cons, nevertheless when compared with its list of pros. Furthermore, the Eincar Double Din 6.2 Inch Car Stereo is a worthy choice that provides great value for money and comes highly recommended.
We hope you found our Eincar store double din 6.2 car stereo review interestingly helpful. If you have a comment or Question, Leave it in the box below, We will be glad to hear from you.