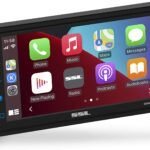 Good quality music or audio can improve your driving experience. If you are one of those dissatisfied with the stereos that come with your original equipment manufacturer (OEM), you might be considering an aftermarket system. Sound storm Laboratories Carplay is one of best  apple carplay
Even if you are seeking better audio quality, you might still consider this option. It becomes necessary to ensure that whichever stereo you choose to purchase has enough features and gives you value for money.
The sound storm laboratories Apple carplay multimedia player does just that with an added plus. Unlike its competitors, It's created with features uniquely meant for IOS devices.
About the product
The Sound storm laboratories apple Carplay player is a double din multimedia car player with a 6.75 inch LCD touch screen. The product possesses Bluetooth technology, a car radio (AM/FM), and input options such as USB and AUX.
One disadvantage of this device is that it doesn't come with a CD or DVD player, unlike most of its competitors however, if you are one of those who prefer digital music, that might not be a loss to you.
The sound storm laboratories Apple Carplay multimedia player has a screen that is sharp and provides you with quality images. It is equally very responsive and allows users to enjoy onscreen navigation and phone calls.
The device has the car play feature that is created uniquely for IOS devices. You have to connect your mobile device to your stereo using the carplay icon and, with the help of Siri's voice control, check messages, get directions and enjoy the music of your choice.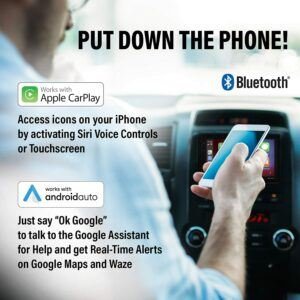 You can also use the device as a radio and listen to your favorite radio station as you commute. With the help of Bluetooth technology, the device also provides the user with hands-free calls and music streaming options.
The device supports steering wheel control, so you never have to take your eyes off the road. Using the device, you can also charge other USB-connected devices via the product's USB ports.
If you are an android user, the Sound storm laboratories Apple Carplay multimedia player also comes with Android auto and google assistant. The product comes with music controls and a preset-built EQ. It also includes several input options such as USB, Aux, Rear Camera, Steering Wheel Control, and USB Charging. For output options, it supports a front and rear cam and sub preamp.
The device comes with a one-year warranty and a three-year warranty if the purchase is made on Amazon. You never have to worry about repairs after purchase.
What is the product for?
The Sound storm laboratories Apple car play is a multimedia product made for car owners who seek better audio options.
It is a 6.75-inch touchscreen device with Bluetooth connectivity and compatibility with both android and IOS devices to give each user the best stereo experience.
Who is it for, and how helpful can it be?
The device is for car owners who seek a better aftermarket stereo. It is also created for drivers with IOS devices who enjoy using the car play option.
It provides the user with convenience as it supports hands-free calling, steering wheel controls, and compatibility with a wide range of devices.
FAQs on Sound Storm Laboratories Apple Carplay Android Auto Car Multimedia Player
 Can I access IOS apps with this device?
Yes, you can. One key advantage the Sound storm laboratories apple car play has over other aftermarket stereos is its compatibility with IOS devices. Using this product, you get access to several apple and third-party IOS apps.
 Does it have GPS Navigation?
Although the device is not built with a navigation feature, you can connect to Google maps using your mobile device and get real-time alerts from Google Maps.
How To Install It In A Car
Installing the stereo is relatively easy. First, carefully read and follow the instructions on the instruction manual.
You need to take out your old stereo from the dashboard and place it in your new device, then correctly wire it in place.
Pros
 Audio streaming
 IOS car play feature
Aux input
Steering wheel control
 Blue tooth technology
 Built-in preset EQ
 ID3 Tags
 Preamp outputs
 Radio
 Rear camera input
Touchscreen control
 USB Charging
 1-year warranty
 3-year warranty if purchased through Amazon
Cons
 It lacks a GPS feature
 It lacks a CD/ DVD player
 It lacks a gesture control feature
It lacks a brake control feature
 Not much in store for android user
Conclusion
Using the AppleCarplay feature, the Sound storm laboratory carplay accesses the icons on your iPhone through the touch screen or Siri's voice control.
It also provides hands-free calling and steering control. Despite not having a unique navigation feature, you can connect to maps using Siri or Google maps. However, for those who would like to have an offline map, this could be a reason to reconsider purchasing the device.
Regardless, the device comes with an outstanding one-year warranty and three-year warranty if the purchase is made on Amazon. If you have an IOS device and do not need an offline map or a CD / DVD player, this is absolutely the best stereo in the market for your vehicle.
At the price of $189.99 on Amazon, you have to admit that you are getting incredible value for money. On the other hand, if you are an android user, you might want to purchase a more android centric device to have a better user experience.