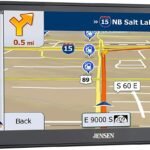 Having a double din car stereo does so much in adding aesthetics and increasing your comfort while driving. For some motorists, driving without music is definitely a no-no, and the need to get a device that can help you enjoy your trip while performing other functions can be quite difficult. There are a lot of double din stereos available for your vehicle but finding one that is of great value is importance.
One of such devices that most people don't know much about is the Jensen CMN86 6.8 Inch Multimedia Touch Screen Double Din Car Stereo.
About Product
The Jensen CMN86 Double Din Car Stereo costs $195.48 and has a dimension of 8.5 x 8.31 x 6.5 inches. It weighs up to 3.27 pounds. This device also has a 6.8 Inch LED Touch screen that comes in HD resolution which ensures you get the best viewing experience while you drive. Also, this device comes with a front and rear camera with RCA unit that supports Video and sound function.
Its iGO PRIMO Navigation also aids with automatic navigation while you drive and displays maps so that you have an idea of where you're going. It also comes with a voice assistant that gives directions whenever you drive.
Another amazing feature of the Jensen CMN86 Doubles Din Car Stereo is that it comes with a voice assist button for Google and SIRI assistant that enables you to communicate commands to the device without necessarily taking your hands off the steering wheel of your car.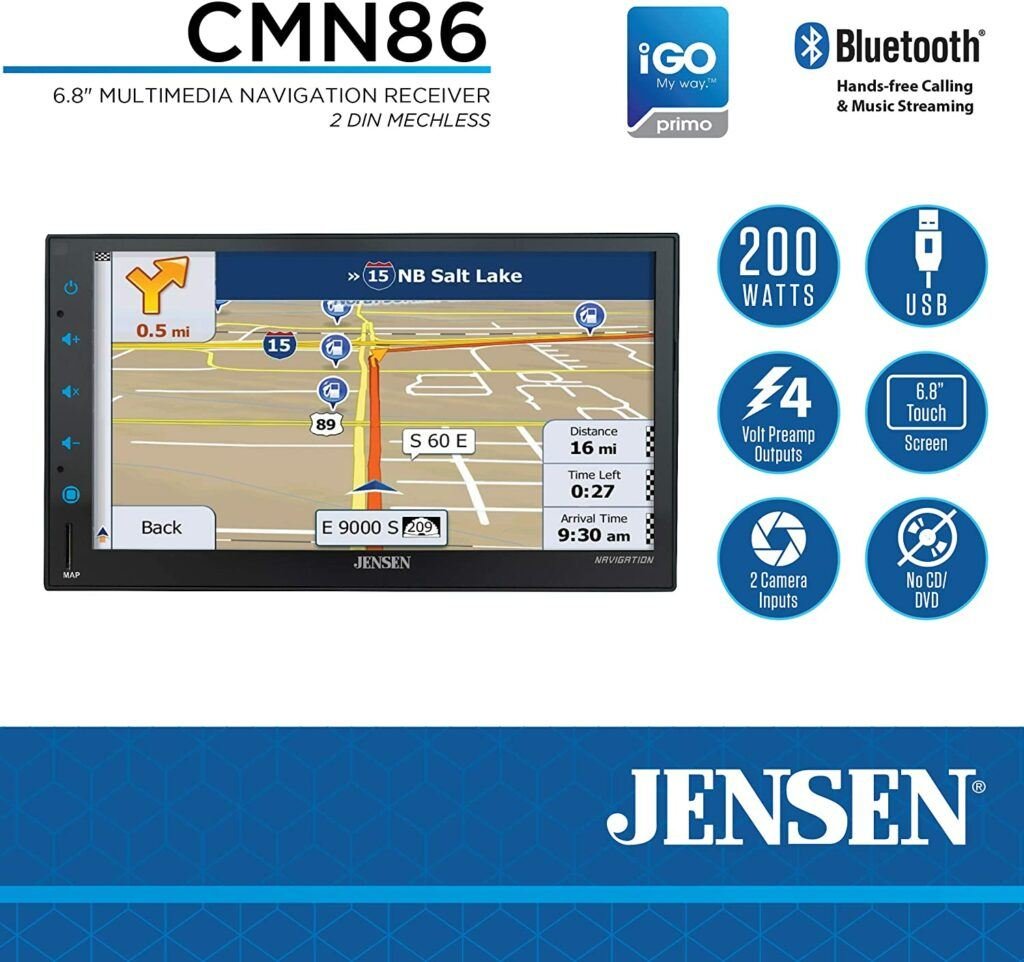 The device can also be connected via Bluetooth and can pair with millions of Bluetooth devices, giving you the option of operating your device, receiving calls and streaming music hands free. You can also connect using a USB port that works perfectly with the stereo and also perform the function of charging your device. The Jensen CMN86 Double Din Car Stereo also comes equipped with a MP3/WMA player and an AM/FM tuner for those who are interested in listening to the radio.
Finally, the Jensen CMN86 Double Din Car Stereo comes with a 1-Year warranty.
What is Product For
The Jensen CMN86 Double Din Car Stereo is used as a car stereo that allows you to enjoy your favorite songs as you drive and the amazing thing it also functions as a front and rear camera as well as a navigator.
Who is it for and How Helpful can it Be
This device is useful for all drivers who want the best driving experience. Being able to listen to your favorite tunes while smoothly navigating your location as you drive is one reason why you should buy the Jensen CMN86 Double Din Car Stereo.
It is helpful as it helps you detect the route you're taking, and functions as a dash camera that serves as a means of surveillance to inform you of all that happens around your car as you drive.
Finally, you get to stream music, receive calls hands free and use your voice assistant, enjoying optimum comfort while on transit.
FAQs on Jensen CMN86 Double Din Car Stereo
 How can I update the maps on this device?
You can do this by using your SD card.
 Can this Double Din Car Stereo work on a vehicle that doesn't have a GPS?
Yes, this device can work on cars with GPS function as it comes with its own GPS antenna which works perfectly as long as it is mounted well.
Does the rear camera of this device work automatically or do I have to operate it manually?
As long as the rear camera is properly connected to the harness as explained in the instruction, it activates automatically.
How to Install it in a Car
This device doesn't come with a user manual and you'd have to download it online.
Other than that, it is fairly easy to install the Jensen CMN86 Double Din Car Stereo as long as you follow the instructions as written on the downloaded manual.
Pros
Lightweight
Fair price
Hands free function
Great sound output
Front and rear camera capabilities
iGO PRIMO Navigation system works perfectly
Touch screen is highly responsive.
Easy to install
Cons
Limited functions
GPS signals can get glitchy
Doesn't have a DVD/CD function
Doesn't come with a manual
No volume button
Touch screen doesn't work sometimes
 Instructions is in Spanish
Conclusion
The Jensen CMN86 Double Din Car Stereo has a lot of things that needs to be worked on. It offers limited functions for a device that comes at $195.48.
However, these few functions as advertised by the manufacturer works excellently, so it isn't a total zero after all.
If you're searching for a temporary double din car stereo that can work perfectly well but for a little time, you can totally go for the Jensen CMN86 Double Din Car Stereo.
But perhaps, you're looking for a device that offers a lot of functions and can also last for a long time, then you should look somewhere else as the Jensen CMN86 Double Din Car Stereo is definitely not what you should be investing your money on.