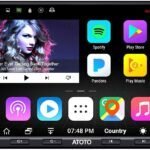 If you've ever wanted to buy a stereo for your vehicle, you might have heard the term DIN or Double DIN before. DIN simply means Deutsches Institut für Normung. It simply refers to a standard radio size across a variety of cars.The ATOTO A6 Car Navigation stereo like other Atoto A6 series, comes with an inbuilt microphone for seamless phone communication and three USB interfaces for easy connection.
If your car works perfectly fine with a Double Din stereo, you have a range of options to choose from. However, what choice could beat a double din car stereo that comes with GPS, a touch screen, and gesture control? What could win the ATOTO A6?
About Product
At $169 on Amazon, the Atoto A6 is a 7inch touch screen car stereo with horizontal buttons. Furthermore, With a package dimension of 10.47 x 10.43 x 6.73 inches. In addition, the ATOTO A6 Double Din Car Navigation Stereo weighs 3.74 pounds and comes with Bluetooth and WiFi for connectivity with an LCD.
The stereo is armed with voice control and the ability to interact with users in nine different languages; English, German, Arabic, Japanese, Italian, French, Spanish, Russian and Portuguese.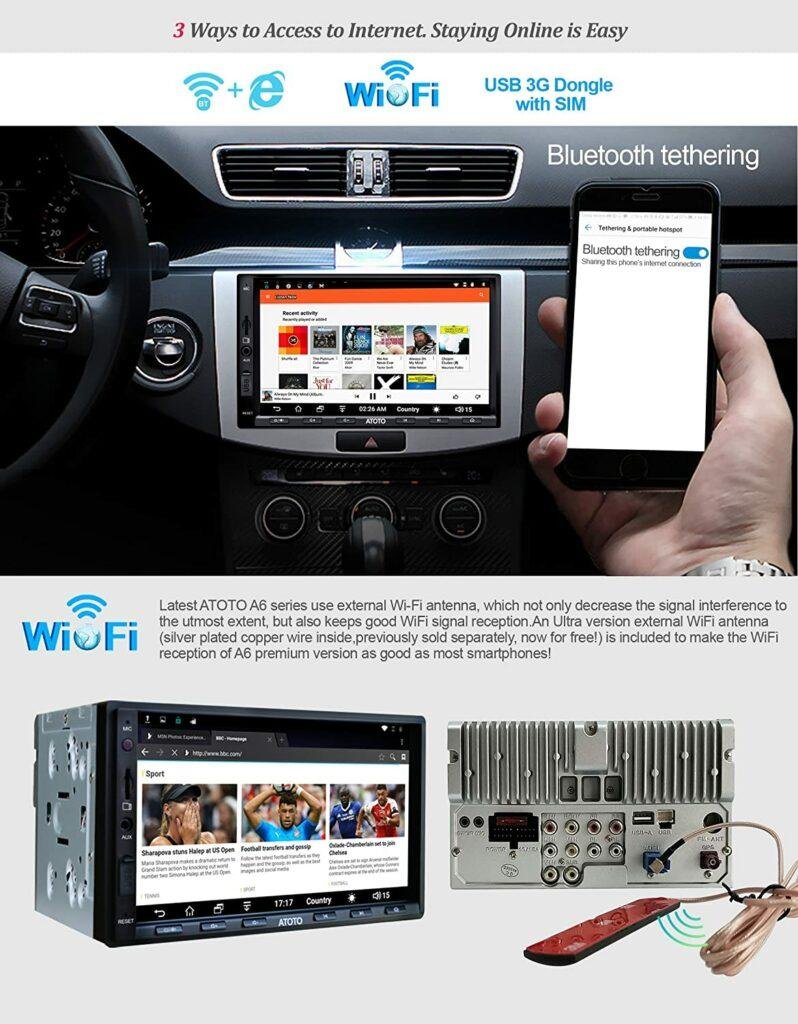 It comes with a 4*49W BTL amplifier and a preset EQ so you can adjust your listening options. One of the most exciting details about the Atoto A6 is that it's far from being just a car stereo. It also functions as a radio and a GPS navigator with google maps coming preinstalled as the default map on this device.
However, you can choose to download any other map or navigator app of your choice. The device also possesses the ability to mirror or cast your android and iOS device. Furthermore, For connectivity to android devices, you can use the USB port or WiFi and for iOS devices, you can connect via air-play.
Atoto A6
The Atoto A6 has fantastic quality and is compatible with numerous apps.Firstly,  It also functions with a wireless steering controller, which is sold separately. Secondly, It's micro SD slot supports up to 256G micro SD storage and 1TB SSD storage.
Also, this device comes customized with close to 23 functions that respond to factory steering wheel audio key control.
Additionally, the ATOTO Double Din Car Stereo comes equipped with Quick Booting feature which ensures that starting and accessing the device happens in a few seconds.
What is the product for?
The Atoto A6 is a device created to provide musical entertainment for vehicle owners.Moreover, It also functions as a GPS navigator and casting device.
Who is the product for, and how helpful can it be?
The product is for vehicle owners who seek to enjoy audio as they commute. It can be beneficial as it comes with several features. Furthermore, This includes a GPS navigator, radio tuner, and phone casting. In addition, It also allows vehicle owners enjoy an inbuilt reversing camera.
FAQs on ATOTO A6 Double Din Car Navigation Stereo
● Does the Atoto A6 also offer offline navigation?
No. The Atoto A6 is built with an external GPS antenna and Google maps installed as its default GPS map. It does not come with offline navigation.
However, if you would prefer to have offline GPS navigation. Moreover,  you can easily download and install an offline map data or navigation app via the Google play store.
● Can I receive calls with this device?
Yes. You can receive calls using the product. It comes with a microphone and a WiFi antenna for connectivity. The device uses the latest MEMS microphone, so the quality of your phone call is the best it could be.
 Does it come with an external microphone?
No. The Atoto A6 device does not come with an external microphone. Nonetheless, you do not need to worry. The inbuilt microphone provides you with fantastic response and quality.
How To Install It In A Car
Self Installing the Atoto A6 can be a complicated process. Furthermore, To install the Atoto A6, take your car to an auto technician. It saves you a lot of hassle and prevents you from performing a wrong installation that could harm your car or the device.
 Pros
● Gesture control.
● It comes with nine system languages.
● Built-in Max Amplifier
● Bluetooth.
● Radio Tuner
● 7 inch LCD
● GPS navigation with Google maps pre-installed as default GPS map.
● WiFi
● Built-in microphone
● Allows for reversing camera input
● Touch screen and wireless steering controls
● Compatible with an extensive range of applications
Cons
● No quick charge feature
● No external remote is provided.
● Steering wheel control and rear view camera sold separately
● No offline navigation
● It does not provide voice controls
Conclusion
Moreover, The Atoto A6 is one of the best radio/ stereo options available. It's an android device that runs fast with fantastic performance.
Nonetheless, it's more than just a tablet. It offers features such as Bluetooth, touchscreen, gesture controls, WiFi, and GPS navigation. It's more than just a stereo device. If you think of getting one for your car, The ATOTO A6 Double Din Car Navigator Stereo would be a good choice.
We hope you found our ATOTO A6 Car Stereo review interestingly helpful. If you have a comment or question, leave it in the box below. We will be glad to hear from you.