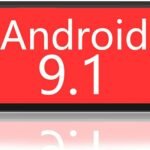 If your vehicle needs a double din stereo, the Binize Android car stereo might be the option for you. Several individuals enjoy music or listening to the radio. Nonetheless, they lack a multimedia system in their vehicle, making trips and commuting less fun or exciting.
For this reason, several car owners opt to purchase an aftermarket stereo for their car. If you want to change or replace your car stereo, the Binize 7 inch Android double din car stereo could be the stereo you seek.
About The Product
The Binize 7 inch Android double din car stereo is an in-dash multimedia player possessing features such as Bluetooth, WiFi, GPS navigation, Aux, USB input options, and support for a backup camera.
The device is built with a 32GB ROM and 2GB RAM, so you can be sure you will enjoy a fast and smooth experience. Possessing a 1024X600p high resolution, touch screen, the device provides excellent image and video quality.
This car stereo is created with support for android and apple devices. Moreover, it has compatibility with an extensive range of google play store applications.
Binize 7 inch Android double din
Using the Binize android double din stereo, you can connect to WiFi and connect the USB camera to enjoy the front camera function. The Android double din car stereo includes support for a rear camera and reverse trigger control.
Furthermore, the device comes with live wallpaper, steering wheel, and hand brake control with a built-in clock and calendar that is adjustable to your timezone. Moreover, With its multiple preset EQ settings you have control over your audio output.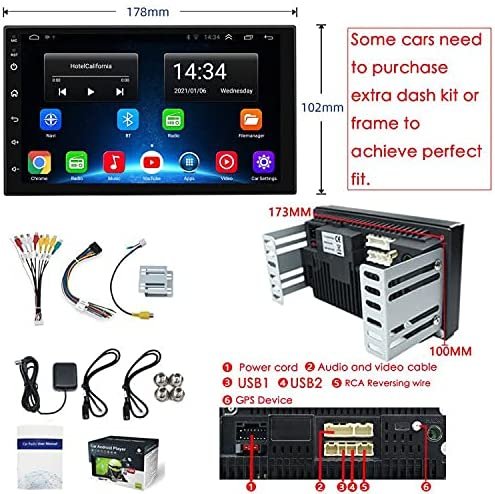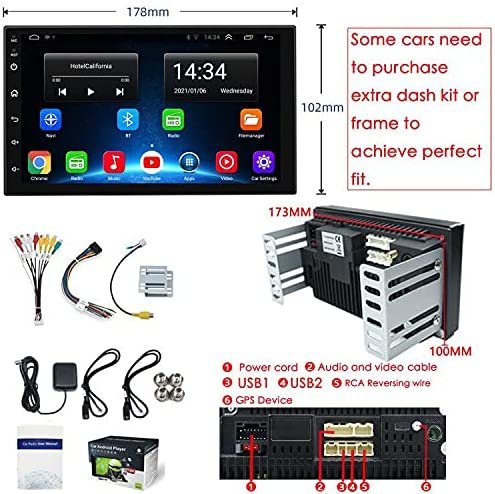 In its package you will find a USB cable, car mp5 host, GPS antenna, a power cable, one bracket, camera input cable and an RCA cable.
Moreover, The device is a multimedia in-dash system created to provide car owners with better audio quality and options. Furthermore, It also comes with other features such as navigation, radio, Bluetooth and WiFi connectivity.
Who is it for, and how helpful can it be?
The Binize 7 inch Android car stereo is for car owners seeking a car stereo with a fantastic build, great features, and quality that gives value for money spent.
Apart from providing them with better multimedia qualit.  it also helps with navigation and enables them to stream music from their favorite streaming apps.
FAQ's Related to Binize 7 inch Android double din car stereo
● What map does this product use?
With the product, you can get access to different online maps. These include Google maps and IGO.
● Can I listen to music and use GPS at the same time?
Yes, the Binize 7 inch Android double din car stereo allows you to use the GPS and enjoy your tunes simultaneously.
This dual zone function allows you to focus on your driving without switching from one function to the other.
How To Install It In A Car
To install the Binize car stereo, ensure that your car allows for a double din stereo. Once that is confirmed, you need to take out your old stereo and replace it with your new stereo. It fits perfectly. You do not have to worry about having to trim or cut the device.
Pros
● Easy installation
● Value for money
● High-resolution 1020 x600p screen
● WiFi and Bluetooth
● Supports back camera input
● Front camera input
● Supports Android and iPhone devices
● Supports Google maps and other online maps
● Compatible with an extensive range of android apps
● Supports steering wheel control
● Built-in clock and calendar
● Fm
● Preset EQ
● Dual-zone navigation
Cons
● Lacks themes options
● Lacks gesture control
● It doesn't include steering control
● It doesn't come with cameras
● It doesn't come with free offerings
● No offline maps
Conclusion
The Binize 7 inch Android double din car stereo comes with an extensive list of features.In addition,  Going for just $139 on Amazon, the device provides you with value in return for your money. Moreover, For that amount, you get a device with fantastic image quality, support for your mobile device, Bluetooth, WiFi connectivity, and a radio.
You don't have to bother about map updates as it supports google online maps and other maps. Nonetheless, it doesn't come with any free offerings like some of its competitors, such as an SD card or free cameras.
However, the device is easy to install, so you have a smooth experience from purchase to use. It supports steering wheel control, hand brake control, rear view camera control, and reverses trigger control. Furthermore, The Binize android double din car stereo is a worthy option if you are considering buying a stereo.
We hope you found our Binize Android double din car stereo review interestingly helpful. Moreover, If you have a comment or question, leave it in the box below. We will be glad to hear from you.