Switching from FM radio to Satellite Radio presents a lot of questions. While there are benefits, Is satellite Radio better than FM, or should you simply stick with your trusted in-car audio system?
 Satellite Radio broadcasts to a broader audience because of its wider range, while FM Radio is limited to a smaller audience because of its limited range of about 30-40 miles. However, FM radio is free while Satellite Radio requires a subscription fee from users. Nonetheless, Satellite Radio has over 34.9 million listeners in the United States but meager to the 82.5 range of FM radio per week.
 Car owners are switching to Satellite Radio, because of the content, portability, additional features, and range. Although newer cars come preinstalled with the Sirius XM. What are the benefits of satellite radio, and are they enough to make you switch?
What is Satellite Radio (Description, features, benefits)
Satellite Radio is a digital broadcast capable of sending signals to reach a wider range. For example, the Satellite Radio in the United States, Sirius XM covers the United States and Canada. This is because of the satellites orbiting the Earth.
These satellites bounce back the signals it receives from the ground stations, amplifying the signals so it reaches a wider audience. Satellite radio is predominant in vehicles, but can also be used at home and on the go.
Satellite Radio has advanced to include a streaming service. Now subscribers can listen to content via the Internet through smartphones and other smart devices. Sirius XM, the notable provider of satellite radio in the United States and Canada allows users to listen via Sonos, Amazon Alexa, Google Nest, Xbox one, Fire Tv, and the SXM app available on Android and iOS.
Satellite Radio is based on a subscription model. New users pay a subscription fee that gives them access to the various stations on the radio. One major aspect that differentiates satellite radio from other radios is that it offers clearer audio throughout the region.
Unlike local or terrestrial radio, satellite radio doesn't run out of reception, making it the best companion for motorists.
Unlike FM radio, satellite radio can provide ad-free content to subscribers. Listen to uninterrupted music from your favorite genres, and artists all day without a single ad. However, according to the FCC, satellite radios are mandated to broadcast public service announcements for security and safety reasons.
Sirius XM has included other features to augment satellite radio. SXM now features a turn-by-turn navigation system, to help motorists avoid congested, heavy traffic, and find free and safe driving routes.
In addition to that, Sirius XM displays weather forecasts and tags the cheapest and best (according to reviews and satellite) gas stations in the area. You can also find other useful spots with satellite radio.
The most interesting part of satellite radio is the dedicated stations. Unlike FM, Satellite Radio subscribers can enjoy a variety of content by browsing through designated stations. For example, you can enjoy sports and sports programs on the dedicated sports station and so on.
However, as mentioned earlier, motorists need to pay a subscription fee. However, Sirius XM welcomes new users with a 3-month free subscription and cheap $5 per month for the first 12 months. This allows users to enjoy free content and decide for themselves if it's worth their investment.
FM Radio (Description, features, benefits)
FM radio is short for Frequency modulation and uses between 87.5 to 108.0 MHz, with a couple of States variations. Sound is produced via changes in frequencies thereby allowing lesser distortions and better sound fidelity.
FM Radio works by collecting signals via a radio receiver and reproducing clear sound in your stereo system. However, unlike Satellite Radio, FM radio is suitable for a smaller expanse, thereby covering only a limited area.
FM radio requires strong and tall transmitting antennas to receive clearer sound. While a shorter antenna may provide reception, depending on how far you're from the source, you may experience static (no reception) or poor sound.
Either way, FM radio has a coverage limitation. FM radio is usually limited to about 30-40 miles, and reception is affected by buildings and mountains.
Unlike Satellite Radio, FM radio is notorious for running Ads all day. However, FM stations also have numerous specialized radio stations. For example, if you reside in Texas, then you can enjoy religious content on 88.3, 90.3, 96.9, 98.1, and a host of so many other radio stations.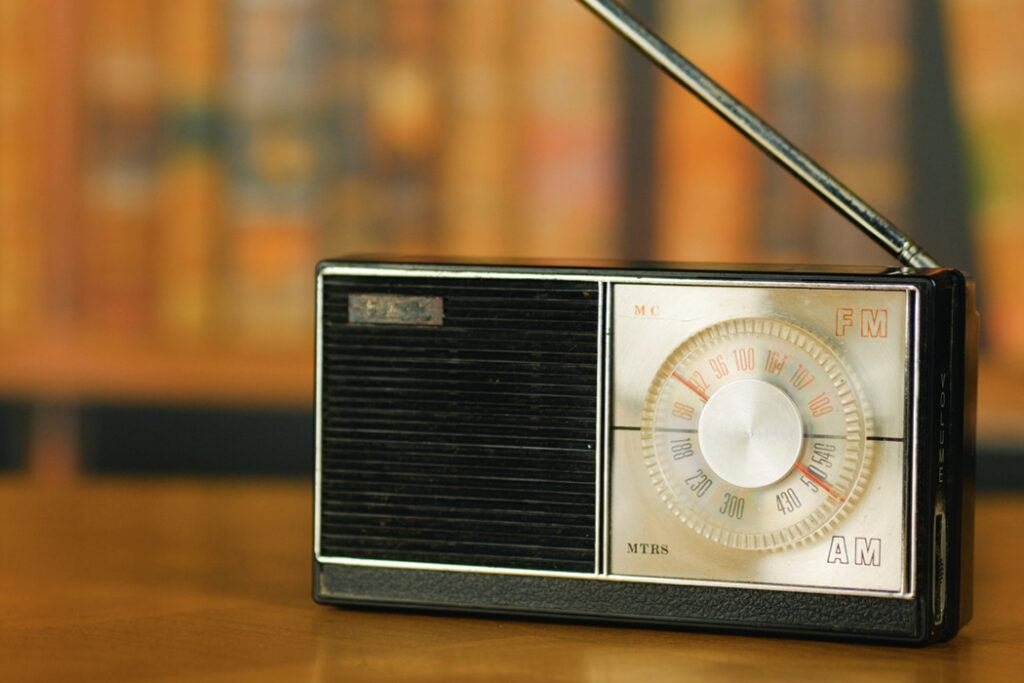 While FM is more likely to host a variety of shows, especially in bigger cities, listeners can always find dedicated radio stations to enjoy content limited to a particular subject matter.
While countries are arriving at digital radios, others are advancing FM radio, making it more accessible with better infotainment. Listeners can enjoy FM radio on different platforms including in-car stereo systems, smartphone applications, the internet, and tabletop manual devices.
This makes a good travel companion with 30-40 miles. Users can also enjoy clear radio sound from the comfort of their homes and offices.
FM Radio is absolutely free. No subscription fee is needed. Cars are equipped with OEM stereo systems and frequencies can be accessed by motorists by just turning a knob on the stereo. Asides from some exceptions, smartphones also come preinstalled with FM radio receivers.
However, frequencies have been known to overlap sometimes. Content from another frequency is then transmitted and blocks another frequency. This is common when radio reception is fading or FM frequencies are in closer range, within proximity.
While FM radio boasts of diverse content, research indicates that talk and news shows are most prevalent. Also, the dedicated FM radios are only good for a state or region, thereby, making it impossible for listeners to enjoy specialized content outside state lines.
Difference Between Satellite Radio And Fm
| | | |
| --- | --- | --- |
| QUALITIES | SATELLITE RADIO |  FM RADIO |
| Range | Highest Range. Satellite radio can reach listeners in all parts of a continent. | Very low. FM Radio is only capable of reaching listeners within a 30-40 mile range. |
| Price | Satellite Radio costs as low as $5 to $20.99 per month. Although new subscribers can enjoy a 3-month free subscription on Sirius. | FM radio is Free. |
| Portability | Available on different platforms and devices. | Available on different platforms and devices. |
| Content | Plenty of Content. Sirius has over 325 stations. | The quantity of content depends on the station, location, and budget. |
| Additional features | Satellite Radio has a Navigation System and Weather Reports. | Depends on the radio station and location. |
| Sound Quality | More Stations reduces sound quality. | FM sound quality is good within range. |
| Advertising | No ad-break on some channels due to the subscription-based model. | Regular Ads. A major source of income. |
| Government Regulation | Minimal | High. |
  Which One Should You Have?
 Choosing between FM Radio and satellite radio can be a daunting task, especially when you're used to having either. However, functions and advanced features are important things to consider. For instance, if you want weather forecast and traffic information on the go, Satellite Radio is your best choice.
Satellite Radio uses data from the satellite and Internet to transmit information quicker than other means. However, while this may be impressive, it comes at a price.
Your choice should be based on your needs and personality. If you drive across state lines very often, then a satellite radio will be a great choice as you get to listen to your favorite shows without breaks. Unlike FM radio, you can also listen to 24/7 music on satellite radio. Tune in to your best genre be it country, pop, hip-hop/rap, or jazz.
Satellite and FM radio are portable thereby are great choices for users who prefer to have their listening device in their pockets. FM Radios are also available on streaming platforms.