Car stereos are usually a must-have for most drivers who enjoy music as they drive. According to most of them, it is believed that music makes the journey smooth, comfortable, and enjoyable.
What better way to enjoy this than to get a stereo that offers great sound quality and also comes with other features that makes it better than just a car stereo? The 2021 Eonon Summer Car Stereo is a good option for you as a driver as it comes packed with amazing features that makes the device stand out.
About Product
The 2021 Eonon Summer Car Stereo also known as GA9449 comes with a wide and clear touchscreen that's highly responsive and gives you a full view of whatever is displayed on the screen.
It is suitable for all types of cars so you don't have to worry about it not fitting into your BMW 5 series or any other model.
You get to enjoy some super nice functions with this device as it comes with a Bluetooth 5.0 Wireless Technology that allows you to stream any music platform of your choice handsfree, and the sound is amazing so you enjoy music at its best.
With the Bluetooth function, it also becomes easier for you to transfer files fast, has a wider coverage of locations as well as make calls without you necessarily using your hands thanks to its its handsfree system.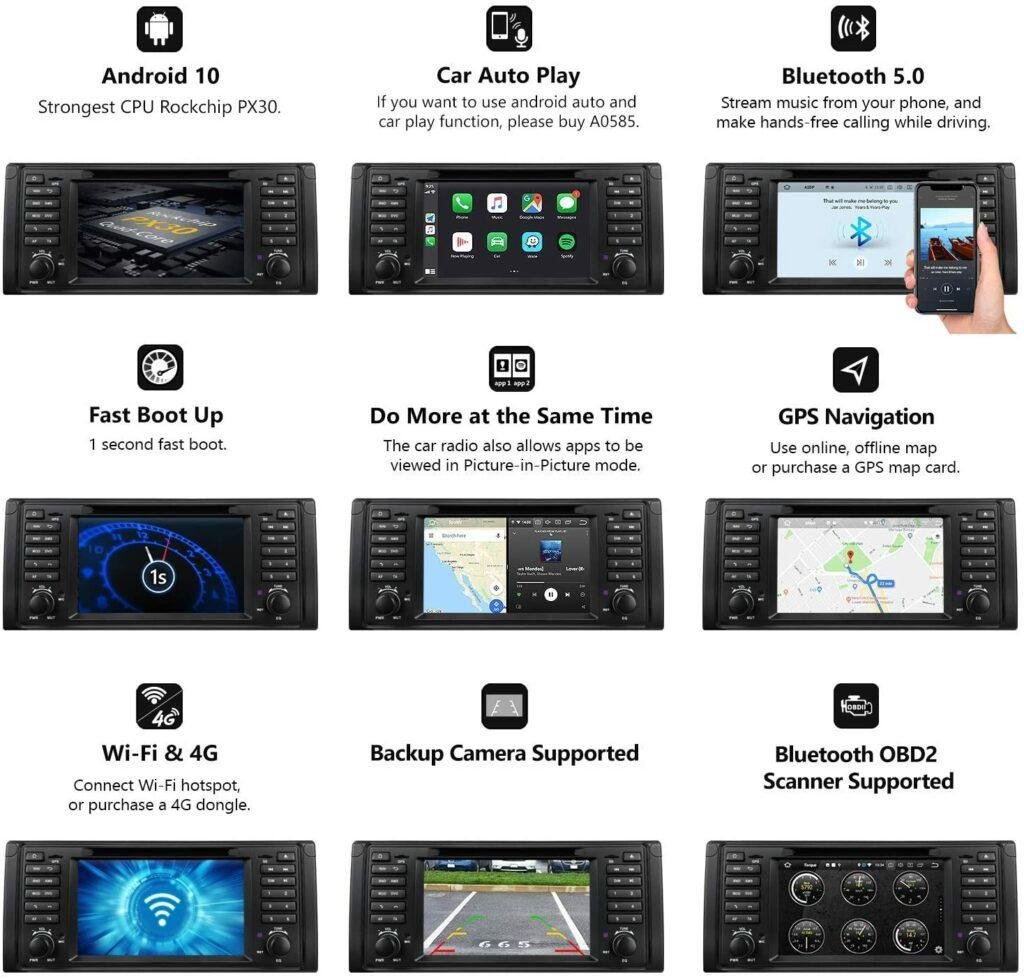 You can also choose to use the USB cable that comes with the package to connect to your android phones. More preferably, you could connect to your iPhone wireless to explore your favorite apps and media platforms directly from your car dash.
When using an android, you could even choose to get a bidirectional control interface between your phone and the device.
Backed with a navigation system, the 2021 Eonon Summer Car Stereo sold for $287.99, allows you to locate both known and unknown locations via navigation apps like Google Maps, and this function can be used either online or offline.
However, for network connection and coverage, you'd have to share Hot-spot or use a 3G/4G dongle. When you purchase the 2021 Eonon Summer Car Stereo, you get an 18-month warranty and 30-day money back guarantee for any quality-related issue.
What is Product For
The GA9449 is a device specially designed to provide entertainment to fun-loving drivers who always enjoy music and other forms of musical entertainment while driving.
The device also doubles as a GPS navigator to help you drive and locate your routes easily.
Who is It for and How Helpful can It be
 This product is suited for all drivers who enjoy having quality sound blasting through their speakers as they drive daily. The GA9449 comes with special features that make it a great tool.
It comes with a GPS navigation system for directional purposes, and a wireless Bluetooth technology that makes it easy to transfer files and make calls handsfree.
FAQ's Related Too 2021 Eonon Summer Car Stereo
Is this device designed to specifically be used in the car only?
Yes, the 2021 Eonon Summer Car Stereo as the name emphasizes is built to be used in the car only. It can't be used anywhere apart from the car.
Does this device support steering wheel controls?
Yes, this device supports steering wheel controls.
What is the output wattage for the inbuilt amplifier?
For this device, the output wattage for the amplifier of the 2021 Eonon GA9449 car stereo is 4×45W.
How to Install it in a Car
Installing the 2021 Eonon Summer Car Stereo is a bit complicated, especially if you don't have prior experience of installing a car stereo.
And even for those who are experienced, this has still proven to be quite difficult. To install this unit, it's advisable to get the help of a professional technician to help with installing the unit into your vehicle.
Pros
Aesthetic view
Widescreen
Great sound quality
Fairly intuitive interface
Unit is upgradable
CarPlay function
Come with useful buttons
Easy to operate
Nice packaging
Cons
Installation is complicated
User manual/instructions are vague
Device is slow
Navigation keeps freezing
Conclusion
The 2021 Eonon Summer Car Stereo is one car stereo that works as advertised. It is suitable for most car models and is also compatible with both iPhone and Android devices, which all make the operation of the device smooth and easy for the driver.
Apart from being a stereo player with great sound quality, the Eonon Summer Car Stereo is also a GPS navigation device, can be used for Bluetooth connection, has a sensitive touchscreen, and comes with a useful button, so you don't always have to touch the screen to operate.
Not without its flaws with one of them being that the device is too complicated to install, the 2021 Eonon Summer Car Stereo still hits the mark when it comes to purchasing a worthy car stereo for your vehicle. If you've thought about purchasing this device, then you should go for it.