It has baffled users how satellite radio is able to distinguish between paying subscribers and nonpaying subscribers, and to transmit unique content to individual users. How does satellite radio authenticate users while using a single frequency?
Satellite Radio transmits signals to users on the go and at home and offices. However, only paid subscribers can listen to satellite radio, while unpaid subscribers have to join a plan before gaining access. However, SiriusXM has created free plans for new users to enjoy before committing to a preferred plan of choice. Nonetheless, users have to accept the free plan before they can enjoy satellite radio. Why doesn't it just work like territorial radio? Keep reading to find out.
Every satellite radio is equipped with a special ID and a special encryption chip that is unlocked with special keys transmitted from the satellite radio. One encryption key can only unlock one satellite radio, therefore, it ignores all other radios in the vicinity.
The satellite radio provider identifies paid subscribers through their specific IDs and encryption chip. Your provider will lock you out if you fail to pay for your subscription. It works like every other subscription-based service in the United States.
While this process may look hectic, it's quite simple and efficient. Your service provider simply adds your ID to the Datastream for nationwide Satellite Radio.
While hacking the system cannot be ruled impossible, getting someone else's ID is the only way to bypass the system, which we don't recommend. Although, finding success in it would be near impossible.
Car owners are also discovering how siriusxm works before switching to satellite radio or making advanced adjustments. Motorists should understand SiriusXM the same way they've understood terrestrial radio. We believe that more car owners will make the switch because of the flexibility and range SiriusXM offers.
How does SiriusXM authenticate Users?
SiriusXM is a satellite radio that transmits radio signals to subscribers by bouncing signals from ground stations with satellites in space. Users can access over 325 channels from anywhere in America and Canada. SiriusXM currently has up to 5 satellites in space, transmitting signals to satellite radio receivers in the United States and Canada.
Sirius XM gives each user a special ID that can only be authenticated by a corresponding decryption code.
SiriusXM, unlike terrestrial Radio, boasts of diverse on-air content. Subscribers can listen to sports shows, follow live scores, and minute-by-minute NFL games. SiriusXM is home to Howard Stern with 2 unique channels.
You can also enjoy personalized content every day. The merger between Pandora and SiriusXM now allows users to create genre and artist-based playlists.
SiriusXM also offers subscriber based-events featuring A-list artists such Drake, Harry Styles, and all your favorites. Don't allow free terrestrial radio to keep you from enjoying all these subscriber perks.
Although SiriusXM is satellite radio, users can also access its contents via the internet, using any of the supported devices.
Can I use My car Sirius subscription elsewhere
Motorists may also want to enjoy SiriusXM outside their vehicles, but a subscription is required to access satellite radio on other devices. Satellite Radio is pricey, therefore, most users and enthusiasts may find it difficult to pay for two subscriptions at a time. But can your car subscription work for your home unit or do you need to subscribe again? If yes, then how?
Unfortunately, SiriusXM limits one subscription to one device. While users can switch between numerous devices, your car subscription will only work on one device at a time. Meaning you can't use it simultaneously on multiple devices.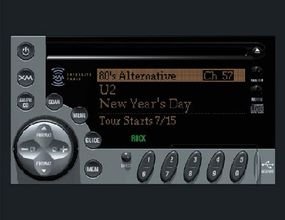 If you have to use one subscription with multiple devices, then we recommend the platinum family-friendly plan. This plan allows you to use your car subscription outside your car, and enjoy custom controls. This eliminates the need for the constant transfer of accounts between devices.
If you're unable to login into your SiriusXM account or met with "you're logged in somewhere else" whenever you attempt to log into your account, check your other devices to make sure that you're properly logged out. If you're still getting the same error, then contact your service provider to rectify the problem.
Always keep your username and password safe.
Can I Transfer My Sirius Subscription to A New Car
Do you need to buy a new subscription plan when you get a new car? Or can you simply transfer your existing plan to your new vehicle? Satellite Radio subscription can be a bit pricey but that shouldn't delay you from getting a new car as you can easily transfer your account for a small fee of $15.
However, only active subscribers are allowed to transfer accounts. SiriusXM doesn't allow the transfer of accounts still in the free trial period. New car owners can enjoy satellite radio for up to three months without paying a dime.
This deal is sweetened with the fact that modern cars are being equipped with SXM radio. While enjoying another 3 months free in your new car might be tempting, you'll have to spend more time and energy personalizing your satellite radio again.
We advise that you subscribe to your SXM account before transferring it to secure all the modifications and improvements you've made.
You can execute the transfer online or over chat. The transfer is quick and effortless. Visit the SiriusXM official website and log into 'my account' and search for the appropriate radio and select 'replace this radio with another.
How do I enjoy Free Sirius
SXM users can enjoy free Sirius for 3 months. Because satellite radio requires a subscription, SXM created an introductory plan to ease listeners into the service. So, instead of paying over $100 in your first year, or about $10 per month, SiriusXM allows its customers to enjoy satellite radio, gradually easing them into the service.
The free version comes with over 325 channels, including a complete entertainment package for all types of listeners.
Unlike other services that bombard their free users with Nonstop ads, SMX offers Ad-free music to users nationwide. So can you enjoy Sirius free? Completely. You won't even know it's free until it ends.
Can I find my car with satellite Radio
Though not part of the radio, car owners can locate their cars if they have satellite radio installed. First, you should either have the Uconnect Access or SiriusXM Guardian Subscription. Then contact the police department to acquire a case number before contacting SiriusXM on any of the following numbers: 844-796-4827, 855-792-4241.
The SiriusXM 'find my car' feature is activated with the 'stolen vehicle recovery feature'. The police have been known to also use this feature to track vehicles.
While this is rare, a case from 2015 has revealed how law enforcement traced a Toyota for 10 days, without the driver's knowledge. You can ask your provider about the terms and conditions of this feature before you decide it's something you want to have.
Asides from the find my car feature, SMX also has subscription plans for traffic and weather. The SiriusXM Traffic is $3.99 a month while Travel Link is $1.99 a month.
However, you can buy both plans for $5.98. This plan offers you nationwide coverage of traffic on all major roads. You can maximize your commute by driving through the safest and fastest routes throughout the city. You'll receive alerts on accidents and congested traffic throughout the country in your car with your SXM satellite radio.
You can also see the flow of traffic and determine which is fastest and slowest. The SXM satellite radio also reports weather situations across the country, the best prices, and gas stations nearby. Never get stranded anywhere again, and buy the cheapest gas on your commute.
Conclusively, listeners can enjoy three free months on SiriusXM, transfer their accounts from one device to another, and from car to car. The special ID and encryption chip in each satellite radio make it impossible for users to use one account on more than one device.