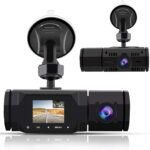 A dash cam can be a critical aid if the unexpected happens. From unexpected car crashes to cases of theft and whatnot, dash cameras have been known to provide video evidence and proof of what actually happened. And the Accfly dual dashcam, fhd gives an optimum performance in this case. The Accfly 2021 upgraded dual dash cam is sold on Amazon at a price of $34.99, and offers the best range of features for the price.
It's small and sleek, so it wouldn't obscure your view while you're driving, and the 1.5 inch screen offers optimum size and resolutions to allow you to easily navigate through the menu.
About Product
It records clear footage with true-to-life, appropriately saturated colors. The optimum working temperature of the dash cam, fhd is within the range of -20°C to 60°C; so you don't need to fret about extreme weather conditions, and is powered by a lithium ion polymer battery.
The device has a wide view range of about 170 degrees that records high definition video even in the most inappropriate situations like areas with poor light source and intense lighting. It's one of best Dashcam like Apeman Dashcam
Generally, the Accfly uses its dual F1.8 large aperture 6-glass lens with high performance and fast bright lens optics, to view the brightest or darkest places clearly, with good image quality and clarity. The 24-hour surveillance system also works on this device, as an anti-theft mechanism. The dash camera records whatever happens around your vehicle.
The cam, however, needs to be hardwired for full function of this purpose. The device is compatible with SD cards up to 64GB.
Accfly 2021 Upgraded Dual Dash Cam Review
The list of features would not be complete if we leave out the G-sensor enabled feature. This service comes in handy during critical moments like accidents and collisions. The dash car camera system automatically detects the shock and locks the video containing the incident for future reference. A format that is likely to be important in courtrooms, investigations and/or insurance companies.
The Accfly dash camera isn't just for video recording functions, but audio as well. It has a built-in microphone and the speaker captures high-quality audio. In situations where you do not need to record sound, you are presented the option of turning the microphone off.
What Is Product For?
The product is for all car owners who want the best choice to improve their driving safety. It gives you a full view of whatever is going on around you while driving.
Who Is It For And How Helpful Can It Be?
The Accfly dual dash cam provides excellent audio and video evidence when the need arises, and it would serve the basic functions of recording video clips, locking critical collision videos with a full dynamic range for maximum driving safety.
FAQ's Related too Accfly 2021 Upgraded Dual Dash Cam Fhd
Does the dash cam have loop recording?
Yes, the Accfly 2021 upgraded dual dash cam has a loop recording sequence.
How do I use the parking mode function?
The parking mode cannot be activated merely by plug and play. The device would need to be hardwired to your car for this to function.
Can I play the recording on the screen?
A: Yes, you can play recorded video clips on the screen of your device.
If the car is parked for some days, does the hardwired kit drain my car battery?
Yes, if your car is left parked for several days, the hardwire kit will drain your car's battery.
How to Install it in a Car
It is important that your dash cam installation is set up correctly or you may miss out on important video footage when an accident occurs.
Dash cam installation may look more difficult than it actually is, but by following the instructions in the user manual, your dash cam installation will go smoothly.
Pros
Extreme temperature resistance.
G-sensor enabled.
Dual lens.
Wide angle range.
Ultra night vision.
24 hour surveillance system.
Cons
The camera overheats after quite some time.
Conclusion
If your routine drive ever turns into a life-altering event, you'll appreciate having this Accfly dash cam to show what happened.
This continuously recording, windshield-mounted device can record any information regarding an accident or other incident you're involved in, providing you with evidence that could help prove your innocence to a lawyer, an insurance company, or law enforcement.
Furthermore, We hope you found our Accfly Dual DashCam FHD  reviews helpful. If you have a comment or question, leave it in the box below.  we will be glad to hear from you.