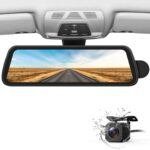 When looking to acquire a replacement gadget, originality and durability are key factors to watch out for. A replacement device is any car gadget with enhanced features that you can use to replace a pre existing car part. The Boscam Mirror dashcam offers you a distinctive anti glare 9.35 inch touch screen that replaces the pre existing rear view mirror. This dash camera comes with a dual recording feature which enables it to record multiple areas and display on its mirror screen while you drive.
Sold at $145.99 on Amazon and other digital stores, the device is not so affordable for most drivers but due to its enhanced features, it is just as valuable as it is expensive
Boscam Mirror Dashcam Sony IMX Sensor Dash Camera for Cars Review
This product comes with a 1080P FHD dual camera (front and rear) with clear and high definition capture enabling the device to capture clearly even the tiniest bit of details within its radius. It also comes with a Sony IMX 307 sensor and 6 sets of blue glass lenses making the front and rear camera reduce glare better, suppress blinding lights and capture and record every detail in real time surroundings even under low light conditions.
Additionally, this dash camera mirror also comes with a night vision color display property which enables it to capture and display clear in the night time. Moreover, the device is g-sensor enabled which means that it records, saves and locks 60 seconds of events in the condition of accidental collision or sudden shock with both cameras.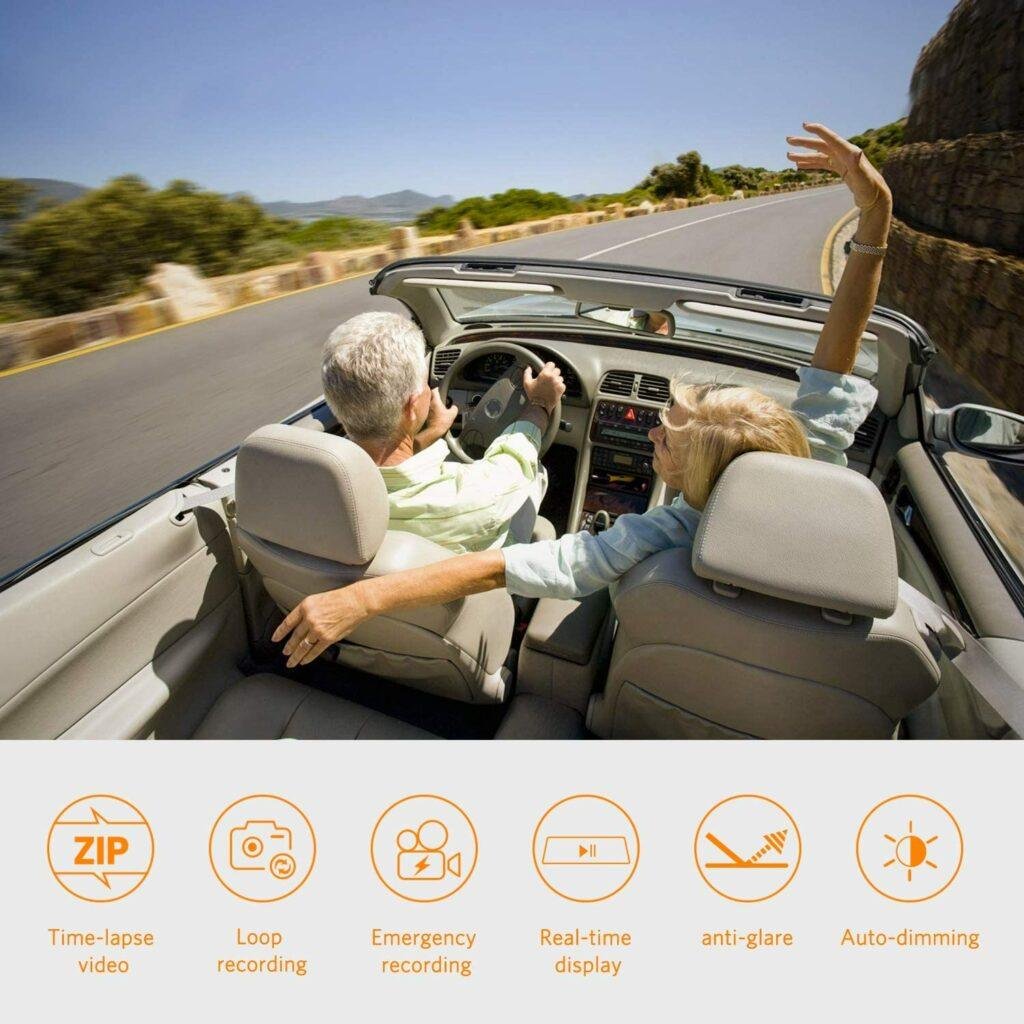 The product is also built to monitor the position of the car and assist you when parking your car. By sliding the screen, you can view different angles of the camera while attempting to park, reducing the risk of bumping your car especially when in reverse mode.
The IMX sensor Boscam mirror Dashcam covers a 30 day total refund or replacement and a 1 year warranty period. It is one of Best Dashcam like Jansite Dual Dashcam
What is Product For?
The Boscam dash camera comes with high definition dual cameras and a 9-inch touch screen display screen that replaces the front dash camera that captures, records and displays captured data on its screen allowing you monitor the front and rear angles of your car.
The device can display multiple modes which include:
Front view only
Rear view only
Front and rear view.
Who is the Product for and How is it Helpful?
The dash camera's G-sensor can detect hard break or sudden collision, its cameras capture and record events when the device is powered to its storage. Despite its high cost, the device is still very valuable.
FAQ's Related to Boscam Mirror Dashcam
Does the camera stay dim at all times so displayed pictures cannot be seen clearly?
No. The dashcam's display is clear and readable under sunlight. Its auto brightness feature enables it adjust its screen light to suit the environment's light condition.
How is the device powered?
The boscam's front camera is power by the cigarette lighter, and then the rear view camera needs connecting to the reversing light.
How to Install it on a Car
The cameras can be install to your rear window or license plate with two different brackets.
Installing the cameras with the hardwire kit might require a bit of professional assistance. Reach out to an experienced auto mechanic for assistance.
Pros
Intelligent parking monitor
G-sensor enabled
Rear view auto display
Supercapacitor
Smart and elegant design
Extra touch screen mirror display
Dual camera
Anti glare
Anti draining battery feature
Night vision
Blinding light suppression
Cons
Difficult to install
Does not come with SD card storage
High cost price
Does not support GPS
Conclusion
The Boscam Mirror Dashcam Sony IMX Sensor for cars requires you to input an external storage of a 16gb SD card or more capacity. The device's super capacitor helps keep you away from potential swelling and exploding risk that most dash cams come with.
The product is also highly resistant to very high temperatures and possesses an extra long life span. Matching its value for its high price. The device is an overly valuable gadget. Furthermore, We hope you found our BOSCAM Mirror Dashcam Sony IMX  review helpful. If you have a comment or question, leave it in the box below.  We will be glad to hear from you.