Rearview cameras are a great addition to vehicles. They help drivers navigate their rear while in heavy traffic. They also help drivers park well amid other benefits. So, How much does a rear view camera cost , and does it worth having in your vehicle?.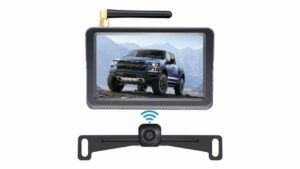 The cost of a rearview camera varies depending on functions, features, installation, and mode of operation. While wireless cameras offer higher functions, wired options are cheaper and more common. Other factors affecting the cost of a rearview include the type of rearview camera and additional accessories.
Before purchasing a rearview camera, there are several factors to consider, starting from your needs and budget. To guarantee maximum performance, motorists are advised to compare rearview cameras based on these factors and more.
COST OF REAR VIEW CAMERA BY TYPE
The following are the cost of rearview by their types.
Cost Of License Plate Backup Camera Kit
Average Cost of Kit: $120
The license plate backup camera kit comes with a camera, monitor, suction cup, and cables for connecting the camera with the monitor. This type of backup camera has 120 degrees viewing angle, giving motorists a wider field of view and clearer high-resolution images. They also have night vision for nighttime driving. The camera is waterproof to protect your investment and make it last longer.
Cost of Trailer Backup Camera Kit
Average cost: $195
For bigger vehicles, you'll need the trailer camera kit which has a field of view of up to 120-degree angle, and a 7-inch LCD screen mountable on your dashboard. It comes with a waterproof casing for the camera and is highly customizable to fit any type of modification. To cover more angles, the trailer backup camera kit has more cameras that can be installed on the sides of the vehicle.
Cost Of Basic Rv Backup Camera System
Average cost: $195
A basic RV backup camera system is popular among motorists and all types of cars. And it's not hard to see why. A single kit comes equipped with a 7-inch LCD monitor, rear and side waterproof cameras, and 15-foot cable for wiring. It also has a night mode and covers up to 120 degrees field of view. Convert your rearview camera to a dashcam by using DVR to record events.
Cost Of Parking Sensor Backup Camera Combo
Average Cost: $250
If you're going for the parking sensor backup camera combo, then you'll be spending more. Nonetheless, you'll be getting more than enough value for your money. The camera covers 120 degrees and the monitor is up to 7 inches. The parking sensor backup camera combo is equipped with an audio alert to augment the visual feature.
DIY INSTALLATION
Rearview camera installation is easy and can be done by just anyone. First, you need the right tools and a camera compatible with your vehicle type. If you're buying a kit, then it'll come with everything you need. However, you can always find a backup monitor for as low as $23. If you want to save money, then feed the camera signal to the rearview mirror. This installation option improves ease of use.
THINGS TO CONSIDER BEFORE BUYING A REAR VIEW CAMERA
Assess Your Dashboard
While the camera is installed on the rear or sides of the vehicle, it needs a screen inside the car to display images. Without this, it simply captures images and doesn't transmit. If your vehicle has a touchscreen receiver, all you need is to connect the camera to it to receive images. Most advanced cars have OEM touch screen screens, however, you can mount a monitor if you're not satisfied with the available option.
The other options include mounting a monitor or connecting the camera to the rearview mirror. Dedicated rearview screens are usually 7 inches and display clearer images.
Make sure you choose the best option for your needs and preferences.
Choose the right camera
As mentioned above, rearview cameras are inexpensive and waterproof to guarantee longevity. But choosing the best one for your needs goes beyond price. For example, advanced rearview cameras have 'selective parking lines' to help motorists navigate their way in tight garages and Park properly. Check that the one you're choosing has the feature so you can enjoy peace of mind when parking and driving traffic as it prioritizes obstacles and valuables that are In your path.
Other features like wide field of view and high dynamic range improve image quality.
RECOMMENDED REAR VIEW CAMERAS
INCLAKE Car Backup Camera, Rear View Camera
Price: $23.99
One of the best aftermath options in the market, the Inclake car backup camera is equipped with improved guidance technology to make it easier for motorists to navigate their rear while reversing in tight corners.
The camera is built with a fully sealed glue filling craft, for keeping it safe from the elements, thereby improving durability and longevity. So you don't have to worry about driving in extreme weather. You can also leave it installed when washing your car.
It is also equipped with 8 IR lights to help drivers navigate right traffic at night. The lights come on immediately the car is put in reverse, and unlike rear view cameras, motorists don't need to strain their eyes to spot any object on the road. This means safer driving, even when reversing out of your private garage.
Buyers will also enjoy up to 2 years warranty
Pros:
Inexpensive
 8 IR lights
 Improves guidance technology
Cons:
PixelMan PMD2A Backup Camera
Price: $39.99
The PixelMan PMD2A backup camera features the most important functions of any backup camera. This particular product is an upgrade and manifestation of years of restless research by their team of high tech personnel. The PMD2A captures the needs and preferences of multiple drivers with this single product.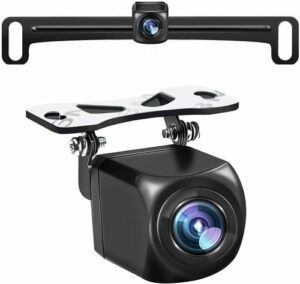 Their aim was to create the perfect product for their customers and according to tests, this camera is one of the most popular choices among drivers in the United States. The camera has improved color accuracy, signal stability, sharpness, installation, night vision, and many more features to help motorists get the best of their rear view camera.
PixelMan uses the best materials in the industry to design their products to foster durability and longevity. From the body to the cables, motorists are assured of high quality.
Pros:
 Durable
 Improves features
Improved color accuracy
Cons:
SizxNauv Car Backup Camera
Price: $33.99
SizxNauv outdid themselves with this rearview camera equipped with essential features to enhance reversing and avert backup accidents and collisions. It also has HD night vision to help motorists navigate clearly in the dark. Clear image quality and 170 degree wide angle lenses to help you identify objects faster and drive safely. It also has a good body.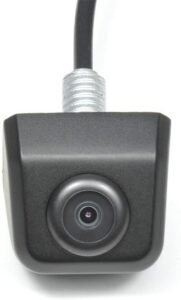 No complex installation process, meaning it is simple and can be done by anyone, notwithstanding level of technical expertise and experience. The two installation areas include the license plate and rear/side installation area. This camera is also waterproof, meaning motorists can drive in any weather condition without worry.
It is suitable for large vehicles such as SUVs and trucks.
HD eRapta ERT01 Backup Camera Rear View License Plate Reverse Camera Universal
Price: $25.99
This camera is designed for several vehicle types, inducing Mini vans, SUV, and Sedans. This aftermath solution is particularly great for older vehicles without an OEM rearview camera. It produces clear images and is equipped with night vision. Adjustable, easy to install, and waterproof, everything you need in a rear view camera.
Pros:
 Cheap
 Clear images
 Compatible with all cars
Cons:
Conclusively, rearview cameras are cheap and very affordable. You can buy a full kit that has all the components and wiring intact. This eliminates the risk of buying incompatible components or cables.