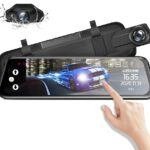 Rearview and side mirrors in cars have been known to serve the functions of giving a wider view of the environment behind and around the car. But this car parts are mostly only limited to specific angles and mostly present images behind the car. To tackle this problem, mirror dash cameras were invented. One of them is azdome mirror dashcam
Most mirror dash cameras only present a wider view of images behind the car, but the Azdome mirror dash cam for car 10 inches device offers visuals for both front and back of the vehicle. The product is sold for $99.99 on Amazon, and it is an absolutely good value for its price.
About Product
The Azdome mirror dash cam for cars device has a 10-inch touchscreen display screen wherewith with dimensions: LxWxH as 10.24 x 2.76 x 0.47 inches respectively. The device operates on a frequency of 50/60Hz and offers video resolutions in MOV format and JPG picture format.
This product has full backup from AZDOME for it to run its specified functions and in cases of shortcomings, the product has a 2-year warranty and free firmware Upgrade for this car camera. So there is absolutely no need to worry about product failure and electrical or mechanical faults— with respect to the total confidence the manufacturer has in this product.
The device is compatible with SD cards up to 64GB. Now, let's look at the product's specifications and functions.
Powered by a built-in rechargeable 700mAh Lithium ion battery, the Azdome Mirror Dash Cam operates based on the industry-leading 8339IC and SC2363s sensors. This allows the device's 1080P Front Camera and 720P Rear Camera to give optimum performance regardless of exposure and low light, giving you the best image visuals.
Azdome Mirror Dash Cam Review
This information is relayed from the camera in use to the 10-inch-high quality display screen. The cameras have the anti-glare and WDR feature and serve the perfect course for high quality video and pictures resolutions. This feature also allows for ease of reversing with your vehicle, as it gives guidelines during the process.
When your vehicle gets into unknown areas and you worry about car security, you'd have better chances of sleeping at night with the Azdome Mirror Dash Cam, because the device doesn't only give you full details of your surroundings while you drive, but can also record movements around the car.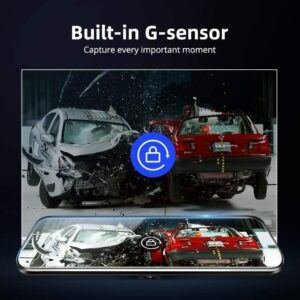 This feature is possible when the cam is hardwired to the car battery using a hard-wire kit like in NikoMaku. Car theft and perpetrators are definitely not going to go unnoticed after the car is parked.
The system's 19ft rear camera cable is uniquely design for most types of cars, such as: Sedan, SUV, minivan, pickup trucks, etc for wide range coverage.
The user-friendly design makes this unit easy to install and even first timers can use this unit.
Additional device functions include the:
— G-Sensor Emergency Recording that allows for automatic recording and locking of video in cases of collisions. An outstanding feature that would serve as evidence of car insurance.
— Loop Recording: This feature allows the option of recording videos in 3, 5 and 10 minutes loops with an automatic override of former files, although locked video files can not be overwritten.
What Is Product For?
The Azdome Dash Cam 10 inch display is primarily for serving the function of delivering an unprecedented wider range of view of events and images around the vehicle. Another Best Dashcam is Rexing M2 Dashcam.
Who Is It For and How Helpful Can It Be?
This product is for virtually all car owners. Who need the best driving experience in open and closed or tight roads and places.
The device allows for easy navigation when reversing, keeps an eye out for your car when you're not close and serves as evidence in terms of collisions for car insurance.
Frequently Asked Questions and their Answers
 What is the maximum SD card that works with it?
The device is compatible with SD cards up to 64GB.
How to set up lane departure warning system?
The device needs to be wire to one of your backup lights.
How To Install It In a Car
The product comes with a user manual that contains its installation sequence, but it's a good idea to place the dash cam within arms reach of your seat, but definitely do not mount the dash cam in a location that obstructs your view of the road ahead.
Pros
 Giant display.
 Night vision mode available.
Good value for money.
 24 hour protection
 Retractable front camera and waterproof back camera.
 Encouraging warranty period.
Cons
● The device might be a bit difficult to install and set up.
Conclusion
The Azdome Mirror Dash Cam offers a giant visual display for images surrounding your vehicle. And it also functions when the car is in parking mode.
The retractable front camera and waterproof back camera enables the device to fully function in tough weather conditions. It definitely serves its function. This product is a good choice if you have plans of purchasing this useful device.