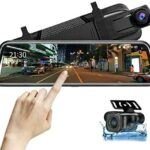 Traditional rearview mirrors only supply you with images about what goes on behind your car based on mirror reflections and whatnot. But this function is limited, as these mirrors have poor night time value.
If you're considering a product that can give you both what happens in front of your car and behind, in high resolution, just in front of your windshield and easy to reach, then the Jansite dual dashcam would give you all that. This Jansite dual dashcam review explains all you need to know about this device.
About Product
Most car dash cam devices are manufactured to give you the best driving experience for cars with steering on their left. What happens to right wheel steering cars? Jansite happens!
The Jansite dual dash cam is more suitable for right-hand drive vehicles. Its design allows for adjustments that will give you the best function while seated in the right corner of the front seat of your vehicle.
The product has a 10-inch display touchscreen that also serves as a command input function. Its screen can be swiped to adjust viewing angles during driving or reversing.
Swiping left and right would switch between front and rear camera simultaneously and swiping the screen up and down would adjust its viewing angle helping you get more accurate details.
This device front camera can be swiveled around to gain a better angle on the road in front and to help against windshield obstruction(s).
Furthermore, its 1080p back camera has a 10 metres long (32.8ft) cable that settles the problem of a short connection cable.
In addition, the camera has a super night vision and it processes images with the equipped AHD which delivers super video quality and this takes care of over exposure while driving providing accurate response even in low light areas.
Even details like license plates can be clearly seen. For full confidence on the wheel, while reversing, the parking lines are displayed on the screen as the mirror dash cam automatically switches to the rear camera with full display.
With a front camera of about 170 degree field of view and the backup camera of 140 degree field of view, all blindspots are eliminated and it would be impossible to miss out on anything. There are many Best Dashcam like Jansite dashcam that you can as well checkout.
Jansite Dual Dashcam Review
Coming with the device is a Jansite hardwire kit, meaning that the Jansite dual dash cam does not occupy your cigarette lighter socket in the car.
But then, the device can be wired to your vehicle to continuously supply power to the dash camera for 24 hours.
This gives an unprecedented recording of important videos at all times, which in turn makes the Jansite dual dash cam anti-theft, capture everything that comes in close range to your vehicle even when you're not there.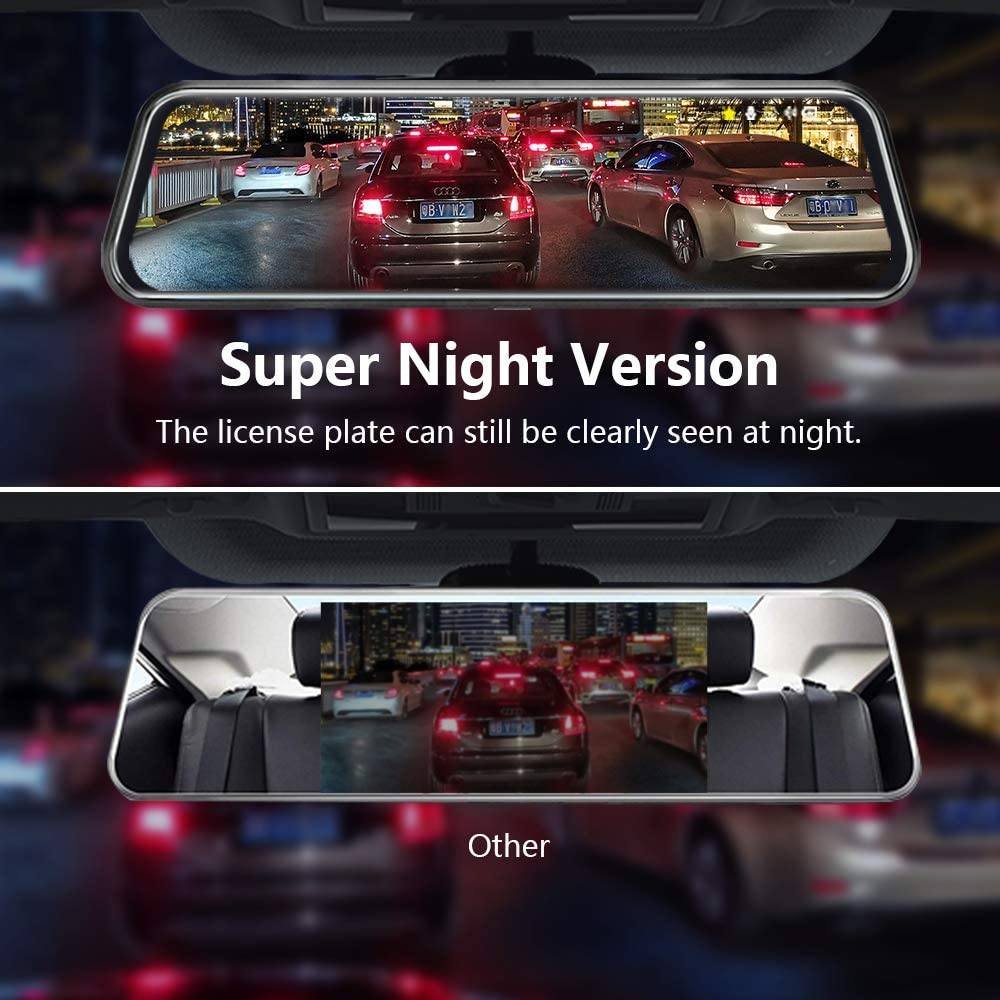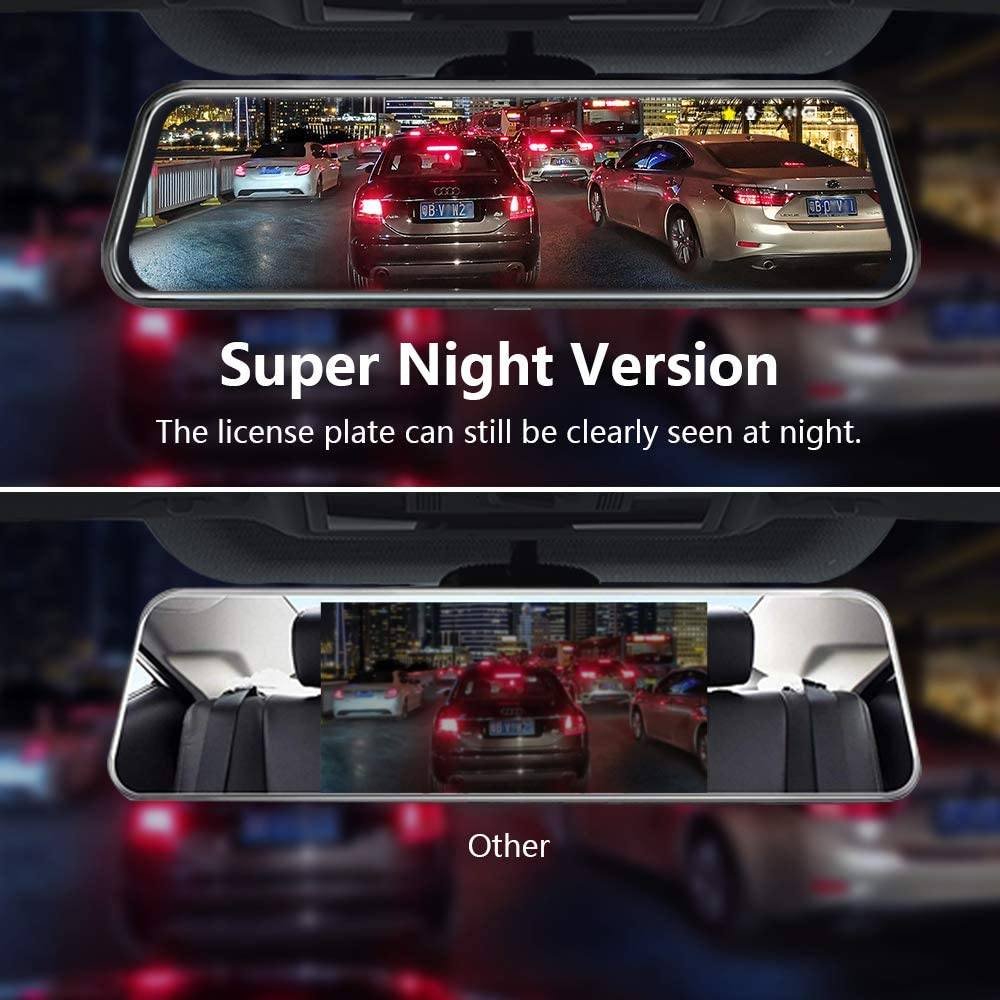 Another advanced feature of the Jansite dual dash cam is the motion detector feature that automatically comes on and prompts recording when the front camera senses any motion within its range.
If the motion was just a glitch in the environment, you shouldn't worry about the video taking up space because all recording would be stopped 10 seconds later.
In addition, its G-sensor enabled feature also comes in handy in situations where there is an unexpected shock majorly caused by collisions.
In turn, this feature locks the video, making it unable to overwrite, and keeps it safe for playback whenever you need it.
Although the device doesn't have a mobile application for software features and WiFi connection technology, you still have the option of saving videos to a memory card, and you'd get over the shortcoming in no time. The device supports SD cards up to about 128GB.
What Is Product For?
Jansite dual dash cam device is ideal for car owners with the aim of recording what's happening at the front or rear of their vehicle, with handy features like: super night vision, and a built-in WDR capacity that allows for the streaming of quality footage.
It gives you a full view of what goes on around your vehicle without the need of you turning every now and then while driving.
Who Is It For?
The product is mostly appropriate for vehicles with right-hand steering and it is primarily for recording what goes on in front and behind your car.
FAQ'S Related to Jansite Dual Dash Cam
Can the camera/lense itself swivel or be angled/turned?
Yes, it can. The Jansite dual dash cam has flexible cameras and they can be turn left or right.
Can the rear view camera be on permanently and can the image be flipped?
The image cannot be flip, but the rearview camera can stay on for as long as you want.
Does this dash cam have GPS?
No. This product, unfortunately, doesn't have a GPS function
How To Install It In a Car
In addition, The Jansite dual dash cam is rather easy to install, and the steps in its user manual can put you through easily.
Pros
Motion detection.
G-sensor enabled.
24 hours surveillance system.
10 metres long camera cable.
Super night vision.
Easy to install.
User friendly.
Flexible camera.
Cons
Does not support WiFi connection technology.
Not GPS enabled.
Based on the 34.7 x 11.7 x 7.3 cm dimensions, it wouldn't fit into all car mirrors.
Conclusion
For peace of mind and extreme confidence with reduced risk of getting a scratch on your car, the Jansite dash dual cam fully guarantees you the best option at having a great driving experience.
The product is mostly appropriate for cars with right-hand steering, relatively easy to install and has a handful of features that would leave you with smiles.
We hope you found our Jansite dual dashcam review helpful. If you have a comment or question, leave it in the box below, we will be glad to hear from you.