Cameras are almost a common feature of every smart device. Cars aren't left out as there are dash cameras designed to help the driver monitor his scenery while he drives. One of their latest devices is the Apeman C580 WiFi DashCam with App . It's a great camera that you'd find useful because of its ease of use and specifications.
Getting a dash camera is becoming an essential requirement for most drivers because of its usefulness in protecting against unprecedented accidents that may require evidence or proof for proper legal justification.
The APEMAN group has been known in America as one of the best manufacturers of dash cameras and their products are a favorite among users.
About Product
The Apeman WiFi Dash Cam with App also known as the Apeman C580 is the latest among the Apeman Dash cameras. It costs $79.99 and has a product dimension of 2.7 x 2.83 x 1.35 and a screen size of 2.45.
The product weighs 10.2 ounces and requires 1 Lithium ion battery. It allows a maximum of 128G for storage and has a compact, sleek design that makes for a portable, tidy look that catches the eyes.
It also comes with a 1080 HD camera quality withSony Starvis Image sensor which allows the device to record amazing video clips that are crystal clear, irrespective of the time the clip was recorded. The Apeman C580 also has a wide range viewing angle of 170° that allows the camera to span wide angles as seen on highways or large intersections, and allow you to see vehicles and their details more easily.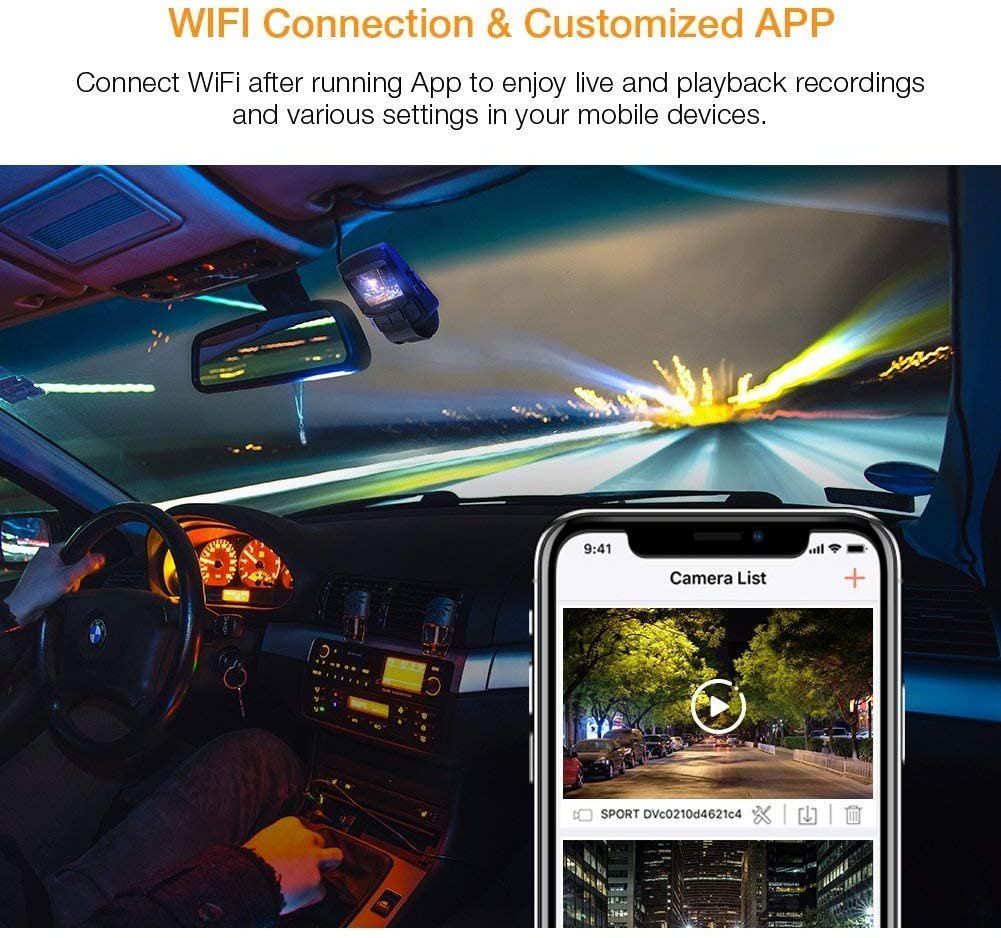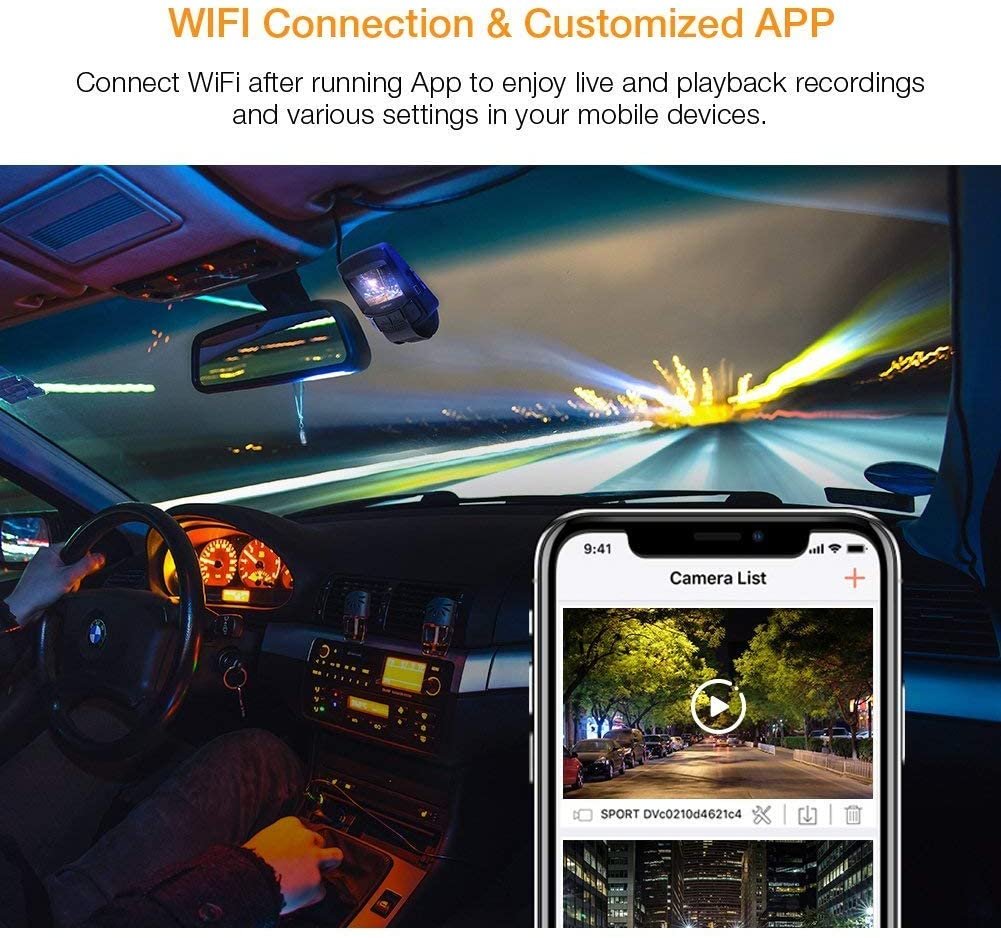 This device also comes with the loop recording function that allows for overwriting of older video files
The G-sensor allows devices to automatically start to record once motion is detected. It also has a GPS function that allows you to navigate your way easily while driving.
The Apeman C580 also has a 24/7 parking monitor function that wakes up the dash camera and automatically starts to record and then saves the video as evidence in case of accidents.
Finally, the Apeman WiFi Dash Cam has an app known as the "Apeman Tour App" which can easily be downloaded, installed and used. It allows you to easily view, download and share video clips from the camera directly to your smartphone.
What is Product For
This device is for monitoring all that happens around you as you drive. As this unit is a single front camera unit, you can see all that happens in front of you, especially with vehicles. You get to view details about them like their license plates. With its super clear imagery, your video quality comes out clear whether recorded in the night or day.
Who is it For and How Helpful l can it Be
The APEMAN C580 is an amazing product that is suitable for all drivers, irrespective of the type of vehicle you drive. It allows you to drive with ease with less worries of what's happening in front of you.
The device is helpful because it not only acts as a surveillance tool, it also allows you easy access and use of the app by easily downloading and viewing videos, sharing and changing settings to your desire.
FAQ's Related to Apeman Wifi Dashcam
Does this camera come with a power supply unit?
Yes, this device comes with a car cigarette charger that you can use to charge the device.
What's the maximum SD card allowed and does it come with the package?
The unit allows between 32G to 128G although it doesn't come with the package. You'd have to get it separately.
What file format does the device record in?
The Apeman C580 records in the MOV. file format.
What's the name of the mobile app, how can I download and update?
The name of the app is the APEMAN Tour app and it can be downloaded and updated from Google Playstore or app store.
How can I connect my device to the mobile app?
First of all, you'd have to turn on the camera's WiFi and open the app. Once you open the app, connect it to the WiFi and select the network named 'Apeman'. It would require a default password to connect. This default password is mentioned in page 9 of the user manual.
How to Install it in a Car
Installing the Apeman WiFi Dash Cam is pretty easy although you'd have to format your microSD on the camera directly. After doing that, follow these steps
Look for a vantage point on your windshield where the dash cam would fit. Behind your rear view mirror is usually the best place
Press the sticky mount to your windshield and snap in place using the locking clips.
Route the charging cable to your cigarette adapter and ensure it's plugged in.
Test the dash camera by turning your car key
Once it comes on, you can choose to make desired changes to the menu settings.
Pros
Compact design.
Nice wide-angle view.
Amazing camera/video quality.
Highly functional remote mobile app.
An alert system.
Easy to install.
Cokes with a GPS antenna.
Great WiFi connectivity.
Comes with a sticky mount.
Cons
User manual is outdated and poorly organised.
Transferring files directly from camera to your phone can be slow.
Conclusion
The Apeman WiFi Dash Cam with App, also known as the Apeman C580 is a great device that proves reliable and useful as it carries out its advertised functions excellently.
As common with all Apeman dash cameras, the Apeman C580 is easy to install in just a few steps, it's functions are helpful and the user menu is intuitive.
Using the app is simple, and your video can be easily transferred and shared. Although not without its few mistakes, the Apeman C580 is so amazing that most users are willing to overlook these few setbacks. So if you're searching for the perfect dash camera for your vehicle, the Apeman WiFi Dash Cam should be at the top of your list as it is recommended for all drivers.