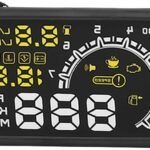 While on transit, a lot of things need to be checked by the driver. The speed limit, and a lot of other items displayed on the dashboard. But it's quite a shortcoming that the devices that present this information often require the driver to get his eyes off the road to look at them.
This might easily cause distractions which might further lead to accidents or unwanted events. Solving this problem, the VGEBY universal 5.5 inch screen car HUD was manufactured.
The Universal Head up display presents a head-up screen feature that displays important information regarding the car's units. The product is sold at $43.09 on Amazon and totally serves its function.
About Product
The VGEBY universal Head up display is a testament to symmetry and beauty. Weighing about 10.2 ounces, the head-up screen device has about 5.5 inches clear display screen that presents information about necessary and important car details.
It is also manufactured to be the best fit for any dashboard with sophisticated design and sleek appearance.
The device projects emergency readings if there is cause for alarm just as soon as the reading is detected.
Readings concerning over speeding on roads with particular speed limits would be displayed right in front of the car driver, saving the time to confirm on the dashboard from the speedometer gauge.
An added advantage to this product is that it has adjustable brightness which presents the option of either increasing or reducing the head-up brightness.
The flexibility of the brightness can either be adjusted manually or automatically based on user preference and it is aimed at giving the best visuals regardless of the weather condition.
VGEBY Universal HUD Review
The device is also modeled to protect the car's battery by being fully functional only when the car is in use. When it is not, there is nothing to worry about as the HUD device won't drain your battery because it's out cold.
Requiring a working voltage of about 9V~16Vdc(12Vdc/400mA) for optimum performance, the VGEBY 5.5 inches HUD device offers the choice to switch between kilometers and miles, for compliance to user understanding.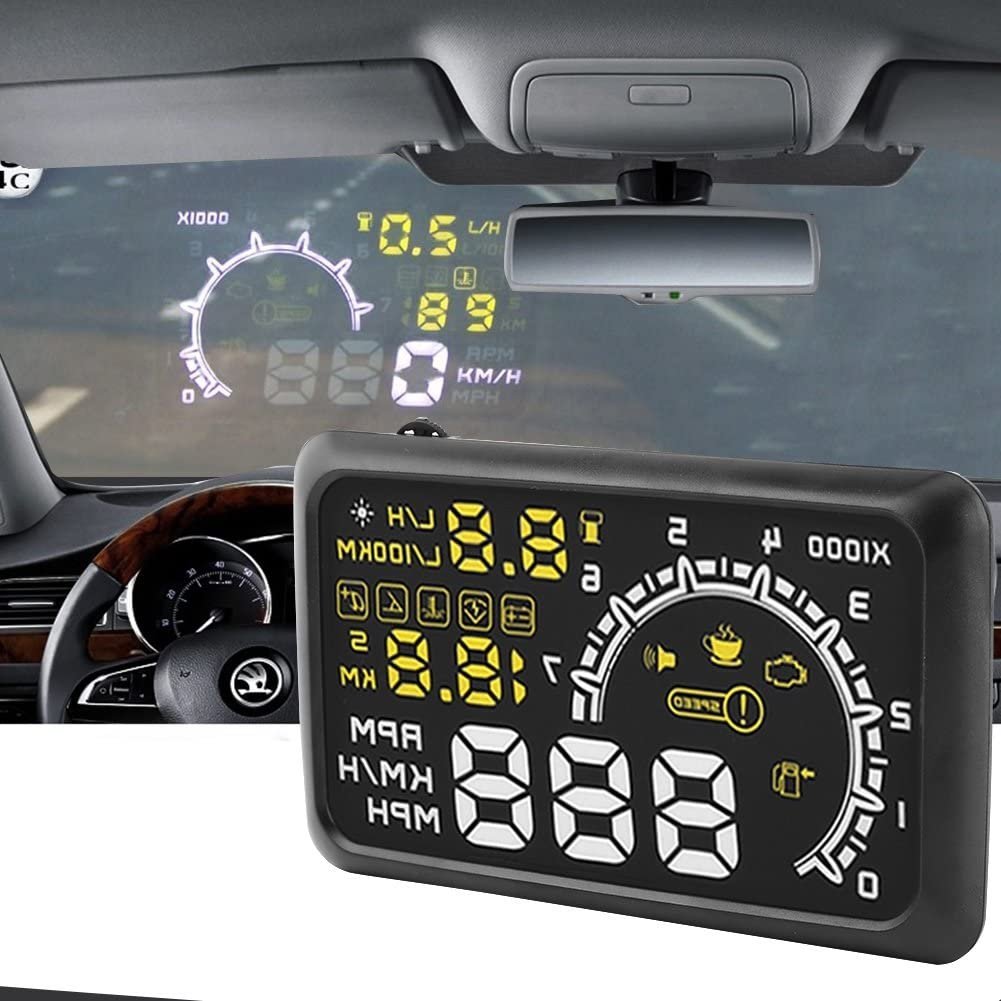 The head-up displays parameters at the same time as follows, vehicle speed, engine speed, water temperature (voltage, throttle valve position, ignition advance angle, time of 100km acceleration), fuel consumption, mileage, low fuel.
It is, however, very important to take into consideration that the VGEBY universal Head up display 5.5 inches screen car HUD is only compatible with vehicles that are in line with OBDII or EUOBD(On-Board Diagnostic System).
What Is Product For?
The product is designed to maintain safe driving of vehicles. As it offers the solution of saving the duress of having to get one's eyes off the road to look at the dashboard for required information regarding speed and whatnot.
Who Is It For And How Helpful Can It Be?
The product is developed for safe driving of automobiles. When a car is at high speed, especially at night. If the driver lowers his head to watch meters or audio display. He will not take effective measures in time if an emergency suddenly comes up.
At that critical time, the HUD reflects very exquisite care by projecting the important information of meters displayed on the front windshield during driving, such as: speed.
Frequently Asked Questions and their Answers
Is the VGEBY universal Head up display 5.5″ screen car HUD compatible with Lexus is250?
No. The product would not function with this vehicle.
Where can I find a User Manual for this device?
A User Manual is always provided in the box at the time of purchase.
Does this product have an overspeeding alarm?
Yes. The VGEBY universal Head up display 5.5″ screen car HUD has an over speeding alarm feature that keeps your car's speed in check.
How To Install It In a Car
Furthermore, designed by applying the latest and performance stable integrated circuits, this car unit can be brought to life by plug-and-play sequence; quite easy to install, just connect the power supply to the car's plug-in socket and it's up and ready.
Pros
User friendly.
Offered at a decent price.
Flexible brightness.
Important alarm features.
Cons
Not compatible with all vehicle models.
The sound alarms might offer a bit of distraction to drivers.
Conclusion
As it is designed to help the driver read data rapidly without transforming vision and enabling you to keep the best watch state. The VGEBY HUD device offers many functions that make you experience the pleasure of driving.
Sold at a considerably decent price, you fully get what you pay for. Therefore, it's a highly recommended car accessory for you.