Car owners have always wanted an all-in-one in-car device that would perform numerous functions as it would reduce the number of devices that litter our cars, and improve the level of interaction with our vehicles and other complementing devices. Two of the most popular in-car devices are the radar detector and car radio. While the radio comes preinstalled, most radar detectors are aftermath devices. Advanced radar detectors are now equipped to work with the Kenwood car radio. So, what radar detectors work with Kenwood radio?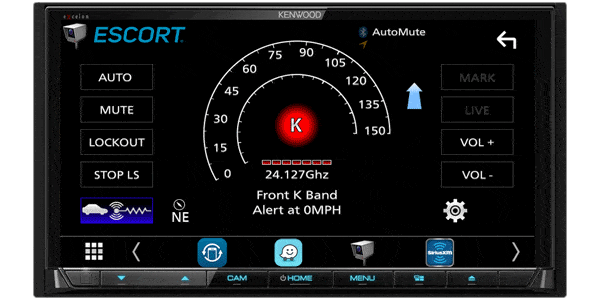 Kenwood has partnered with Escort radar detector company to have the first radar detector and radio integration. Escort, a radar detector manufacturer designed the Escort IX and Escort Max CI to integrate with Kenwood radio using the iDatalink maestro RPC, a universal adapter that allows you to connect numerous devices to your receiver, thereby reducing the level of electrical clutter in your car. Purchase the upgraded iDatalink today to begin your journey into universal connectivity.
If you don't already have the Kenwood radio installed, then get an aftermath option today. It also comes with a multimedia screen that makes it possible to control numerous devices at a time.
The Escort IX and Escort Max IX are fitted with ports to add a rear radar and up to four laser shifters. When integrated with your Kenwood road, you'll receive regular traffic and radar alert from your front speakers. It also supports wireless connections and can be enhanced by integrating the system into a smartphone, making it easier to program and adjust your radar detector system.
The invention of laser radars almost made radar detectors obsolete. However, brands such Escort equipped their reader detectors with laser detection. The Escort XI and MAX XI can detect lasers from radar guns accurately. The integration of escort radar detectors and Kenwood radio is also easy and can be done yourself. However, always make sure to follow the user manual and contact the manufacturer in case you run into any trouble. You should also make sure those devices are legal to use in your country or state.
What Are The Alerts You Receive From Kenwood Radio
The integration of Kenwood Radio and the Escort radar detector sends important car, emergency, and traffic data/warnings to drivers. It is worthy of mention that the integration can also detect specific laser bands, making it easier to focus on those frequencies during your next drive. The different bands are X, K, and Ka. It also displays your current speed, thereby, helping you to prevent overspeeding and accidents.
The integral navigation system also helps you to navigate through-traffic, thereby, preventing collisions, hold-ups, and congested areas.
Aside from radar guns, the police also use redlight cameras to measure speed. The Kenwood and Escort hybrid search for the frequencies of cameras or use advanced search methods, including the internet and GPS to locate and tag the location of red light cameras. It also alerts you of the popular police locations, giving you enough time to readjust.
What are the Benefits of using the Kenwood Radio and Radar detector?
You stand to gain a ton a lot by installing the pair in your car, but most importantly, you get to minimize the electrical devices in your car. Imagine having a radar detector, weather device, and an emergency system all on your dashboard, fighting for space.
That'll be a congested area, leaving you without the space to operate. Investing in this technology would significantly declutter your dashboard as you now execute commands and receive information from a single source
The system also keeps your eyes on the road. The multimedia display of Kenwood to
Radio means all your commands buttons are one touch away. The alert system also eliminates the need to find answers elsewhere, which takes your eyes off the road. You're also free from distractions. All of these foster safe driving, keeping you and other road users safe.
Lastly, you enjoy quicker alerts. Your alerts override the radio frequency, which would be impossible with stand-alone radar detectors. You no longer have to worry about increasing your radio volume. Enjoy radio and radar detector alerts side by side.
All About The Escort IX Radar Detector
Escort IX radar detector is one of the best detectors in the market. Technologically advanced and ahead of the market with their cutting-edge features and function, the Escort XI and Escort MAX IX are the best radar detectors for any type of car and needs.
Costing over $300, the escort radar packs tons of benefits that justify its price. The radar detector is equipped to detect 34 radar bands, provides 360-degree protection, and uses digital voice. It also has long-range detection which enables it to notify you of potential radar guns and speed cameras on time. It is also fitted with a twin antenna which enables it to find high frequencies quickly.
You no longer have to worry about missing the different police radar bands and frequencies with this ultimate product. Your radar detector also finds radar guns in all directions, providing the absolute protection service. 360 at its best.
Designed to reduce false alerts, the Escort Radar features an In-vehicle technology filter (IVT) that filters out non-threatening frequencies. False alarms are the major menace disturbing radar detectors.
Low-budget radar detectors cannot differentiate between radar guns and other devices on the same band, thereby consistently alerting drivers to automatic doors and frequencies of other cars.
This could lead to distraction and may even cause accidents. They are also limited and ineffective against advanced radar guns.
Equipped with the V2-2 immunity, this device not only detects radar guns but also radar detector detectors (RDD). The radar detector shuts down once it detects the wavelength of an RDD.
The Escort Radar detector functions on a community network where users can upload traffic information and sightings of radar guns and red light cameras. It also enables users to mark the locations of these sightings so that it becomes a driving guide for next time. You can also utilize the GPS function to tag police spots. And of course, to find the best route.
As mentioned earlier, the Escort radar detector is one of the most technologically advanced detectors in the market so it's no surprise that it is also compatible with smartphones. You can improve the functions of this radar detector by using compatible apps and services.
Lastly, it comes with a suction cup that holds the radar detector to your windshield. Easy to install with amazing features and functions.
Worthy Mentions
1. Valentine One Gen2
A stylish matte-black designed and button-free, the Valentine One Gen2 detects frequencies on X, K, and Ka. It has long-range detection and a terrific false alert filter. It also features a wireless connection and has smartphone compatibility.
2. Uniden R7
The Uniden R7 has long-range detection and is incredibly accurate. This combination is great for highway travel. You're alerted on time to adjust before you're in contact with a radar gun. Uniden R7 also shows the direction of the Radar, giving you accurate data to help you adjust. It has an inbuilt GPS that allows users to tag redlight cameras, radar guns, and road trips. It has a lockout feature for areas with a high rate of false alerts.
3. Escort Redline 360c
Escort radar detectors are notorious for being pricey but never under perform. The Redline 360c comes with a suction cup that you'll use for holding the radar detector to your windshield. It features wireless connectivity and detects all the radio bands, including laser guns. Just like the Escort IX and Escort MAX IX, it is also immune to Radar detector detectors. It has speed and camera alert, among others.
4. Uniden R3
The Uniden R3 is an affordable option. Detects frequencies on X, K, and Ka. It also has customizable notifications for all the various bands.
Always be sure that your radar detector covers the range of radars being used in your city before making a purchase.