The transmission from the camera to the monitor is activated when the car is put in reverse and goes off immediately it shifts back to drive, but monitoring your rear for just a couple of seconds helps you to change lanes faster and avoid collisions. What is rearview camera delay, how do I activate it, and what are its benefits? Keep reading to find the answers to these questions.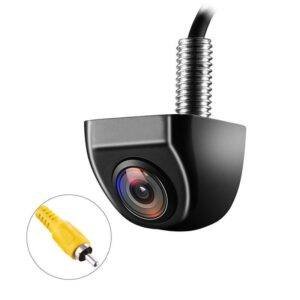 A rearview camera delay allows the display to stay on after returning the gear to drive from reverse. This feature only works in selected vehicles but is very useful. The delay feature comes installed in advanced rearview cameras Motorists use this feature to monitor their rear and as they accelerate to avoid collisions from behind and sides of the car.
Upgraded aftermath rearview cameras are equipped to delay for a couple of seconds after shifting out of the reverse gear, as well as several other new features. Motorists are upgrading their units to enjoy these additional useful features at low prices. If you prioritize a good driving experience, then find one of the advanced kits here at affordable prices.
HOW REAR VIEW CAMERA DELAY WORKS
The rearview camera in your car is activated once you shift gear into reverse. This allows you to monitor your car rear at both high, low, and wide angles. However, the display goes off once the gear is shifted back to drive. The head unit can then be used for another purpose such as, radio or other integrated functions. You'll need to make some adjustments if you want your rear view camera to stay in reverse long after returning gear to drive. This adjustment is simple and doesn't require any sort of tools.
To activate the rearview camera delay, put the car in reverse, wait for the display to come on, and click on the screen to display a menu. The settings differ from car to car but in most cases, you'll find the delay dialogue in the bottom left of the screen. Click on it and shift gear back to drive. The display will stay on for a couple of seconds, while some displays only switch off when you exceed a speed limit.
WHY YOU SHOULD ACTIVATE REAR VIEW CAMERA DELAY
Tracks Speeding Vehicles
Since you're accelerating, you need to monitor the vehicles coming from your rear and your sides. You may collide with incoming vehicles if care isn't taken. You need to monitor the angle and speed of the incoming vehicle to measure your speed and next line of action. This feature is required for motorists to efficiently switch between lanes as they drive. In essence, rearview camera delay reduces the risk of accidents and collisions. Save money on repairs and replacement for other important car upgrade.
Cons
You need your eyes on the road while driving, but rear view delay can keep you distracted. Hence, why it deactivates once your speed exceeds 5 mph. Another way to avoid being distracted by rearview delay is by integrating the camera into your rearview mirror instead as it allows you to see the road ahead of you and behind at the same.
HOW DELAY ENHANCES THE GENERAL BENEFITS OF A REAR VIEW CAMERA
Rearview camera delay has several benefits to help drivers, but it also enhances the general benefits of having a rearview camera. Follow the instructions above to activate delay in your rearview camera system. If your unit doesn't have the delay feature, then it's time to upgrade to one of the advanced aftermath options on the market. Find high-quality rearview cameras here.
Save money
By installing a rearview camera, you save money that would have gone into buying new parts and repairs. While reversing may look like an easy task, most drivers find it difficult. This causes constant collisions and accidents.
Constantly bumping into obstacles will result in constantly visiting the panel beater. With the delay feature, you can also prevent other motorists from bumping into you.
It also saves you money on insurance premiums. Insurance companies are always eager to reduce costs for motorists with advanced devices such as rearview cameras and dash cams.
Rear view cameras also save lives. The frequency of deaths caused by reversing has drastically reduced since it was mandated in the United and Canada. Children and pets have been the highest victims.
Helps you reverse
Reversing has been better with rear view camera and delay as motorists can now monitor their rear while trying to Park properly. The constant change in gear when parking in tight corners would cause a rearview mirror to switch off and on continuously. But with a delay feature, you can easily park as the rear view is on constant display.
HOW TO TROUBLESHOOT DELAYED DISPLAY AND OTHER DELAY ERRORS
While the delay is beneficial for switching between reverse gear and drive, delay before the display can be a problem. The delay setting should only activate when you shift from reverse to drive, however, a glitch or installation error can lead to delay before it displays. This is usually a 10 seconds delay before any image is displayed on the screen of your monitor. Most Motorists who have reported this problem say it only happens the first time. After that, the camera is activated once the gear shifts to reverse.
The solution is usually waiting at least 30 seconds before shifting your gear to reverse. Your car's electrical circuit needs some time to boot. Use these 30 seconds to look through your car to make sure everything is in order.
Blank Delay Screen
Is your rearview monitor blank? Check the monitor for any damaged parts. Also, check that the camera is feeding the monitor. If the camera is off, turn it back on. More often than not, a blank delay screen is usually caused by an installation error. While wiring doesn't require much technical knowledge, there are important things to get correct. For instance, you need to connect the AV cable to the monitor or head unit. This is what allows it to display video.
Signal Delay
Signal delay is more common with wireless connections. A damaged receiver or transmitter may cause a signal transmission error. Inspect both devices to check their condition. If you notice any damage, a simple repair might suffice. However, bigger damages may require replacement. Find high-quality receivers and transmitters here. If you're using a wired rearview camera, then inspect the cables for any damage. You should also check the fuse box for any blown-out fuse. If your rearview camera is connected to your head unit, then remove the dashboard and inspect the 28-pin behind the video receiver.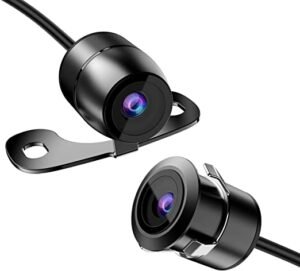 Black And White Screen
Are you experiencing a flashing or black and white screen? This may be caused by fraying cables and damaged connections. Inspect the wires for any cables that need repair or replacement. Find high-quality RCA cables here.
Poor Image Quality
While Rearview cameras are not designed to produce the best image quality, poor image quality results in poor performance. If you're experiencing poor image quality, then inspect the wires and connectors. Also, check the transmitter and receiver. A damaged component may affect the quality of signal that is transmitted between both devices.
But most often than not, dirt and grime are what cause poor image quality. Clean the lens with the recommended chemical and soft fabric. Schedule cleaning time every week to keep it clean all the time.
Conclusively, delay in rear view camera is a great feature to enhance your driving experience. You can find this feature in most advanced rearview cameras. You can turn it on by simply navigating through the settings on some models. Most simply have it on the home screen. You can buy an aftermath delay cable harness to add to your rearview camera.