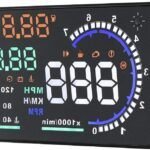 A vehicle's dashboard usually comes with a lot of accessories, most of which are strategically placed in fixed positions: the stereo devices, the GPS Navigation device systems, and a whole other interesting devices.Qiilu A8 HUD is famous Hud.
These items all have their benefits, but oftentimes require drivers to look away from the usual viewpoints— the road, in order for them to visually access the displayed information.
Technology has taken great strides to manufacture devices that can serve a great many functions without requiring the car owner taking his eyes off the road to read required information.
The Head-Up Display technology puts this into play and eases the twisting and turning of heads to fix this problem. And one of such devices is the Qiilu A8 HUD Display With Speed Fatigue Warning that is sold on Amazon for about $61.19, and offers quite a handful of functions we will get to figure out soon.
About Product
The Qiilu A8 HUD Display With Speed Fatigue Warning is a Head-Up Display that, as much as the name implies, does not require the stress of lowering or overly turning your head as a car driver to read the necessary displayed information.
The device weighs approximately 280g and is sophisticatedly designed to be the perfect unit for compatible dashboards. Yes, that's right! Inasmuch as this little beauty aims at easing the stress of car owners, it is not compatible with all vehicles— vehicles like Dodge, for example.
It is also not fit for JEEP, not fit for IMSEOER, not fit for Chrysler and cars manufactured before 2004 in the United States of America. It is sadly not fit for Fiat, Maserati, DS, PEUGEOT, Citroen, Renault and Simca as well.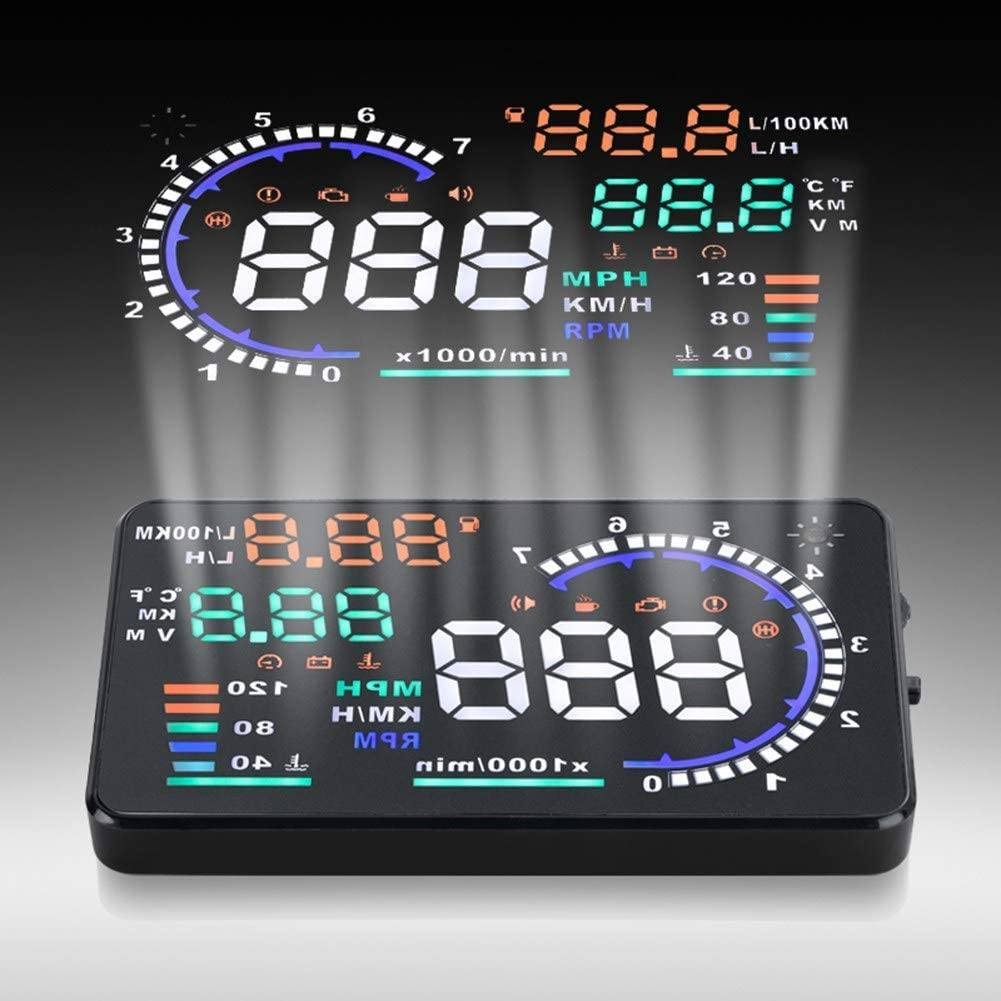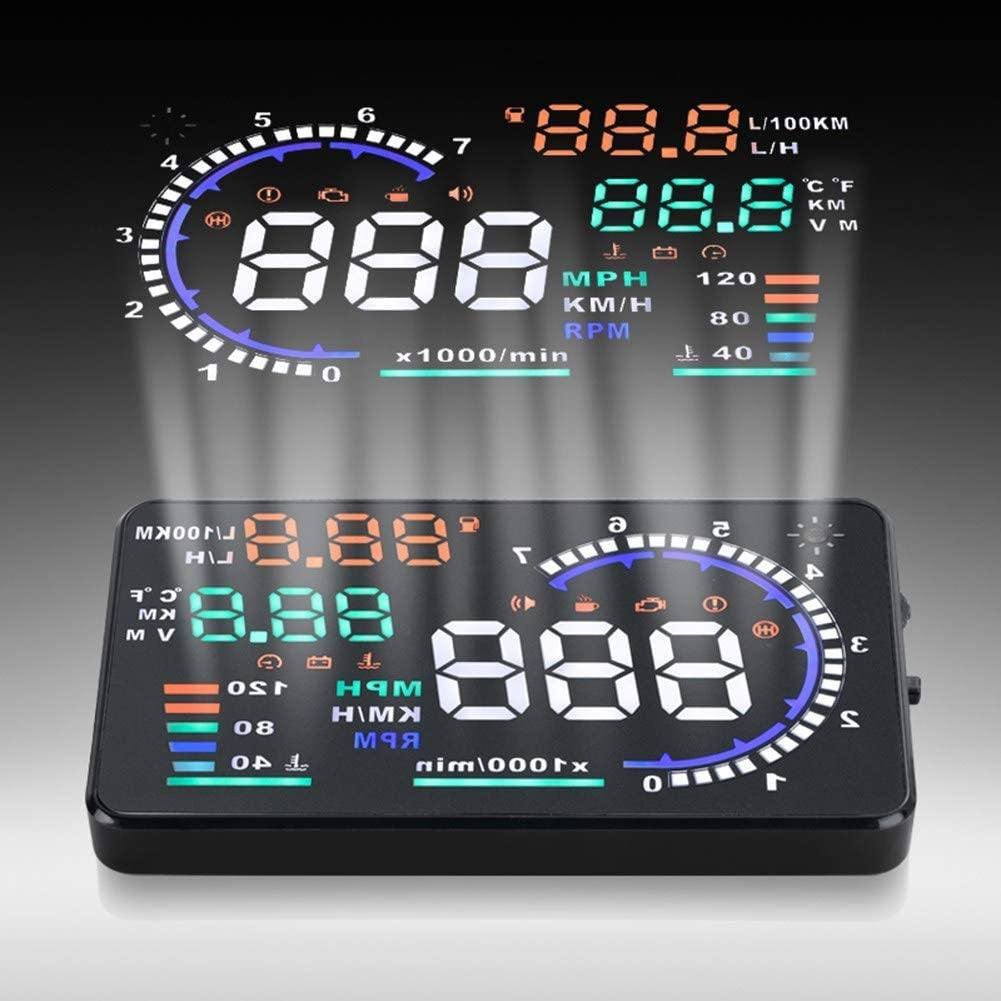 In fact, it is generally not compatible with French and Italian cars and we hope subsequent versions of this car unit eliminates this drawback. The unit is only compatible with cars in line with OBD II or EUOBD (on board automatic diagnostic system).
This device, however, has been fine-tuned to eliminate reflections and deliver richly sharp, clear and high quality visuals of car speed, water temperature, both instantaneous and average fuel concentration.
This car unit has also been wired to send alarms in cases where required. Situations like engine faults, high temperature, low voltage, and cases of breaching set speed limits would result in alarms from the Qiilu A8 HUD device. The desired units of speed/distance traveled can also be toggled between kilometers and miles.
Certainly serving the function of being right in front of the driver or any desired location, the device also has a function of brightness adjustments which can either be manually or automatically set up, based on user preference, hence eliminating the glare while reading presented details.
Another huge plus to this device is its automatic power on and off feature that presents the option of saving the car's battery. This device is circuited to come on when the car engine comes to life and is turned off when the engine goes off. Definitely one to consider if you're looking up a car HUD device that would not give you trouble concerning draining your vehicle's battery when not in use.
The Qiilu A8 HUD device also displays and gives warnings regarding speed fatigue, so fewer worries concerning running off the road at the most unexpected moments as the device interestingly, cares about drivers' safety.
The working conditions of the device are quite friendly, with an optimum working voltage of about 9-12DCV that is required for full functions.
What Is Product For?
The Qiilu A8 HUD device is basically for displaying sensitive vehicle information regarding the engine and vehicle's general body while on transit. It's one of best HUD like Lufi XF HUD.
Who Is It For And How Helpful Can It Be?
Qiilu A8 HUD device is a unit that would keep your eyes focused on the road while presenting you with details about car speed, sending alarms about engine faults, water temperature and similar relevant information.
The device is for every car owner who needs a medium to serve as a means of their vehicle's interaction with them.
FAQ's Related too HUD
Can you disable an alarm that keeps ringing out?
Yes. The device can be set up according to your preference.
 Can you calibrate the speed setting so that if you have bigger or smaller tires than stock the speed will still be right?
The speed can, unfortunately, not be calibrated.
 Does it display air pressures in tires?
Yes. This information is displayed on the device's interface.
How To Install It In a Car
The Qiilu A8 HUD With Speed Fatigue Warning comes with a user manual that contains well-described operational steps that would give proper installation for efficient functions, however, it is advisable to fix up the unit under close and reliable supervision.
Pros
 User friendly
 Clear display.
 Rich display content.
Decent price.
Cons
 Might be difficult to set up.
 The device is not compatible with just any vehicle.
 The alarms might be disturbing and annoying, and might become a source of distraction while driving.
Conclusion
The Qiilu A8 HUD With Speed Fatigue Warning, serving the function of providing important car details while on transit goes for a rather decent price. It is however restricted to some vehicles.
The rich display content gives insight into the vehicle's mind, reducing situations where car owners might need to guess what went wrong with their vehicle.