Are you in the market for a car seater for your toddler, preschooler, or school-aged child? then you have come to the right place. The Nuna car seat brand offers some of the best seats for all ages at an affordable price. To better narrow our review, we have decided to take a look at the Nuna Tres car seat while reviewing the brand.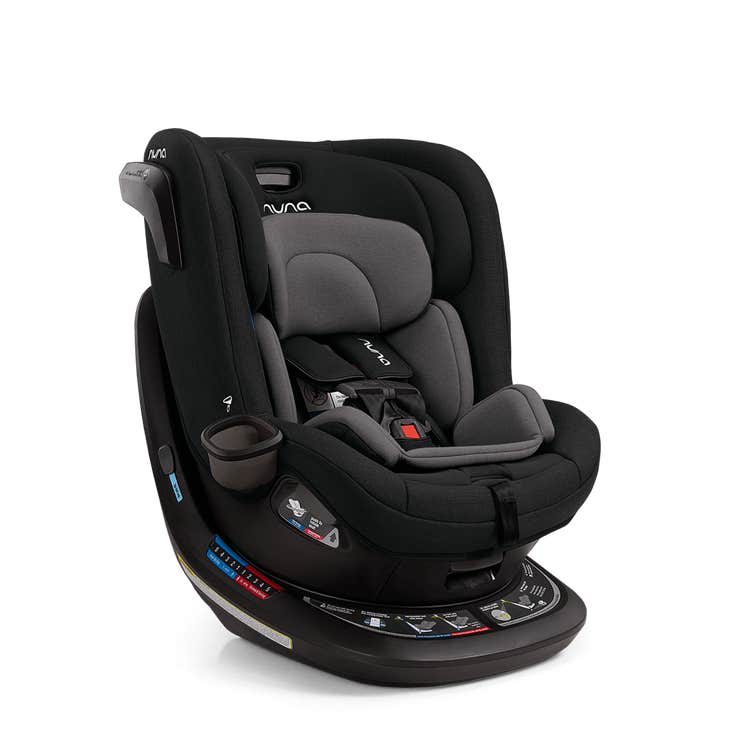 | | |
| --- | --- |
| DURABLE | YES |
| ADJUSTABLE | YES |
| COMFORTABLE | YES |
| STYLE | GOOD |
| SAFETY | YES |
WHAT AGE RANGE IS THE NUNA CAR SEAT MADE FOR
Depending on the way you're using this brand, it can be useful for your child up till their 12th birthday. According to our tests, the seat of the Nuna tres can hold up to 36kg (the size of an average 12-year-old).
However, rear-facing use can only hold 18kg (the average size of a 4-year-old), and its use for forward-facing holds only 15kg (average size for a 3-year-old).
According to multiple studies, the rear-facing seating technique is better for children as it provides enhanced safety and comfortability.
However, according to reports from parents, leg space is limited for older children using the forward-facing seating technique.
They complain that children may have to fold their legs on the seat or simply allow it to float in the air, which can sometimes be uncomfortable.
However, if your child seems comfortable with this arrangement, then the sturdy build and durability of this product should make up for this minor inconvenience.
IS THIS BRAND BETTER THAN OTHER OPTIONS OUT THERE
The Nuna universal 3-in1 car seat is one of a kind. However, there are numerous contenders out there, offering similar value for the right price.
For example, the Disney Baby Grow and Go 3-in-1 convertible car stays with your child from infancy to early teen, supporting a weight of up to 45kg, now that's impressive.
However, the Nuna Car Seat offers up to 6 position recline as opposed to the 3 offered by Disney. Three are not many other 0+/1/2/3 car seats out there that would rival the Nuna car seat.
So when choosing your most preferred choice, ensure you consider durability, functions, and specifications before making your choice to avoid regretting months or years into your purchase. Important factors to always consider are headrests, number of positions, and weight.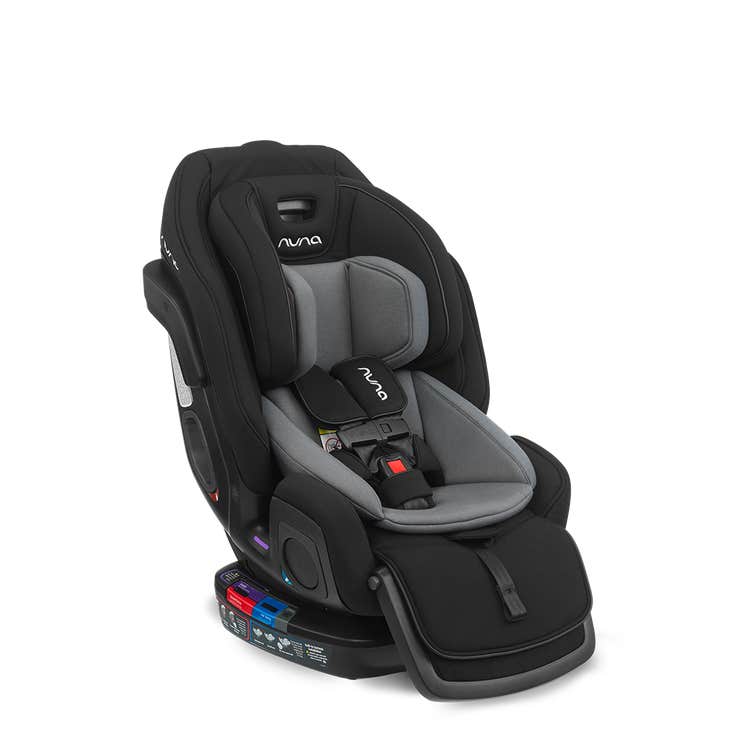 HOW DO YOU INSTALL THE CAR SEAT
Installing this car seat is pretty straightforward. However, you'll need to learn about installing it for the three different modes. The 0+1/1 mode is the easiest of all.
If your vehicle uses a 2 point seat-belt only, then you will need to use an ISO connector. On the other hand, a 3 point seat belt simply requires you to feed the seat belt around the chair, holding it firmly.
That's all, simple right? The 2-3 mode can also be installed using your three-point retractable seat belt. However, experts recommend using the ISO connector in your car for forward-facing installations.
As expected, installing the 0/1 mode is much easier than the 2-3 mode and with ISO connections. The former takes between 3 to 5 minutes while the latter may require additional efforts.
However, the product comes equipped with an installation guide with pictures for users to follow.
WHAT ARE THE SAFETY FEATURES OF THE NUNA CAR SEAT BRAND
The major safety feature on Nuna car seats includes the side impact fin, which protects the head, hips, and body from injuries while traveling.
For enhanced comfort, this feature can be folded back into the seat when not in use. However, we recommend leaving it intact because you never know when there will be an impact.
But if your child is traveling with a passenger on the nearby seat, then fold it up to allow for more space as this passenger will serve as the shield.
Regardless, ensure to prioritize your child's safety when traveling as head injuries can have a lasting negative impact on the health of your child.
ARE NUNA CAR SEATS COMFORTABLE
This Nuna car seat is very comfortable as can be seen from the padding and support system all around the body of the seat. Children's bodies no longer have to come in contact with the hard parts of the seat nor the body of the vehicle.
The Merino wool inserts also provided another level of comfort, by regulating the child's temperature, it makes it suitable for all weather conditions.
However, the wool is limited by size as it's only suitable for children between 0-9 months. Nevertheless, you can keep using the merino car seat until your child grows out of it.
But the merino wool insert might be too loose for your child, depending on their head size. During our test, we realized that the child's head kept tipping forward. If the seat is not tightly secured with the seat belt, the child might fall over.
IS THE HEADREST ADJUSTABLE
The seat is adjustable between 1 to 10 height positions using a lever located at the top of the seat and the side wings are automatically adjusted when the height is switched between 6 and 10.
ARE THE STRAPS WELL-DESIGNED
The Nuna car seat features a strong strap that was able to hold its weight consistently without any sign of wear out. During my test of this car seat, I strapped in my 27kg sized child and the strap did its job perfectly well.
The harness is padded from shoulder to chest level to provide more comfort. We noticed that using only the belt would cause discomfort to the child's shoulders and chest.
They also help to prevent the strapped child from slipping from beneath the strap.
Notwithstanding its countless benefits, the strap is nonadjustable, meaning you have to get it right the fight time, or else your child might just be uncomfortable throughout the entire ride.
But it is possible to tighten and loosen the strap to suit your child's preference and size.
DOES THIS CAR SEAT RECLINE FOR ENHANCED COMFORT
The Nuna car seat is not only comfortable but has numerous adjustable parts, including the recline. You can switch between 6 recline positions of 4-forward facing mode and 2 rear-facing modes.
This provides the maximum amount of flexibility anyone may desire from their car seat. This switch can be done using the handle below the seat.
Once you locate it, simply shift between the options until you arrive at the desired recline position. Nuna made this so easy that they even used colors to rightly differentiate the forward and rear positions.
The red colors represent the forward positions while blue is the rear. This should help you not get confused when switching between both positions.
While testing this car seat, I realized that the front recline positions were very good, allowing for multiple positions, however, the rear positions didn't provide flat positions.
IS THE CAR SEAT HEAVY
The Nuna car seat is equipped with cutting-edge technology and robust features that one might think would be heavy and incredibly pricey. But that's not the case, while it weighs 9.51 kg, this car seat is relatively easy to move around.
During my test, I carried the car seat to and from my vehicle parked on the street to the house. I wouldn't say my arms weren't strained, but it didn't cause any fatigue.
Nonetheless, carrying 9.5 kg for long will become strenuous and cause tremendous stress to your arm. Also, you want to consider your ability before lighting this car seat.
If you're on the road for long, then leave the seat strapped to the car seat so you don't have to mobilize it now and then. Also, while it is not too heavy, you may face other problems relating to its size.
For example, if the frame of your car door is small, you may always struggle to fit this seat inside your vehicle. That's why we suggest that you think of a permanent solution rather than go through a strenuous back and forth every morning and evening.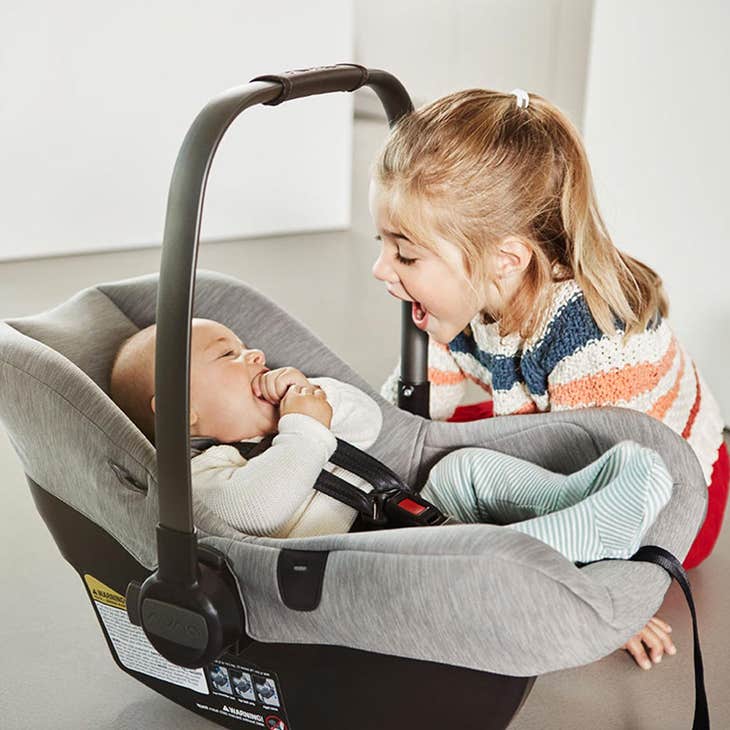 WHAT'S THE MAINTENANCE REQUIREMENTS FOR THIS CAR SEAT
While this car seat doesn't require extensive maintenance when used correctly, avoid bumping it into doors, pathways, walls, and other objects to ensure longevity.
Next, the cover and infant cushion and cushion can get dirty fast. This can pose a danger to your child's health, so to avoid that, consider washing these specific objects now and then.
The material type will determine how you wash. You'll have to switch between cold and hot water and use recommended soap to remove stains.
Avoid using harsh chemicals for your child's safety. Instead, follow the maintenance guide on the car seat for proper and safe maintenance.
WHAT'S THE PRICE FOR THIS CAR SEAT
Nuna products costs between $159.95to $1129.90. When compared to the features and specifications on this seat, it's actually a steal. This is more than enough value for your money, and it is also protected by warranty so you can't go wrong by buying one of these car seats.
Pros
● Superior Comfort
● Enhanced Safety
● Versatile Functions
● Lightweight
● Easy Installation
Cons
● Some Have Difficult Harness system
● Some Are Not compatible with all car types
Conclusively, the Nuna brand car seats are manufactured from durable quality materials for guaranteed comfort and durability. They are definitely worth its price and you won't regret making the purchase.