The Doona car seat brand has designed some of the best strollers, including the stroller hybrid which is the first of its kind. By providing the market with a car seat and stroller in a product, parents can now travel lighter and enjoy comfort, as well as their babies. This article is a complete review of the Doona car seat brand.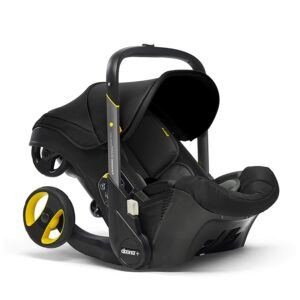 | | |
| --- | --- |
| Portability | Yes |
| Functionality | Yes |
| Price | Affordable |
| Safety | Yes |
| Convenience | Yes |
HOW FUNCTIONAL ARE THE DOONA CAR SEAT
Doona car seats are some of the most popular in the market but is that simply because of their celebrity status, or do they actually serve outstanding functions?
Every product for infants should be functional for ease of use and the safety of the baby. Unsurprisingly, the Doona car seat features dual functionality that allows parents to switch from seat to stroller in a split-second without sacrificing quality on either function.
This dual functionality feature ensures a clutter-free vehicle and home, as parents no longer have to travel with both seater and stroller.
This will benefit parents with fast-paced lives living in metropolitan areas as it reduces the time for moving kids.
This buggy-hybrid seat also allows your baby to remain asleep as you move in and out of your home and vehicle, ensuring good health and giving you enough time to go about other business.
Equipped with adjustable handles and ergonomic controls that allow you to open and close it with the push of a button. Weighing about 6.5 kg, it is capable of holding all heavier weights without damage.
The Doona hybrid car seat passes the test for high functionality and is super easy to use. It can be controlled by just anyone as it doesn't require any technical knowledge.
It is also cost-efficient considering the fact that you'll be getting two things in one package.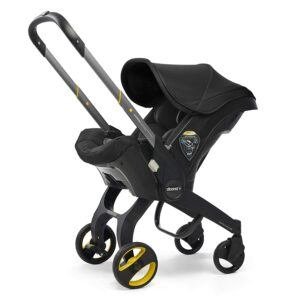 HOW TO SWITCH BETWEEN CAR SEAT AND BUGGY
● Press the red button on the car seat
● Pull-on the handle behind the car seat
● Adjust handle height
ARE DOONA CAR SEATS PORTABLE
Constantly moving, transporting, and storing a car seat can be tedious, especially when it is heavy. However, portable seats make the process simpler and an enjoyable task.
Doona seats excel in that department. Approved for TUV and FAA aircraft travel, Doona car seats can be adjusted to fit into small spaces on and off an airplane.
Installing this portable car seat in your vehicle is straightforward. Using the ISOFIX base, you can fit them into any car type. You'll have to secure the seat with a seat belt in your backseat.
According to health experts, infants should not be left in the seat for more than 2 hours. Other safety measures that need to be taken by the user include fastening the five-point harness.
While it weighs 3.5kg, it has a small frame that allows it to enter tight doors easily.
ARE THEY DESIGNED FOR MODERN USE AND PARENTING
The trajectory of modern products includes compatibility, design, and usability, and the Doona car seat brand ticks all of these points. Starting from their external design, they feature multiple colors on the hood and strap pads.
But you can choose from multiple colors for the body of the seater. However, you'll have to settle for yellow for the wheels. The functional design of these seats is something that every user would cherish.
The fiber textile regulates heat and humidity and features antibacterial and hypoallergenic to keep your baby healthy and in good weather condition at all times.
When converted to a buggy, enjoy the water-repellent canopy and sun protection roof. They are also removable for regular maintenance. The headrest is made of energy-absorbing materials and impact protection.
HOW SAFE ARE DOONA PRODUCTS
As can be deduced from the preceding paragraphs, the Doona car seat is very safe. Durable and strong from quality materials to prevent falls and impact. Your child is as safe as they can be while inside the seater.
The rust-free aluminum also amounts to high durability. This means that you can use Doona products for years without worrying about buying a replacement or repairing damaged parts.
It also meets European standards for car seats, strollers, and reclined cradles. These include an anti-rebound bar crash technology, a five-point harness, and the above-mentioned three-layer side impact protection.
Parents just have to properly maintain this product by storing it under the right conditions and keeping it from water. Additionally, make sure the ISOFIX base is well-fitted.
WHAT IS THE LEVEL OF CONVENIENCE OF DOONA CAR SEATS
Ergonomically designed to suit children and support them while sitting inside the seat. Parents can see their children enjoy the cushion and move freely without the risk of bumping into objects or jerking off the seat.
There is also enough space between the baby and the seat belt, making it breathable. The level of convenience on the hybrid car seat is also consistent when switched into a stroller.
DOONA CAR SEATS ARE SUITABLE FOR WHAT AGE
Lightweight with a spacious seat, one would say these car seats are suitable for babies up to a year. Heavier children or those with more matured body parts may find it hard to fit into some of these car seats, thereby, making them uncomfortable.
So, ensure that it is first, suitable for the child and if not, you may want to consider other options. On the other spectrum, if you're using it for an infant, then you'll want to tighten and improve on the harness to keep the child secured to the seat all the time.
Again, know when to quit any of these seats for your baby. However, since they are durable, parents can always keep and reuse or recycle them.
WHAT'S THE BEST WAY TO STRAP YOUR BABY IN ON THE HYBRID
The car seat comes equipped with a padded newborn insert to ease strapping and securely keep the baby in the seat. This technique is inspired by the natural position of mothers holding their babies in their arms.
But as babies grow, the padded insert may become uncomfortable. Most parents who used this product said they were able to strap in their babies until 4 months.
While you may be tempted to keep the strap, it could limit the child's view and comfort. You want your baby to enjoy the view around them.
Maybe the newer models of this product will have a more advanced strap to improve its usability. Talking about limits, experts say babies shouldn't be strapped in for more than 1 hour or 2 within a 24 hours limit.
This is to relieve the pressure on the infant's spine and to avoid restricted airflow to the lungs.
HOW MUCH DOES THE DOONA CAR SEAT HYBRID COST
This is where most parents bulge and request for another option, without considering the cost-effectiveness that a $500 car seat and stroller hybrid provides.
But we'll do the maths for you to help see that the Doona hybrid car seat is actually cheap and a more preferable option for the long term. An average infant car seat costs between $100 to $200, with higher-end brands costing more.
Now, remember that this is only for the seat. The stroller, on the other hand, costs from $200 to $700. Buying both products separately not only costs more but increases maintenance demands.
It also reduces the portability and flexibility that you'll get from buying the Doona Hybrid seat and stroller.
PROS
DOONA CAR SEAT AND STROLLER
This is what attracts hundreds of buyers to this hybrid product every day. Designed to switch seamlessly between a car seat and stroller, users have the solution for making their children comfortable inside and outside their vehicle.
It is the first stroller-seat hybrid in the world, yet still managed to get it right on the first try. An added advantage is that it doesn't take much to transform this seat to troller and vice versa.
One would think the first try would have gotten a lot of things wrong, but the professional and competent designers at Doona have ensured its ergonomic usability.
BABY SAFE MATERIALS
Approved by the strictest European regulations and standards, including SVHC (Substances of Very High Concern), all the materials used in the production of this hybrid seater are safe for children's skins and general health.
They are removable, washable, and breathable. So if you notice a stain, simply remove the fabrics and wash them with the recommended soap or liquid.
Leave to dry under the sun before attaching the fabric back to the seater. You can wash it every month or more, depending on the frequency of usage.
ANTI-REBOUND PROTECTION
The handle is positioned against the back of the car seat protecting the baby from impact and providing exceptional anti-rebound protection to reduce rebound injuries.
CONS
● Tight Seat
● Cheap or missing chest clips
Conclusively, the Doona infant car seat is well-designed to meet the demands on a car seat and stroller without taking anything out from either. Considering its dual functionalities, the Doona infant car seat is well priced.