Best Alexa car accessories are simple, handy and modern gadget that upgrade your car, simplify your driving life and add little comfort to the operational procedure of your daily engagement while in your car.
With Alexa, you simply can play music, make a call from your smartphone, check weather report and even control your home device. These and many more are some elitist's benefits you stand to enjoy when you install one of these listed devices in your car.
1. Anker Roav Viva Alexa Car Button
Your personal assistant while you focus on the driving activity in your car with all its attendant challenges is this device.
Anker Roav allows you to get full and unrestricted access to smart assistance while you drive on. Plugging directly into your vehicle, this apt device puts everything within your reach just by talking.
The Roav Viva picks up your voice commands, mentioning what exactly you want done and swiftly, it is done. This device can help to pre-order your pizza, guide you to your destination or even find your favorite playlist.
It is a plug-and-play design that puts all the control right where you need it, and, with its relatively impressive low price point, it is a steal.
Roav Viva also uses the Alexa technology to integrate with your other smart devices as you are allowed to turn on your lights while driving home. What's more, it comes with two USB ports that gives you the opportunity to recharge your devices while you concentrate on your driving.
Pros
· Recognizes your voice commands and does your bidding swiftly
· Affordable
· Engineered with 2 USB ports designated for charging your devices.
2. Garmin Speak Amazon Alexa GPS
Just like Roav, you can use the power of your voice to drive and still be in total control, getting so many things done with the Garmin Speak Amazon Alexa GPS.
Attaching this nifty navigator easily to your dashboard provides you with turn-by-turn directions. It utilizes Garmin's intelligence to ensure you are on the best route available in case of traffic lock jam or any obstruction ahead. Using just your voice, you can tap into Alexa's intelligence and ability while you drive home safely.
With this Garmin Speak device, you have unlimited access to the news, the latest travel updates, your smartphone functions and even your smart home devices all from where you are seated in your car.
In fact, you could change the temperature, unlock the front door, and adjust your smart blinds all before you park. Garmin also have best Truck navigator.
Pros
· Makes driving easy and other functions flexible for you
· Compatible with your smartphone and other devices
· Guides you against traffic and other obstructions ahead
· Multi-functional as you can lock and unlock your door, change your car's temperature and even adjust your smart blinds with just your voice.
Cons
· It has to be purchased together with Alexa for effective performance.
3. iOttie Easy One Touch Connect with Alexa Built In for Ios + Android
iOttie Easy One Touch Connect with Alexa is a universal car mount that comes with in-built device aptly compatible with iOS and Android devices.
This device is an inside-car Alexa's phone mount that is compatible with your iOS and Android devices.
You can instruct Alexa on this your easy-one touch connect and what you desire is done easily.
You have access to your music, you are enabled to make a phone call, check weather situation, control your smart home devices and many more.
With this device, you can make inquiry about your driving directions and its attendant obstacles to re-direct your route to a safer one. You can play music, place calls, listen to audio books, hear the news, check the weather and other things all while you keep your hands on the wheel and eyes on the road.
With iOttie Easy One Touch connect, you can stream your favorite music on Music, Sirius XM, NPR, heart radio and Pandora just with the sound of your voice command. It comes with LED indicator to show you when Alexa is listening and microphone off button at the back to mute the mic when you do not need its use.
Pros
· Compatible with your iOS and Android devices
· Making calls on your phone, streaming your favorite music all made easy with easy-one touch connect
· First Alexa's in-car phone mount engineered
· In-built LED indicator that shows when Alexa is listening
· Mic off button for muting
Cons
· Currently, it does not support Pandora and Spotify music app
· Charging of your mobile device not supported
4. Amazon Echo Auto Alexa Car Accessory
Spice your next road trip up with the Amazon Echo Auto Alexa Car Accessory to enjoy real life of comfort unhindered. Completely supplied with Echo Auto Dash Mount, this device connects to Alexa via your phone and plays through the speakers in your car. It is designed to be used inside your car to render comfortable assistance for your driving pleasure and safety.
Echo Auto Alexa comes with eight microphones that are powerful enough to hear you speak over the car AC, road noise and music. Simply ask Alexa to play music, find a gas station, open your garage door, check the news, give directions and more, it is done. You can also use it to stream your podcasts, play your Audio books, and listen to Pandora, Spotify, Amazon Music, NPR or Sirius XM.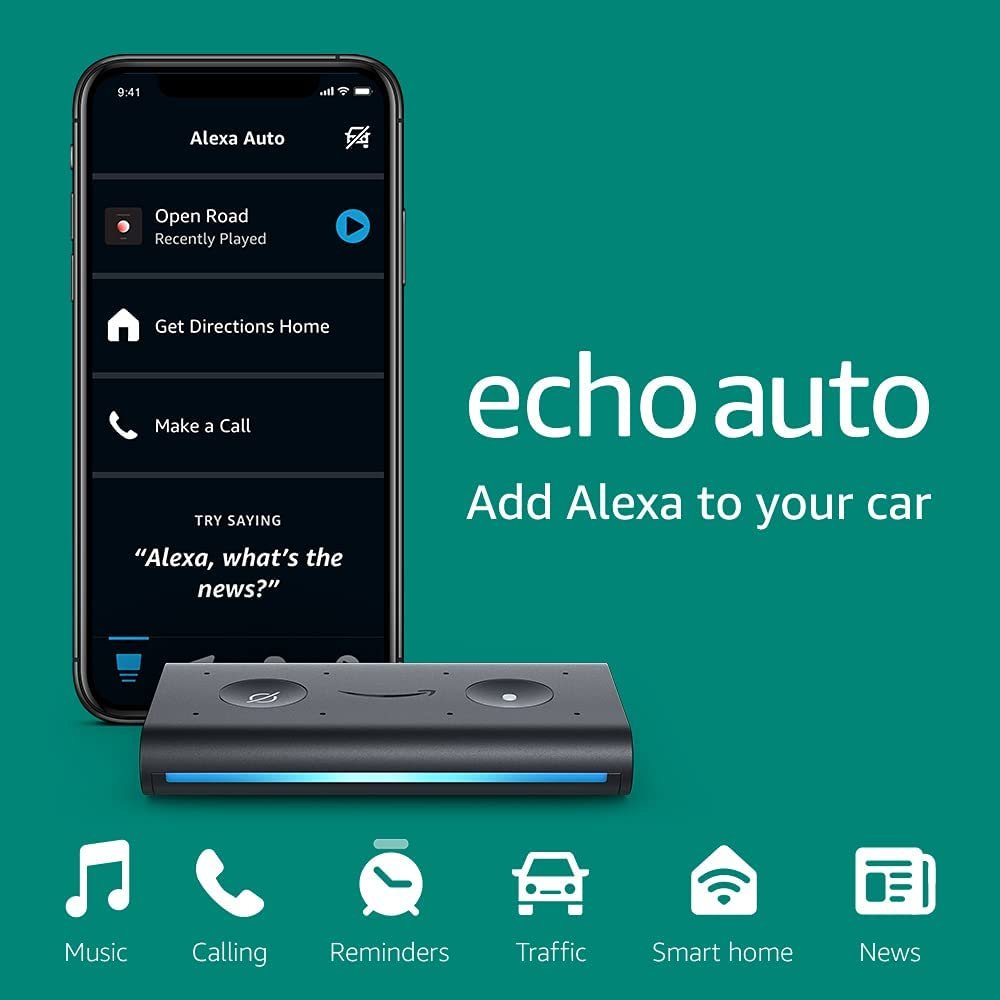 With this device, you are allowed to set your reminders, make calls on your smartphones, add items to your pre-listed requirements, set location-based routines with many more while you are kept focused on your steering wheel.
Pros
· With more than 50,000 skills, Alexa continues to get smarter to make your life easier.
· Comes with eight speakers through any of which you can speak and command
· Allows you to set your reminders, set location-based routines and so on
· Listen to Audible books, your Pandora and Spotify music
· Gives you information on road situation ahead of your driving
5. SIGHILL QI Wireless Car Charger Mercedes-Benz Accessories
SIGHILL QI is a wireless car charger and accessory for Mercedes-Benz C-Class GLC all models manufactured between year 2014 to 2020.
This wireless car phone charger is suitable for many devices such as your iPhone 11,11 Pro,11 Pro Max, XS Max, XR, XS, X, 8, 8 Plus, Galaxy S20 S10 S9 S8, Note 10 9 8, as well as Google, Nokia, HTC, LG, SONY and other phones made with in-built wireless charging and QI-Certified.
https://www.youtube.com/watch?v=OvSL-gf5XS4
It is equally equipped with 2 additional 4A USB ports to enable you and your traveling companions have access to charging your phones conveniently.
SIGHILL car wireless charger is equipped with the patented twin airway cooling system that silently generates airflow. At the same time provides 2 air channels to cool the internal wireless charging transmitter components and phone wireless charging receiving coil.
Thereby reducing the temperature of QI Wireless car charger and your phones, to offer effectively safe charging environment for phones with cases.
SIGHILL applied and has been granted to own an exclusive patented OEM appearance level that perfectly fits all models of Mercedes C and GLC classes.
Compared with other wireless car charger mounts, this product is stable, easily installed and loaded with other assisting devices such as the USB ports to make your journey hitch-free, comfortable, safe and refreshing.
Pros
· Compatible with countless devices such as your smartphone, Nokia, Note 10, Galaxy and iPhones
· Built with 2 additional USB ports to make charging easy for you and your family
· Engineered with 2 air channels that cools the internal wireless charging transmitter components
Cons
· It is not going to charge phones with more than maximum length of 159.4mm
6. Nextbase 422GW Alexa-Integrated Dash Cam
May people do not appreciate the usefulness of a dashboard camera and the powers it possesses most especially as it relates to safety. It is instructive to know that they can be very useful to have in many situations.
The Nextbase 422GW Alexa Integrated Dash Camera is a great one to have on your list of items to upgrade your car as it serves many safety purposes for you and your car.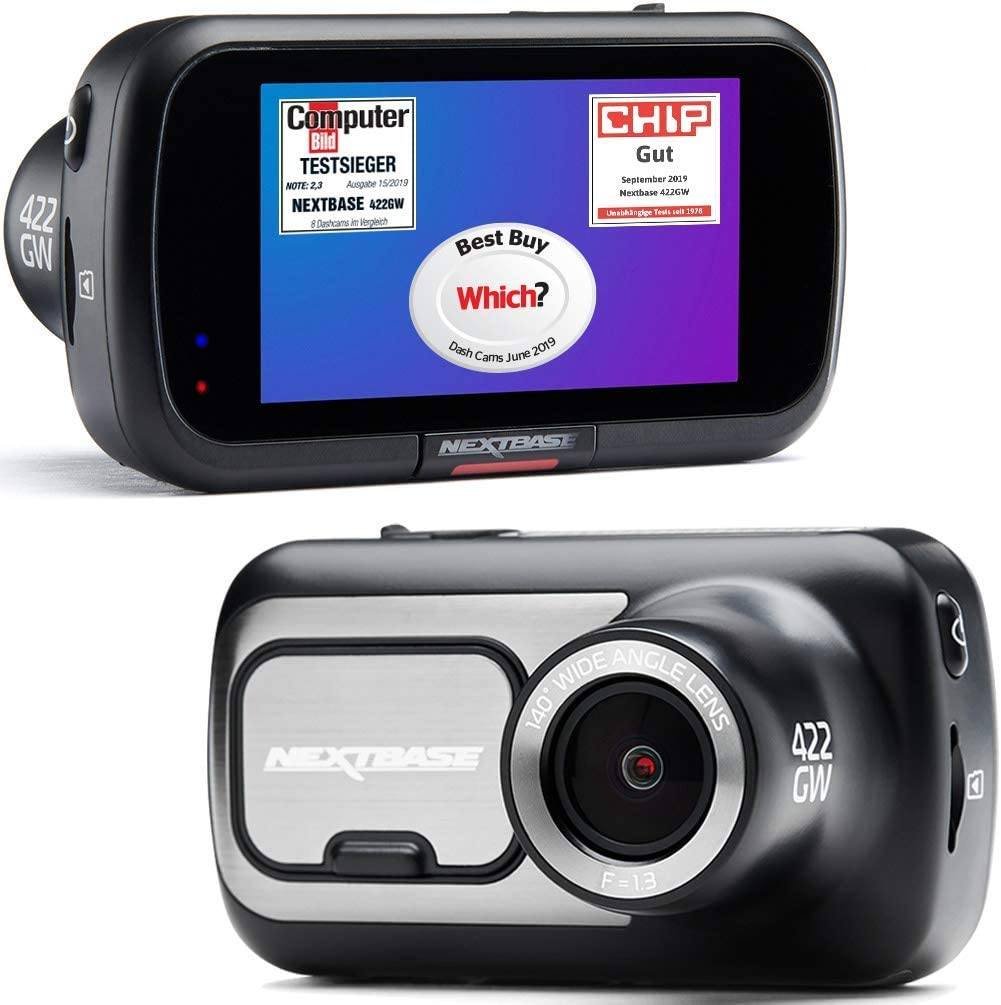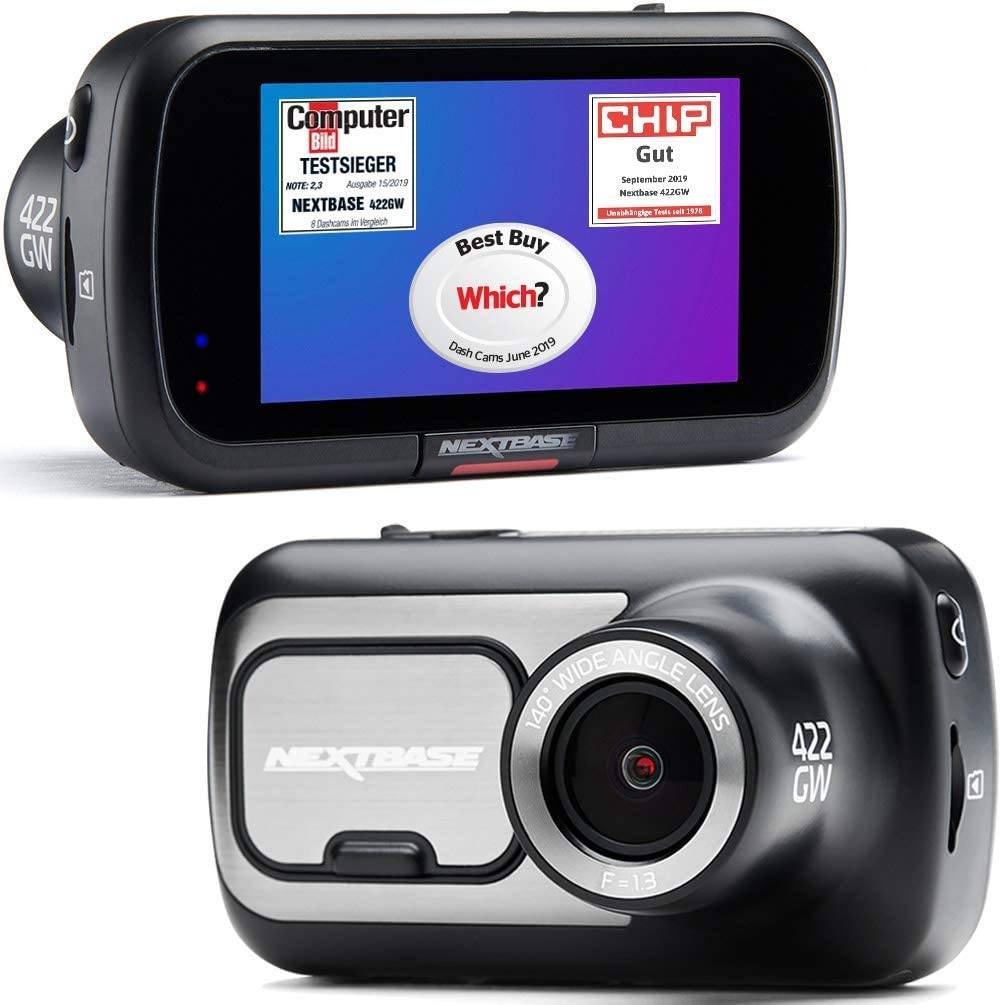 It is engineered with emergency SOS and Intelligent parking mode to monitor both you and your vehicle.
In the event of any incident, this emergency SOS feature can alert emergency services should you not be responding perhaps due to being affected in the occurred accident.
The intelligent parking mode makes automatic recordings of any bump or physical movement to your car when left unattended. Also, affords you the opportunity of having all the benefits of Amazon Alexa right at your fingertips.
This dashcam features 1080p HD and a wide viewing angle of 140° which allows you to clearly view images and easily share videos from your dashcam right to your smartphone with AutoSync.
Pros
· Comes with emergency SOS function that alerts you in case of accident
· The emergency SOS equally alerts emergency services in case you are involved in the accident yourself
· It allows you the use of all benefits of Amazon Alexa devices with ease
· This dashcam records any physical movement around your car even when you are not physically present
· Features devices that enables clear view and easy share of videos to your smartphone
7. Garmin DriveSmart 65 with Amazon Alexa
Garmin DriveSmart 65 is equipped with Amazon Alexa and features in-built voice controlled premium GPS Navigator with 6.95" High-Resolution display.
The device allows you to ask Alexa to play music from Amazon music, Pandora, Sirius XM, iHeartRadio and many more for your listening pleasure while focusing on your driving.
In addition, it can be used to create to-do lists, check your calendar, read or listen to news, weather and traffic information and control your smart home devices or play interactive games.
You can ask Garmin voice control for directions, points of interest (POIs) along your driving route and lots more.
It carries in-built Wi-Fi connectivity for easy map updates and software updates
Pros
· With this device you can ask Alexa to play music from any compatible sources such as Pandora, Sirius XM or iHeartRadio.
· Check your calendar, read your news or create a to-do list as a reminder
· Features a premium 6.95" GPS Navigator.
· Has in-built Wi-Fi connectivity for easy map and software updates
Cons
· Your smartphone must subscribe to the Garmin Drive app and must be running before compatibility is enhanced
· Some of the device's feature such as interactive game may distract driver's attention from focusing on safe driving
8. Plantronics Voyager 5200 – Bluetooth Headset
Plantronics Voyager 5200 is a silver color Bluetooth Headset that features 4 microphones and a patented DSP that cancel all disruptive background noise such as from traffic or crowds.
Engineered with exclusive six layers' windsmart technology that detects wind direction and respond swiftly to enable clarity of your voice most especially when outdoors.
Furthermore, it is vigorously factory-tested for stability and comfort on a wide range of ear shapes to give you all day clarity and comfort as it feels as comfortable on your last call of the day as it did on the first.
Supported with in-built Alexa, you are allowed to check your schedule, your to-do list or catch up on the latest news by simply tapping, asking and listening while you drive on.
It comes with up to 7 hours of nonstop talking from a single charge and up to 9 days in standby mode with optional charging case that provides up to 14 hours recharging on the go
Pros
· Voyager 5200 Bluetooth Headset features 4 microphones and a patented DSP for noise cancellation
· Engineered with exclusive six layers' windsmart technology that enables voice clarity when outdoors.
· This device gives you all-day clarity and comfort
· Features in-built Alexa
· Enhances non-stop talking up to 7 hours from a single charge
Cons
· It is not supplied with the charging case, hence you may need to buy it separately
Conclusion
You can easily turn your car into a super smart car with any of the above Alexa car accessories. Sleek, handy and compact, many of these devices are safety gadgets that not only protect you in case of an accident or slight emergency but provides security for your car even when you were not physically present.
Some come with devices that makes driving easy and uninterrupted for you while you are still given the opportunity to make your calls, listen to your music or get ready-made directional information on your route. Place an order for one, it is a necessity not luxury.