Driving and performing other functions at the same time is not only cumbersome but could be terribly unsafe even for experts. Siri car accessories are therefore available to bridge the gap and keep you safe while driving without sacrificing comfort and privilege of doing other things like taking your calls.
It has been proven that just a slight distraction can cause ever regrettable accident that may even cost life. Yet, in this modernized age, it is unarguably impossible to live without electronic devices such as phones, iPad or laptops.
While on the wheels, it becomes an issue when your phone rings and you are unable to pick the call because you are deeply involved in driving.
1. CPLAY2air Factory CarPlay Wireless Adapter
The CPLAY2 air factory CarPlay turns your wired device to a wireless type while delivering quality connection all the time. It offers you unparalleled listening experience as it allows uninterrupted audio all the way.
CPLAY2 supports wide range of cars from Audis to Fords, Volvos to Toyota, the adapter works in most cars most especially the newer 2015 to 2020 models.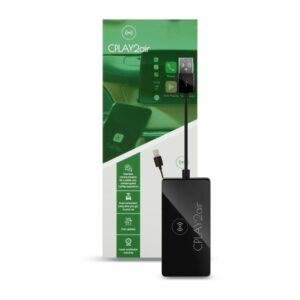 It is easy to use if you already have a wired CarPlay setup in your car because this device will help in transforming it into a wireless type.
Additionally, CPALYS Air Factory CarPlay supports iPhones and other newer phones. You also don't have to worry about its compatibility with your aftermarket head units from Pioneer, Alpine, and Kenwood.
It connects automatically once you turn on your car ignition so that you need not worry going through any annoying set up process all the time.
This device is Siri compliant and supports steering wheel controls and with its free updates, this gadget keeps you running smoothly always with no compromise.
Pros
CPLAY2 supports wide range of cars most especially those manufactured between 2015 to 2020
 Transform your wired CarPlay setup to wireless
 Compatible with your iPhone and other devices
Comes on automatically once your car ignition is on


2. Pioneer Stereo Single DIN Bluetooth In-Dash USB MP3
This Pioneer Stereo Single DIN Bluetooth device is built with In-Dash USB MP3 Auxiliary AM, FM and Digital Media that is compatible for Pandora and Spotify Car Stereo Receiver supplied with a pair each of 6.5″ and 6×9″ Alphasonik Speakers.
With this pioneer stereo, you enjoy hands-free calling and audio streaming in your car courtesy of its in-built Bluetooth. Furthermore, it is loaded with other entertainment options such as front USB input, AUX-In and AM/FM radio.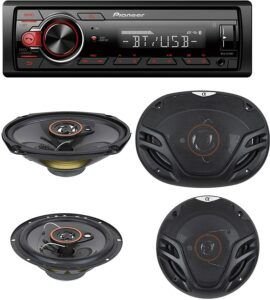 You can easily connect your Android smartphone to its 1A powered USB to play music from your phone while charging it simultaneously.
Moreover, you can easily search and select artists, albums and playlists using the Pioneer's control buttons. This stereo is now supported with a new feature to boost Android Open Accessory 2.0 (AOA 2.0) like Bininze Car Stereo.
A distinctive advantage over other competing devices is that you can receive clear pristine sound from the in-built amplifiers with 4 x 50watts of pure MOSFET power.
Pros
Paired with Alphasonik speakers
Delivers hands-free calling
 Audio streaming opportunities
 Compatible with Bluetooth
 Enhances other digital media players like Pandora and Spotify
Cons
 The speakers come with very tinny sound with shaky rattling highs


3. (CF) Carbon Fiber Series – Jeep JK Mount for iPhone 6/6S
Jk mount comes with Maps app and hands-free Siri created for navigation and convenient calls while you focus on your safe driving.
Although compatible with other jeeps but specifically designed for the 2012­2016 "JK" two and four door Wranglers, this JK Mount system uses a custom molded base that can be installed in your dash in few minutes with ease.
If you use the official Apple iPhone 6/6S that comes with silicone or leather phone case, you can quickly install without any drilling by attaching the carbon fiber bar and the included holder.
Pros
keeps the phone back from the windshield and yet accessible, visible and useable
Cons
 Other holders for iPad and Android are though compatible but sold separately


4. SUNITEC Hands Free Bluetooth for Cell Phone Car Kit
SUNITEC hands-free Bluetooth comes with wireless Bluetooth 5.0, Car Speaker AUTO Power ON and Siri Google Assistant Voice Guidance Receiver.
This upgraded device is specially designed to offer pretty sound with its Bluetooth V5.0+EDR, HD voice, noise cancellation technology and excellent stereo speaker performance.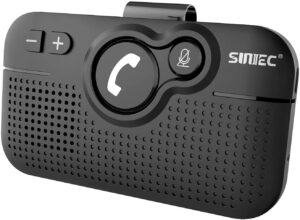 This Bluetooth hands-free calling and receiving car kit supports Apple Siri connection and Google Assistant which enables you to make phone calls, send texts or get driving directions from GPS applications as well as taking voice guidance while you drive.
This device comes with an improved oversized key for worry-free operation, to allow you stay fully focused on driving.
SUNITEC BC980SA car stereo with Bluetooth speakerphone is specially designed to ensure safe driving by its hands-free talking feature, but also can serve as a speaker on the conference table or a portable music player which supports switching.
Its motion sensor allows you to turn your Bluetooth car speaker to auto power 'ON' so that the device can turn itself on when your car door opens and off when the Bluetooth disconnects. Furthermore, it is capable of connecting 2 Bluetooth cell phones simultaneously on, while easily switching between music and calls on its own.
This device is very easy to use. All you need do is to just clip this car Bluetooth speakerphone onto the visor and it begins to work. Also, it can serve as a speaker on the conference table or a portable music player with switching supports
Pros
 Delivers up to 22 hours of talking time
 1000 hours of standby time and about 2 hours to fully charge.
You enjoy clear calls and music no matter where you are
It supports Apple Siri connection
 Google Assistant enabled
 Ideally, it can connect 2 Bluetooth cell phones simultaneously
 Also own fast and stable transmission without tangling.
Cons
The sun visor keeps dropping off or auto connects most especially when it handles 2 phones


5. Satechi Bluetooth Home Button
With Satechi Bluetooth Home Button your phone can never be out of reach. You can simply attach to your key chain, steering wheel or dashboard and always have access to your phone when it is out of reach in a safe and convenient way.
This device is compatible with Siri which enables you to perform other functions conveniently while you are driving.
You also can access other services like Google Voice Search, ask for messages, directions, make calls and a lot more without even touching your phone for once.
With simple connection with Bluetooth to pair the button with your smartphone, this device takes the assignment from there on.
For safety and comfortability while you drive, Satechi Bluetooth Home Button is a must have car accessory that will help in your trips without getting distracted easily.
Pros
 Compatible with Siri
You can also access Google Voice Search, ask for directions, etc


6. Garmin Drive 52 5" GPS navigator with traffic alerts
This is a new technology GPS navigator that comes with traffic alerts to keep you informed of any issues ahead of you while on a trip. This easy-to-use Drive 52 GPS navigators comes with detailed map updates of Canada and the United States. Built with backup camera that allows for easy parking and reversing.
Also, it comes compact with simple on-screen menus brightly displayed and easy to see maps with detailed descriptions.
Developed with Garmin traffic this GPS navigator is ready-to-use right out of the box without any issue of smartphone availability, usage or connectivity.
The device is pre-installed with road trip–ready history channel database of notable historic sites, the U.S. national parks directory, trip advisor and others that will make your trip convenient and your destination easily located.
Garmin Drive 52 GPS navigator is equipped with 5 inch display features that renders the menus, traffic alerts and maps very easy-to-read. You get enough vital information to enrich your road trips.
 It informs you ahead to steer clear of construction zones or accidents ahead
 You can outsmart traffic jams or slowdowns by avoiding them with timely alerts that suggest alternate routes
Pros
 Garmin Traffic comes ready to use right out of the box as it comes with enclosed traffic cable
 You need not pair your navigator with a smartphone for needed traffic information
Simple menus and easy-to-read maps
 Offers preloaded detailed maps of the U.S. and Canada with traffic and map updates
 Gives helpful driver alerts to encourage safer driving
 The installed GPS navigator complements any road trip or daily commute.
Cons
 Does not support manual setting of the navigation app
 Lacks navigation capability when there is no cellular coverage
 The offline maps for Google seldom has resolution problems


7. Bluetooth FM Transmitter for Car, PaiTree Car Adapter
This Bluetooth car FM transmitter comes with PaiTree Adapter equipped fully with super bass stereo sound, QC3.0 fast charger, 5.0 Bluetooth wireless radio receiver, music player and Siri Assistant device.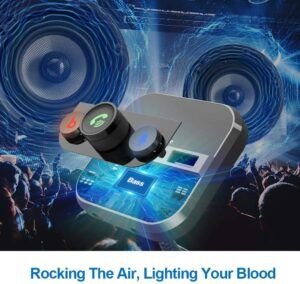 This device features a professional active static-cancelling technology that finds an unoccupied station to hook on to, to deliver a perfect listening experience to you.
Its technology dampens any road noise to give you clear, crisp and perfect sounds for hands-free calls.
Furthermore, it features bass boost technology and a series of innovative digital operations for best FM transmitter bass processing module which converts low frequency signals from music into high frequency signals.
In turn this maximizes energy generated by the car speaker in the safety limit by perfectly releasing the potential energy of your car speaker.
In addition, it produces a clearer and more powerful bass effect to bring you an unprecedented bass experience.
You get yo charge 3 devices simultaneously with its one Quick Charge 3.0 port and 2 USB ports. While one port is 5v or 2.4A charges your phone judging by its capacity, the other USB port of 5v or 1.0A functions as a U disk port that will enable you to play your favorite music.
Its high-performance microphone with static suppression (CVC) technology enables loud and clear sound while making your hands-free calls. You also get a power 'off' button to save your car battery.
Pros
 4 music playing modes of A – Bluetooth, B – U Disk, C – TF Card and D – Auxiliary input for MP3, tablet, etc.
 Features powerful PaiTree multi-function Bluetooth transmitter
 Has professional active static-cancelling technology
Equipped with an intelligent voice command device
 Constructed with 'off' button to save your car battery
 Its QC3.0 delivers high-speed charging


8. Navdy Portable Head-Up Display
You can drive comfortably focused for hours receiving non-stop necessary information from your GPS navigator, smartphone and other compatible devices while keeping your eyes and attention on the road with the Navdy Portable Head-Up Display.
This Navdy links with Google Maps gives you real-time updates and navigation. It offers turn-by-turn directions, projects the details of your journey at eye level and allows you to watch the road without distractions while receiving all necessary information at the same speed.
The available necessary details that will assist your decision on the trip may include speed limit, compass, MPG, fuel range, RPM and many more.
In addition to navigation, the Navdy system links your smartphone to other notifications to get you to stay up to date on your calls, texts, emails, and other alerts without having to pick up your phone.
Navdy will, with the help of Siri or Google Assistant, even read out your texts and allow you to respond immediately.
This device is wirelessly compatible with both iOS and Android systems.
Pros
Portable
 Affordable
 Can access Google Maps
 Supported with Siri and Google Assistant
 Compatible with both your iOS and Android systems.
Conclusion
We have to upgrade and be dynamic as the entire world system is changing every moment of the day.
Siri car accessories and devices are part of the latest yet unavoidably necessary technology that has been introduced to make life easy for road users and commuters.
You are provided with wide range of devices that enables you perform so many functions without compromising safety on the road.
The Bluetooth device that can connect your phone for hands-free calls as well as charge your smartphone, device that has pre-installed road maps, the GPS navigator, the traffic alerts and many other specially designed devices keeps your mind at rest when embarking on a journey even to the unknown destination.
Get one or two of these affordable and dependable travel ally today and you surely will be glad you did.