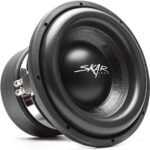 This Skar Audio VXF Subwoofer series was designed to be the best SQ – SPL subwoofer ever made. It comes with a low FS that hits those low notes SPL requires and still plays its high notes clearly.
VXF series features a 3″ high temperature copper voice coil, a massive 300oz ferrite motor to boost its performance and enhance great sound delivery.
About Product
The massive 300oz ferrite motor allows for great power handling for extended periods of time. This woofer boasts of a maximum power rating of 3,000 watts and a conservative RMS rating of 1,500 watts. Also, VXF subwoofer utilizes its high temperature 3″ copper voice coil, which combined with the massive 300oz ferrite motor in this subwoofer to deliver head turning bass at the highest SPL levels.
Designed with a view to achieving a super low "Fs", the VXF series delivers low end response with absolute authority while being versatile enough to sound great across a wide range of music.
Skar Audio company is noted for the production of top quality products that will out-perform competition. None of their subwoofers come with less than two years' but strictly conditioned manufacturer warranty beginning from your purchase date from an accredited Skar Audio dealer.
Who Is It For
This subwoofer is meant for those audiophiles that care for nothing less than quality music laced with just heaven-hitting and earth-shaking bass meant for astronauts! The configuration itself shows great performance of this quality.
It is engineered with an integrated stitched, high roll foam surround with a competition-grade paper cone to ensure that the subwoofer sets a new precedent in terms of sound quality and strength. Whether you are looking to be the loudest vehicle at a car show, or just wanting to enjoy the bass in your daily cruise at an unprecedented level, this VXF series is a good buying choice.
Key Specifications
 Size – 15" Dual 4 Ohm with Voice Coil configuration
 Peak Power – 3000 watts
 RMS Power – 1500 watts
 Competition-grade Pressed Paper Cone
 Stitched High Roll Foam Surround
 Advanced Air Flow Cooling system
3″ High Temperature Copper Voice Coil
 Extremely Powerful 300oz Ferrite Motor
 Frequency Response – 30 – 500 Hz
 Sensitivity – 88.7 dB
 Fs – 35.4 Hz
 Re – 7.8 Ohms
 Xmax – 30 mm
 Dimensions – 15.6 x 15.6 x 10"
 Weight – 54.3 pounds
 ASIN B077H1YBW5
Pros
 Great bass responsiveness
 Can be played at its highest level of output
Economical to acquire
It comes with dual 4-ohm voice coil configuration
You can install it yourself if you have the patience to go through the manual with detailed attention
Cons
It comes with conditional manufacturer's warranty
Recommendation
The Skar Audio VXF series was designed to be the ultimate SQ/SPL subwoofer in the market at the moment. As a music lover, you cannot afford not to have one installed.
Interestingly, it can produce a super low FS to hit the low notes that SPL requires, while still showing range in being able to hit the high notes in your car.
With the right amplifier to paired with it, you'll enjoy this subwoofer.
In comparison, with MTX t9515-44, this comes with even higher loudness, and it produces deeper and banging bass.
These subs are awesome for its worth and are highly recommended for you.