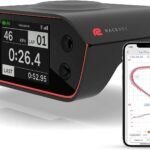 With different types of sports gradually making good time on television screens, car races also have been taking a great and quite impressive share of screen time. The Racebox 10Hz GPS based performance meter box is outstandingly one amongst technology's products for keeping car parameters in check.
This device goes for $299.99 on Amazon and has an easy to read 2.4 inch LCD that lets you know what's going on with your car.
New sport cars come into the market and into play for racers and with the purpose of delivering better track functions than their previous models.
And with these developments in the field of car races, speed trials and sport cars, technology has taken great steps to advance and produce devices that would be able to read and interpret car performances based on speed, distance travelled, lapses, progress routes and interestingly everything the vehicle goes through while on track.
About Product
The Racebox 10Hz GPS based performance meter box does not require any sophisticated electrical wiring to give it a complete fix as it is ready to use/function just outside the box.
It supports the latest GPS generation and is compatible with Glonass, Galileo and BeiDou satellites— all of which provide accurate precisions and positioning transmitted via the internal 15cm antenna mounted on the car's windscreen.
The device is powered by a lithium ion battery with working time tremendously up to about 8 hours.
The product also has a mobile application that needs to be downloaded and paired with the device in order to allow full details on lap or drag sessions with complete analysis on the car's performance that would help you become the king of the race and a better driver. The mobile application is compatible on both Android and iOS.
Every single run can be analyzed to show where you're losing or gaining speed, and the device's sophisticated interface can compare two laps and show possible ways of improvements, if need be.
Racebox 10Hz GPS Meter Box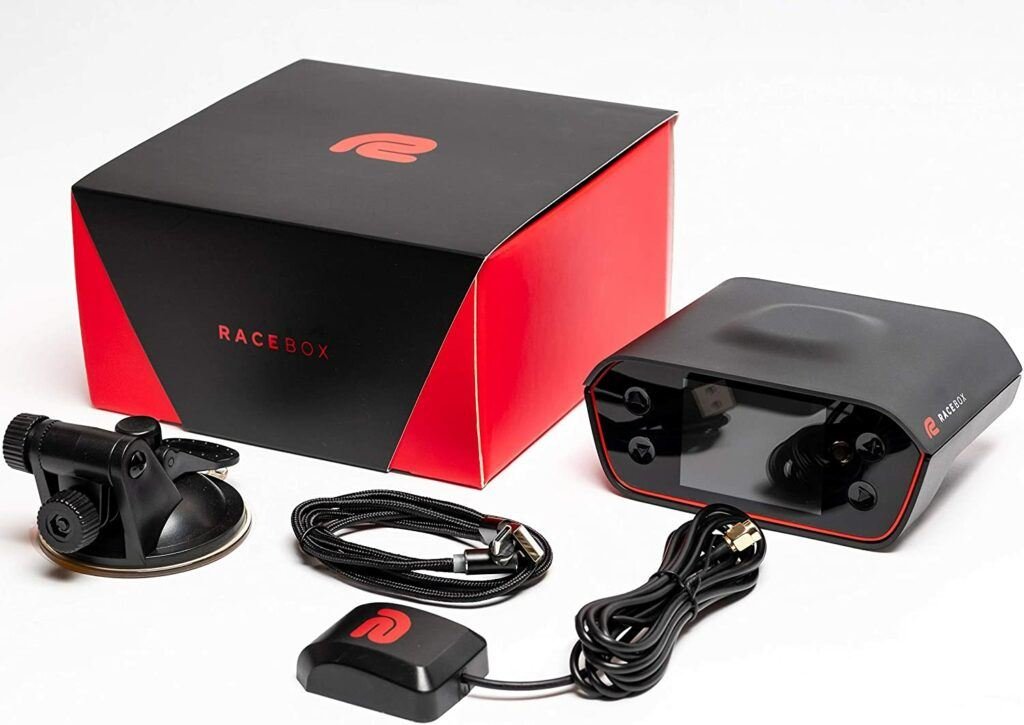 The device has about four modes that would serve as the perfect analysation schemes for best user experience. These modes include the:
DISTANCE MODE— here, you would be able to analyze the performance of your car in your unit of preference, which could either be in miles or metres.
SPEED MODE— in this mode, the car's acceleration would be effectively measured and also based on your preferred unit.
CUSTOM MODE— this mode allows you to input your standards and test your energy on the run with your own set markers and speed markers and distance points.
PREDICTIVE MODE— this mode utilizes the smart learning protocol and advanced technological adaptations to study and understand your driving patterns while fixing itself to give you a better experience to improve every run.
The Racebox is impressively wired to measure your car's statistics; how fast it covers a certain distance or how fast it accelerates.  It's sophisticated design and physical sturdy build allows it to be fit as the perfect unit in your car.
What Is Product For?
The Racebox 10Hz GPS based performance meter box allows you in-depth analysis of vehicle's performance to optimize driving performance.
Who Is It For And How Helpful Can It Be?
The Racebox 10Hz GPS based performance meter box is for any sport's car owner who wants to be pleased with precise units on their units and are constantly looking for new ways to improve their driving.
The device is of great quality and has a very intuitive User Interface (UI). It is an amazing device to measure lap times and more.
FAQ's Related too Racebox 10Hz GPS based performance Meter Box
Can this be connected to your car to track your speeds and not just over GPS?
The Racebox 10Hz GPS based performance meter box can only analyze your speed based on GPS. The device cannot connect to cars.
Does it show density altitudes?
No. The device does not show density altitudes. But it, however, has provisions to show inclines and slopes for tracks.
Has anyone successfully used this as an external GPS receiver for the trackaddict app?
The Racebox 10Hz GPS based performance meter box is a standalone device and doesn't have open communications.
How To Install It In a Car
To enjoy the complete experience, the device has to be unboxed and mounted. It comes with a suction cup that can be firmly pressed to your preferred location: the windscreen or the dashboard.
For charging functions, the device can also be hardwired to your car. It comes with a USB-C charging cable.
Pros
User friendly interface.
Impressive battery working time.
Customizable easy to read screen.
Zero stress in creating your circuit tracks
Accurate lap timer.
Wireless set-up.
Cons
Conclusion
Offering the best value for money, the Racebox 10Hz GPS based performance meter box delivers the best medium to analyze your car's statistics.
It hunts for new ways to help you improve your driving and optimize your car's performance.