Dash cameras are increasingly becoming an integral part of every car's interior. They are very important car devices that act as the perfect surveillance tool or guard against unprecedented attacks on your car, in cases of hit and run accidents. These dash cameras also capture every journey with high definition and provide you with real-time visuals of what happens around your car, therefore there is a need to get such a device. The Pruveoo D40 carries out these functions in a way that gives you information about all that's going on around you while you drive, with its 3-channel dash camera that provides all round safety and surveillance.
About Product
Weighing about 1.2 pounds, the Pruveoo D40 3 channel dash cam device has a 3.0 inch IPS screen that displays visuals recorded by the cameras in real-time effect in very clear HD resolution. The screen is crystal clear, more like watching a television. And since it's powered by a capacitor instead of a lithium battery, it can work even in extremely hot climates. The Pruveoo Dash cam device has a 3 channel recording camera: The rear camera, which is waterproof, for full functionality during tough weather conditions and makes the external installation possible.
The rear camera which operates the latest built-in highly sensitive night vision image sensor to enhance amazing image even in dark areas at night; The dash camera, which starts recording automatically when the engine is turn on and stops when it is turned off, and operates based on the Loop Interval Recording feature that saves video files to micro SD Card.
The seamless recording means no gaps between the recorded files; the inside camera makes full use of 4 infrared lights and F1.8 aperture, which culminates to deliver an amazing image effect that looks better than records from contemporary dashboard cameras. The cameras have a flexible feature which enables them to take a greater range. Both cameras, the front and inside cameras, can be rotate 180° forwards and backwards; and 50° left and right.
Pruveoo D40 3 channel dash cam Review
The Pruveoo D40 3 channel dash cam device is also compatible with USB connection technology and supports class 10 SD card and cards up to 128GB. Unfortunately, though, the car USB port may not support enough power for the dash cam, please use the Power Cord that comes with the dash cam, or Pruveeo hardwire kit.
The memory card serves as a storage medium for recorded videos to be saved. These videos are made in loop intervals, and when the card is full, the oldest recorded footage is overwritten— so as to create space for new videos to be saved.
It is, however, important to take into consideration that locked videos cannot be overwritten automatically. Locked videos are in protection; hence, no need to worry about your important video clips saved and locked on your memory card. Videos can be record in loops of 1, 2 or 3 minutes, based on driver or user's preference.
The Pruveoo D40 is also compatible with WiFi connection technology, which makes it possible for video backup and facilitates easy access to playback, view, save and/or share your videos with friends via your mobile phone.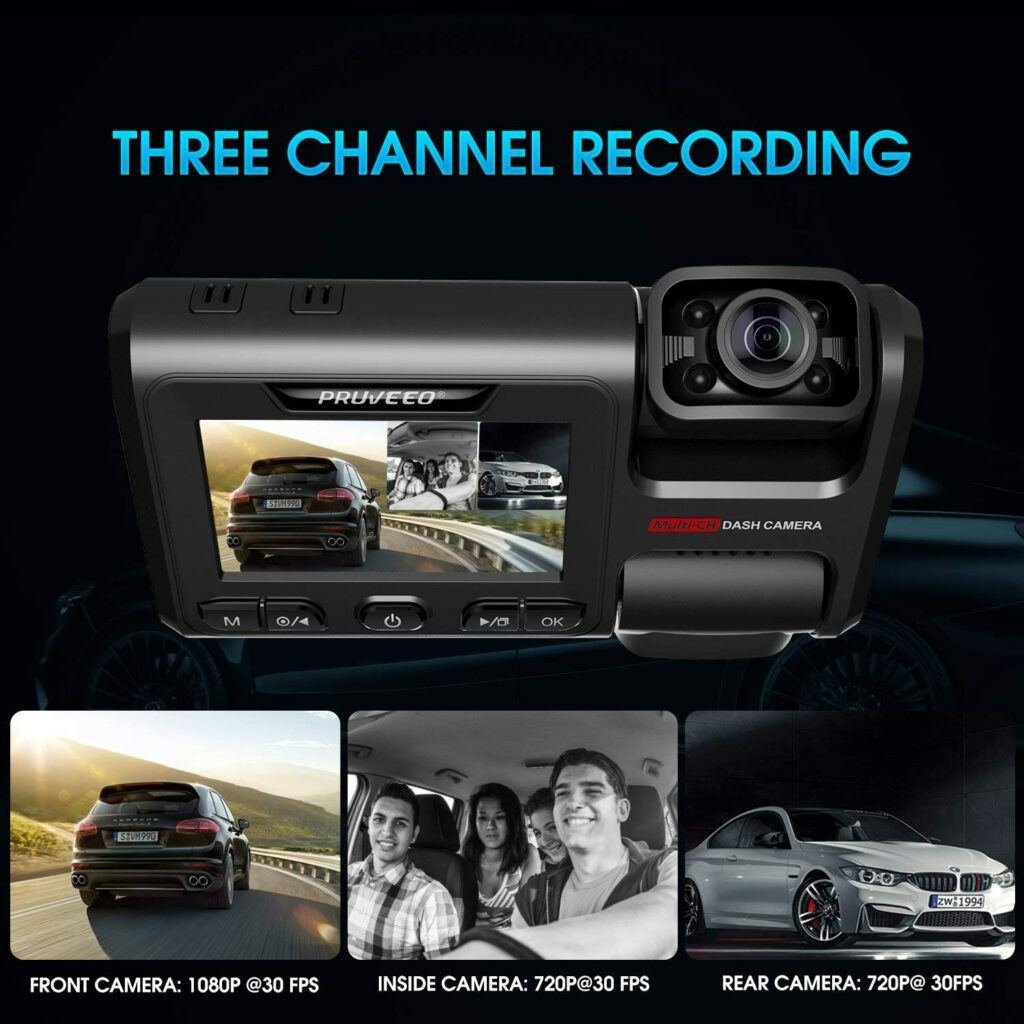 Another top-notch feature that comes with this device, is the G-Sensor feature that automatically activates itself when there is a case of collision. The sensor automatically detects the shock/impact and immediately locks the vital video— to avoid overwriting, and to serve as car insurance evidence.
Keep in mind, of course, that it may prove your own fault in an accident too, so it can be a double-edged sword.
What Is Product For?
This product functions as a sixth sense for the safety of your vehicle, providing you high quality real-time visuals of all that goes on inside and outside your car.
The 24-hour surveillance system when the device is wire to your car and G-Sensor for critical moments are just a few features to prove this.
Who Is It For And How Helpful Can It Be?
The Pruveoo D40 device is definitely the perfect unit for all car owners who require something worthwhile that would help them cover all their bases while on the road or in the parking lot.
It enhances your awareness of everything around your car, giving you a sense of control with what happens in and outside your vehicle.
 FAQ's Related to Pruveoo D40 3 Channel Dash Cam 1080p
How does WiFi work with this dash cam?
To connect it to your phone, turn on the device, open your phone settings and search for a new WiFi signal.
What app is used with this cam?
It functions with the TimaCam app.
Does this camera when the car is parked to record a hit and run when needed?
The 24 hour monitor would function if the device is wire to a 12v power supply.
Where is the motion detector sensor on these cameras?
The motion detector sensor can be find in the device's settings.
How To Install It In a Car
Before you install your dash cam, do a bit of research on windshield mounting laws in your state.
Certain regions may require you to place objects in the lower corners or upper middle of the windshield, so as not to obscure your view of the road. Make sure you know what's allowed before you mount your dash cam with strong adhesive, but with caution, and ensure you follow the operational installation steps that are written in the product's user manual.
Pros
Long cable for rear view camera.
G-Sensor feature enabled.
Waterproof back camera.
Optimum working temperature even at extreme conditions.
High quality clear display screen.
Flexible working cameras.
Easy to install.
User friendly.
Cons
Pop-up ads while using the mobile application serves as a huge distraction factor.
Conclusion
If you want to record incidents behind your car as well as in front of it, you should get the Pruveoo D40 dash cam.
This device offers 4K resolution from its front camera and 1080p resolution from its rear camera, and it has handy features such as night vision, and 24-hour parked-car monitoring. It is also power by a capacitor that allows it to function in extreme heat up to 158 degrees Fahrenheit. In all, it is a valuable product that is worth its price, although individual experience will determine if the product is a hit or miss.