Living in a big city has its fun and advantages but the probability of getting lost is also something that most people can't deny or avoid. The MANVY GPS Navigator is one GPS Navigator that has gradually begun to win the hearts of many drivers.
Living in a big city comes with not knowing all the routes and locations, and most times relying on your phone's GPS may not be useful but with a GPS Navigator specifically made for your car, this becomes a lot easier.
About Product
Worrying about getting lost, especially if you reside in the United States should be a thing of the past, once you purchase the Manvy 7 Inches GPS Navigator as it comes with an updated 2021 map which you can view in either 2D or 3D.
With its ultra-wide 7″ screen, you're offered a wide view of your map without the need to strain your eyes. It comes with an 8GB card that allows you to store map updates, regardless of where you might be in the world.
With its voice control method, you can easily operate the device cis voice commands. If you think that's a bit stressful, then you should know that the Manvy GPS Navigator comes with a highly responsive touch screen that allows you to operate the device smoothly with just the swipe of your fingers.
MANVY GPS Navigator for Cars
The inbuilt GPS works without a network and doesn't require you to make use of your phone's cellular data to operate the device. It works completely free. However, you have to note that the GPS Navigator can only function properly when used in outdoor spaces as it is based on a GPS satellite positioning system.
And if you happen to be from a different country, the Manvy GPS Navigator offers directions and notifications in over 41 different languages, so that every user regardless of nationality can use the device smoothly.
You never have to go off track with the Manvy GPS Navigator as it directs your routes and alerts you once you're going off lane, red light, speed cameras, school areas, overspeeding, etc. acting not just as a Navigator but as the perfect driving assistant to you.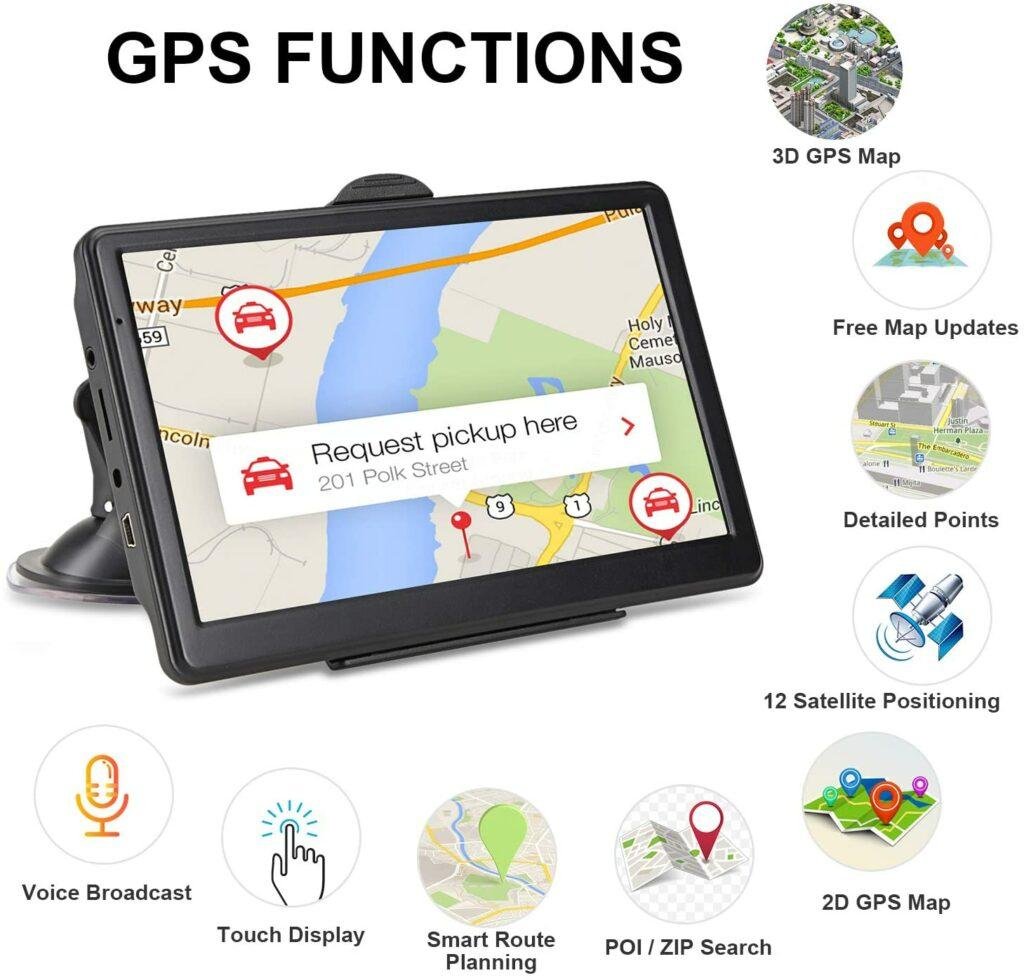 Purchasing the product comes with a lifetime warranty and just in case, you get a damaged or incomplete package, you don't have to worry as you have a 180 days money-back guarantee.
What is Product For
The Manvy GPS Navigator helps drivers in ensuring they never lose their way while they drive. It effectively carries out this function through a satellite positioning system that allows it to give accurate routing directions.
Who is it For and How Helpful can it Be?
 This product is valuable to both commercial and private drivers. It is essential especially as it helps you navigate both known and unknown locations conveniently.
You get the fast routes to your location, get notifications and alerts on when to stop or drive gently. In all, the Manvy GPS Navigator is your ideal device for smooth driving. It is one of best Gps navigator like Truckway GPS Navigation.
FAQ's Related to MANVY GPS Navigator  for Cars
Will the Manvy GPS Navigator notify or reroute you if you happen to be going off the designated route?
 This device will notify you, and what's better is that it will reroute your map to allow you to follow the most convenient and fastest route to your destination.
Can I adjust the overspeeding alarm?
Sure, you can always adjust the overspeeding alarm to your specific desire
Can I use another charger for this device apart from the one that comes with the package?
You have to ensure that you use  original charger that comes with the device to avoid damage to the Navigator.
How to Install it in a Car
This is one very easy process as the Manvy GPS Navigator doesn't require too much work to set up.
All you have to do is mount the GPS Navigator at a point in your vehicle that is quite open. The dashboard of your vehicle comes recommended.
Then plug in the charger to your cigarette lighter.
Ensure that the car is already turned on before plugging in the charger to avoid a current surge.
Pros
 Comes with a responsive touch screen
Haa a map guide
Easy programming
Easy to operate
Uses a voice control method
Has 2D and 3D view
Comes with a multifunction charger
Saves driving information like speed, routes, and locations, etc.
Allows for multimedia support.
Cons
 Can't easily update the map
Conclusion
GPS devices are important no matter how we try to downplay this by trying to use our Mobile phone for guidance while driving.
The Manvy GPS Navigator is a device designed and dedicated to acting as the perfect driving accessory for you. To help guide you while driving through known and unknown directions.
This is because it combines the best technology in terms of navigation to ensure that you never have to worry about going the wrong way while driving, which is why the Manvy GPS Navigator comes highly recommended.
We hope you found our MANVY GPS Navigator for Cars  review interestingly helpful. If you have a comment or question, leave it in the box below, We will be glad to hear from you.