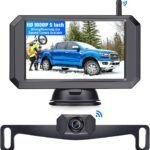 No one is ever safe from accidents that happen on the road, so whether you're a truck, cars and SUVs, or Minivans driver, the LeeKooLuu F09 HD 1080P is uniquely built for you.
The device is adequately equipped with a two video channels rear view camera system for effective capturing of all that lies behind your car, and a super night vision to ensure travel safety while you're on transit and even when you're parked.
Its 5" monitor screen is equipped with 1024x720pixels that provides an encompassing and effective view of what's being transmitted by the rearview camera. Another great feature of the LeeKooLuu F09 5 is that it is equipped with an ultra-low power consumption function, aimed at saving your battery life, while providing safety for you as you drive, reverse and park your vehicle.
About Product:
The LeekooLuu F09 comes with a IP69 Waterproof digital wireless license plate camera to withstand harsh weather conditions. It also comes with a 2.170o wide angle view for better and wider viewing vision and high sensitive color.
The device provides a full HD 1080P  clear picture regardless of the time of the day, can be used for vehicles up to 33ft at high speed; it comes with a 2 camera channel support, and a grid line setting with which  you can turn the guide line on/off, you can also choose to adjust its width to your desire, and move it left or right or up or down for practical use.
The LeeKooLuu F09 costs $110 and is so easy to install and also has a 2year warranty.
Who is the product for and How can it be beneficial?
The product is for trucks, campers, cars and SUVs, or Minivans drivers.
Its waterproof camera ensures the camera keeps working at optimum even in the harshest of weather conditions; its 2.170o wide angle view ensures wider and better view.
The New Chips HD 1080P it comes with ensures a full HD 1080P clearer picture, so there's no need to be bothered about hurrying home as these clips come out great even when you're overspeeding.
The LeeKooLuu F09 is easy to install and such saves you time when mounting it unlike other devices. The device is designed with an inbuilt wireless transmitter for the camera and wireless receiver for the monitor, there'll be no need for all the stress that comes with wired connections.
Installing The Device:
Installing the LeeKooLuu F09 5 Inch HD 1080P Wireless Backup Camera system is so easy that all you have to do is plug the two red wires to the positive and negative slot of your camera, and tighten it with screws.
PROS:
It provides full HD 1080P clear pictures regardless of the time of the day.
The HD image processor delivers excellent night vision up to 33ft.
Its 170o viewing angle ensures a broader viewing angle.
The device is so easy to install.
It comes with an autoscan function.
It comes with 8 LED lights for a better view at night.
CONS:
Digital distortion sometimes occurs.
The signal strength is sometimes low.
Very affected by bad weather conditions.
FAQs on LeeKooLuu F09
Where can I buy the LeeKooLuu F09?
You can find the link to purchase the device on amazon.
Hey, Is it possible to mount this on the trunk of my Toyota Camry?
It is very possible to mount your backup camera on the trunk of your Toyota Camry.
I want to know the function of the three buttons that's on the back of the monitor.
The first button marked A is for Menu/exit/plus. The second marked B is to enter, reset, and the minus button for volume. The third marked C is to turn the Guide line on or off.
I cannot find the installation guide online.
Please visit youtube for a well detailed installation process that's practical. It's really easy to install.
I want to know the dimension of the outside of the monitor.
The product dimension is 5&3/4 x 3&¼.
Will I be needing to hook the system to a power source within the car?
The Monitor and the camera will need to be hooked to a power source for it to be powered.
Hello, I'd like to know if I can add a second camera to the monitor.
The LeeKooLuu F09 5 Inch HD 1080P Wireless Backup Camera is designed to carry the camera that came with it alone.
What if I want the camera to be connected to my cell phone instead of the monitor?
That is not possible. The camera can be only connected to the monitor that comes with the product.
Conclusion:
Unless you are looking for a low budget backup camera, I'll advise you to go for other brands. The frequency range of the LeeKooLuu F09 is very low.
The Monitor screen ability is also very limited, and the features are really lacking when compared to other devices. And compared to its functionality, I think the price is too expensive  for the features this camera comes with.
It is advisable to instead  add up money and purchase a higher and more better brand.
Whether you want to or not, you'll still at some point dump this for a higher brand. So I'd personally recommend that you do not go for the LeeKooLuu F09 5 Inch HD 1080P Wireless Backup Camera if you are looking for something with more helpful features.