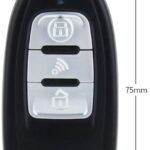 Your car is not just a mere means of transportation, it is your trusted road trip companion, one of your most valuable assets, and perhaps most importantly, a mobile memory-making machine. And one of the best ways to protect your ride is by arming it with a car alarm system. EASYGUARD Car Alarm System is reliable and cheap.
Investing in an anti-theft car alarm system not only provides tangible security for your beloved ride, but also gives you peace of mind knowing that your vehicle is sufficiently safeguarded against theft.
You'll find this particularly comforting when you're experiencing separation anxiety from being away from your cherished car during vacations.
Easyguard EC002-V PKE comes up with a number of handy features that we would consider in this review.
Easyguard EC002-V PKE Review
EC002-V sold on Amazon at $114.99 at the time of this review, and it weighs about 4.74 pounds, which is quite ideal for a product this concealable.
Being a remote starter system, the product allows you to conveniently start your vehicle remotely.
This is particularly helpful in cold climates because you can warm up your vehicle before you set off or blast the A/C so the cockpit is comfortable in hot climates.
For vehicle type, this product fits and is compatible with roughly about 95% DC12V petrol vehicles on the market.
If your car is a diesel car with engine starting time over 3 seconds, you can turn on the ON dashboard first to pre-warm the spark plug then start the car or add an extra timer delay switch.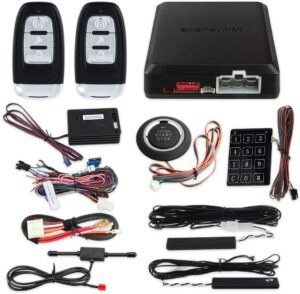 Its keyless feature allows you to use the push start button to start the car and there is no need to insert the key into the ignition cylinder anymore once the device is properly installed.
Also, its automatic unlock and lock feature comes into play when you approach or walk away from the vehicle in 3-6 feet/1-3 meters with key fob.
A counterpart of this product exists, the EC002-V-NS. They both have almost similar specifications, but the only difference is that while the EC002-V-NS has a shock sensor, this item does not.
Drawbacks are few when considering this product, but worth mentioning. Furthermore, Ec002 alarm system requires solid technical knowledge for installation, so professional installation is recommended for those with limited mechanical experience.
Also, this anti-theft car alarm system is a little pricey, but all the top-notch security and convenience features would, at least, give you good value for your money.
In summary, the EC002-V Series is the most comprehensive car alarm system with PKE-passive keyless entry, push start button, remote engine start, touch password entry backup and more functions than you expect.
What Is Product For?
A well-built Fail-safe starter kill system and built-in anti-carjacking mode are smart and effective theft deterrents, and this is what this item is for.
Who is it For And How Helpful Can it be?
If you're shopping for a quality security system for your car, truck, or SUV, the EASYGUARD EC002-V PKE Car Alarm System Remote Starter Push Button delivers the most bang for your buck. It has an impressive effect with its host of must-have features.
FAQ'S Related to EasyGuard ECoo2
● Do I need to hire a professional to install my alarm system?
If you're a veteran wrench-turner who has the tools, time, and technical aptitude required for installing an aftermarket car alarm system, you should be able to handle the job.
On the other hand, if the thought of fussing with your car's electrical system makes you break out in hives, it's probably best that you refer to a professional for installation.
● Will my Car Alarm drain my Vehicle's Battery?
Yes, though the actual rate of depletion depends on the car systems that are connected to the alarm system.
For instance, if your alarm system sets off your car's horn, lights, and other accessories, it could drain your battery in a matter of hours.
Additionally, if your battery is not at a full charge when the alarm is triggered, then the battery can be drained even quicker.
● What's so good about alarms with remote start?
Alarms featuring remote start functionality are beneficial for users living in cold climates because you can start your engine remotely and let your car warm up for a few minutes, so it's ready to roll when you are.
Remote start is useful in warmer climates because you can remotely start your ride and have the A/C blasting so the cabin is delightfully cool when you're ready to take off.
How To Install It In A Car
Considering the information provided in this device's user manual, the anti-theft security system is a bit confusing and insufficient for installation.
As such, it is highly recommended that you consider having a trained professional install the unit in your vehicle. It's important to know How car Alarm works. Also, check out hoe to easily Install Car Alarm.
Pros
● Keyless go.
● Valet on/off.
● Touch password keypad entry.
● Remote engine start.
● Emergency override.
Cons
● Difficult to install.
Conclusion
One thing associated with Easyguard is its quality and reliability with which Easyguard produces car alarm models. This basic alarm system might be pricey, but it comes with a full feature set, including keyless entry.
This is one device that you can go for, with its substantial rate of positive reviews on popular sales channels, this product comes highly recommended.EASYGUARD EC002-V PKE Car Alarm System