The importance of owning a car alarm system cannot be understated. This is evident in its popularity in the United States, Canada, and Australia. While most car owners are okay with the 1-way alarm system, most drivers are upgrading to the 2-way system and level 4 security system. While the former is cheaper, the latter is more expensive. While functions are important features to consider, you should also look at the price. How much is a car alarm system?
You can buy a basic car alarm system for as low as $15, and high-level systems for as high as $250. The distinction in price can be seen in the huge difference between their functions and features. Higher priced alarms are better equipped to keep your vehicle safe, and aid recovery if need be. So, how do you buy a car alarm system?
9 BEST PRICED CAR ALARM SYSTEMS
Viper Responder 350 2-Way Security System
Price: $149.80
Vipe outdid themselves with this new upgrade called the Viper Responder 359 2-way security system. It offers amazing features and delivers multiple functions to keep your vehicle safe 24/7. This upgrade includes advanced electronic technologies, including sensors and a fail safe starter kill. The responder 350 comes with one 1-way and one 1-way remote.
This 3 channel keyless security device delivers maximum security for all types of vehicles across the world. It also has a siren to alert car owners of suspected intruders. Other features include parking light flash, LED, 2 auxiliary outputs, and comfort closure, among others.
Pros:
3-way Security System
Led
Up To Date Technological Features
Cons:
 Expensive
Lacks an Immobilizer
VOXX Electronics Prestige APS25Z Car Alarm System
Price:41.74
Voxx is one of the leading car alarm manufacturers in the region. They offer different but amazing variants of car alarm systems. The Prestige APS25Z car alarm is one of their latest products and it features advanced technologies to enhance the security level of your vehicle.
It's also equipped with a 1-way wireless transmitter and automatic starter lock to ensure that your vehicle remains locked all the time, even when you forget. While you're away, the intrusion alert is activated to prevent intruders from gaining access to your vehicle and stealing your properties. This system also features a dual shock sensor, starter interrupt, and automatic arming, among others.
Pros:
 Affordable
Automatic Arming
 Dual Shock Sensor
Cons:
CarBest L232 3-Channel 1-Way Car Alarm Vehicle Security Keyless Entry System
Price: $24.99
This car alarm system features a ton of functions to enhance car security all the time. It has an Auto Arm feature to make sure your vehicle is protected even when you forget. Other features include a shock sensor, LED, and siren. It comes with 2 fobs. This alarm system has a wide range, so it can be bought for any car type.
Each unit of the CarBest L232 3-channel car alarm is also equipped with a wiring harness to help ease installation. This reduces installation errors caused by poor wiring and low quality. It also comes with a manual from the manufacturer that you can consult whenever there is a glitch or error.
Pros:
 Shock Sensor
 Affordable
 Wiring Harness
 Auto Arm
Cons:
● It lacks durability
EASYGUARD EC201-M9 2 Way Car Alarm System
Price: $101.91
Easyguard are proud manufacturers of some of the best car alarm systems in the world. This new addition, known as Easyguard EC201-M9 2 way car alarm system features new technologies to prevent car theft and for protecting your vehicle round-the-clock. It is also equipped with a 1.73″ LCD display and a remote that covers up to 800 meters in space.
Easyguard EC201-M9 2-way car alarm system is designed to work in multiple vehicles. You can easily switch it between cars. However, this may be impossible for some car owners as installation of this device requires a professional. Nevertheless, it still remains a great security device to have in your vehicle.
Pros:
 LCD Display
 Covers A Wide Area
Advanced Technology
Cons:
Wadcam Bike Alarm with Remote
Price: $30.99
We've included this bike alarm to demonstrate the difference between car and motorcycle alarm systems. Attempting to install a car alarm into a motorcycle and vice versa might result in unwanted results. To avoid such, we recommend buying the respective alarm systems. Own a bike and want an alarm system, then the Wadcam bike alarm with remote should suit your needs and demands.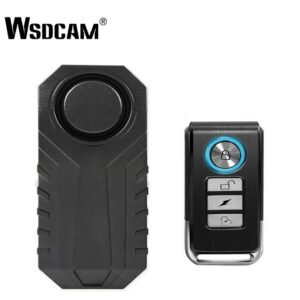 The alarm system features an anti-theft alarm triggered by vibration. The loud alarm is loud enough to deter thieves and alert the bike owner. You can comfortably leave your bike outdoors while you enjoy peace of mind indoors.
It also features up to 7 levels of adjustable touch sensitivity and adjustable volume level.
Pros:
Adjustable Sensitivity And Volume
Anti-Theft Alarm
 Compatible with Motorcycles, Scooters, Bicycles, and Doors.
Cons:
Wsdcam Anti-Theft Alarm Bike/Motorcycle/Vehicle Security Alarm
Price: $29.99
Wsdcam is a household name in the security industry. They design security systems and devices for cars, doors bicycles, and motorcycles, among others. However, this new product promises to cover all the above-mentioned. For just $29.99, you can get a device to protect your car, doors, bikes, and motorcycles.
This security device is also equipped with up to 4 control modes which can be controlled by the remote. It also has up to 10 levels of sensitivity and can be installed by just anyone.
Pros:
 Multiple Sensitivity Levels
Low Battery Consumption
Affordable
Cons:
CarBest Vehicle Security Paging Car Alarm
Price: $69.99
The Carbest Vehicle Security Paging car alarm comes equipped with a 2-way LCD remote control with long-range. This allows car owners to send and receive signals to and from their vehicles. The manufacturer also assures customers of strong materials for longevity.
It is also equipped with a shock sensor, flame out relay, start module, siren, wiring harness, and 2 remote controls. The remote can lock and unlock car doors, start car engines, and display battery status.
The installation procedure of this device is complex, therefore, it requires a professional for satisfactory results.
Pros:
2-Way LCD Remote
 Shock Sensor
 Longevity
2 Remote Controls
Cons:
 Complex Installation
Not Compatible with every Car
Technaxx Car Alarm with Charging Function
Price: $49.99
Protect your vehicle from thieves with the Technaxx car alarm. It is equipped with advanced technologies to guarantee maximum protection day and night. These include a sensor, which once triggered sends a loud alarm to alert the car owner and passersby.
It also comes with a 12-24V cigarette lighter socket for USB fast charging. This allows car owners to charge multiple devices simultaneously without putting a strain on the car battery. The inbuilt battery can last for up to 6 days on a single charge. This allows car owners to use it for days without worrying about recharging.
The remote control can cover up an 8m distance. This facilitates quick activation and deactivation of the device. You can also arm from your comfort.
Pros:
 Affordable
Cigarette Lighter
 Covers 8m
Cons:
Package Theft Alarm System
Price: $70.00
The last on our list of the best-priced car alarm systems is the package theft alarm system, which costs only $70.00 but is equipped with advanced technologies to prevent car theft and carjacking. This device provides up to 3 levels of protection for absolute peace of mind. These include visible warning labels, a cut-resistant security belt, and an alarm.
It comes with other additional features and accessories such as 2 remotes and the manufacturer's instructions.
This device is also compatible with all types and sizes of cars and is easy to install.
Pros:
 Multiple Levels of Protection
Advanced Technology
 2 Remotes
Cons:
Conclusively, you need to also consider other important factors such as security level, range, technology, and ease of installation.