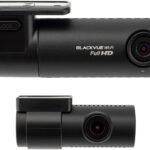 Dash cams are meant to be discreet devices that do not obstruct your driving but remain helpful by aiding you to capture video footage. This footage usually includes everything that happens within and outside your car while you drive. Some dash cams go the extra mile and also ensure that your car is monitored even when it is not in motion. If you are considering purchasing a dashcam, one dashcam you would want to consider is the BlackVue DR590X-2CH with 32GB microSD.
About the product
Selling at $239 on Amazon, the BlackVue DR590X-2CH with 32GB microSD is a full HD WiFi dash cam with parking mode support. Using the BlackVue app and the WiFi feature of the device, you can easily watch and transfer video footage and images from your mobile device.
Using the optional hardwiring cable, you can easily activate the parking mode of the device. Once the device is hardwired to your car's fuse panel, the dashcam will automatically switch to parking mode as soon as your ignition is turned off. Using the parking mode ensures that your vehicle is protected 24 hours a day.
The BlackVue DR590X-2CH with 32GB microSD comes equipped with a front camera and an imaging sensor from Sony STARVIS. This feature enables the device to capture clear and quality images and footage.
Weighing just 1.15 pounds, the dash cam also comes with an audio recording feature. Unlike several of its competitors, it doesn't just record video footage, it also records audio.
The BlackVue DR590X-2CH with 32GB microSD comes with two cameras. A front and back camera to ensure that your vehicle is protected 100%.
What is the product for?
The product is for capturing video footage while you drive. It also ensures the safety of your vehicle while it's not in motion using its native parking mode feature.
Who is it for and how helpful can it be?
The device is for drivers who seek video footage as evidence or would like to observe events taking place within and outside the car. The device can also protect your vehicle while it's parked.
FAQ's Related too BlackVue DR590X-2CH
● Where can I get the Blackview app?
The black view app is free to download on your android and IOS stores. It is compatible with android and IOS devices. It can also work well with your PC, whether it's windows or Mac for viewing footage.
● Does it capture good images at night?
Thanks to its sensors, the device is capable of capturing quality and clear images both in day and nighttime conditions.
● Does it come with GPS?
No. The device is lacking that feature. However, if you would want a GPS feature, you can make an after purchase by buying an external GPS receiver.
How to install it in a car?
The device is beginner friendly and easy to install. Go through the instructions in the user's manual and mount your camera in positions where it will not obstruct your driving or be too obvious.
Pros
● Discreet design
● Parking mode
● Compatible with mobile devices
● Sony sensor
● Easy to install
● Clear cameras
● Audio recording
● WiFi
Cons
● Lacks GPS features
● Lacks a specified G-sensor and Loop recording feature
● Lacks infrared light
● Lacks wide-angle cameras
● Lacks rotational cameras
● Ability to work under various temperature ranges not confirmed
● Requires accessories to function at a top-level.
● Doesn't come with batteries
● Doesn't come with SDcard
Conclusion
BlackVue DR590X-2CH with 32GB microSD comes with amazing cameras and a parking mode that ensures your vehicle is protected 247. However, for a lot of drivers that is not enough. It lacks GPS features, infrared lightning and rotational cameras.
For the native parking mode, you will need to purchase a power magic battery separately to protect your vehicle's battery. The device is a worthy device lacking several features that some drivers might consider important.
If you also consider that it's going for the whooping price of $239, several cheaper dash cams offer better imagery and more features.
However, based on research from customer reviews, whilst about 60% seemed to like the device. The rest 40% experienced several hiccups while using the device with some complaining that the BlackVue DR590X-2CH with 32GB microSD never even worked at all. So if you're still considering purchasing the device, you should keep that in mind.