Car seat laws in Illinois are well formulated to help keep your children safe while they ride with you. According to the car seat laws, children below the age of 8 should be placed in the age, size, and height appropriate car seat. These seat types are rear-facing, forward-facing, and booster seats. This article will help you understand all these car seat laws in Illinois, how to interpret and apply them, and situations where they don't apply.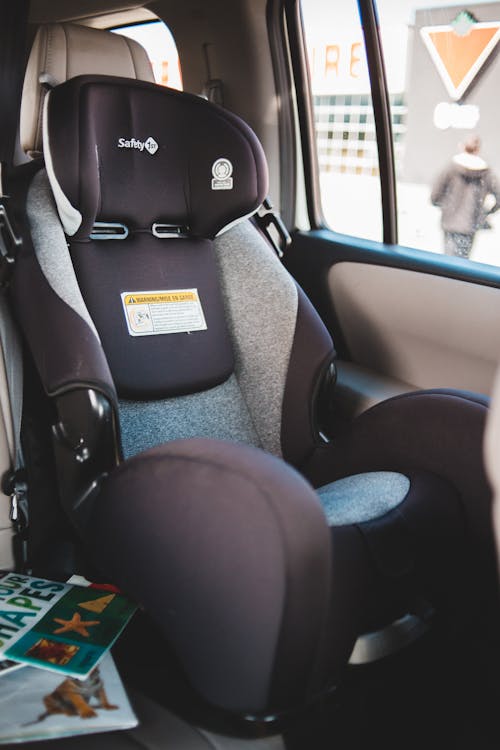 Illinois Car Seat Laws According to Seat Type
Rear-facing
According to Illinois car seat laws, infants below the age of one must remain in a rear-facing seating position until they surpass 20 pounds or reach the maximum requirement of a rear-facing car seat.
Before buying a rear-facing car seat for your infant for use in Illinois, ensure you check the descriptions that it meets those of Illinois state car seat laws.
Forward-facing
According to Illinois car seat laws, children between ages 1 to 4 should be tightly secured in a forward-facing car seat with a five-point harness system for maximum security and safety.
Again, check the seat description to ensure that it aligns with that of the Illinois state government.
Booster seats
Once your child has surpassed the specifications of a forward-facing car seat, it is time to advance them to a booster car seat. This usually happens between the ages of 4 and 8.
The height and weight specifications are clearly stated, so you should watch out for your child's discomfort. When using a booster seat, ensure the child is tightly secure with a shoulder and lap belt.
How to correctly use a belt-positioning booster in Illinois
Using the belt-positioning booster in Illinois is not well enunciated by the authorities, but there is a right and a wrong way to install and use this system in your vehicle.
To correctly install a booster seat in any car type, first, place the booster seat on the back seat of your vehicle. Make sure it is lying flat and is directly on the car seat.
Next, place your child in the booster seat and secure them snugly with the shoulder and lap belts. Ensure the lap belt fits snugly across your kiddo's thighs and not their stomach, which could cause a lot of discomfort and health issues.
When you're satisfied with your child's level of comfort, buckle the belts and enjoy the ride with peace of mind.
Fines for disobeying the law
Violating the car seat laws in Illinois attracts a fine of $25, $75, and $200 for subsequent offenders, and a mandatory course on child safety.
]While the latter is a good move, violating the car seat laws can put your child at risk, so ensure that you follow the law at all times.
How to keep the 
car seat

 laws in Illinois

It is not enough to scare parents with fines. Knowing how to uphold the car seat laws of Illinois will help you to better protect your kiddo and enjoy peace of mind while driving in the Lincoln state. Here are a few tips to help you keep the car seat laws in Illinois.
Put the law at the back of your mind
Every child below the age of 8 must use a restraint system while riding along with you in a car. It is your duty to figure out which seat is appropriate for that child, depending on age, weight, and eight.
The job has been simplified for you by the Illinois government. Simply follow their laid down instructions and guidelines and you're good to go.
You should always know the right seat for your child at any given time to help you keep the law and ensure the safety of your child.
Install the seat correctly
According to data gathered from parents and the authorities in Illinois, about ⅔ of car seats are incorrectly installed. This is a widespread problem that is putting innocent children at risk, especially during minor crashes.
To correctly install a car seat, read the manufacturer's instructions carefully and bear in mind that car seats have different installation processes.
So, even though you may have successfully installed a car seat before, you will need to read the installation carefully to install a new car seat.
Installation can be tricky, which means you may need to hire a professional to handle the task. Spending a few extra dollars is worth your child's safety.
Don't leave thick clothing on the child
Winter is upon us, meaning parents will be covering their children with thick clothing such as blankets. While this is good for the weather, it is unsafe for your child in a car seat.
Thick clothing will distance your child from the harness straps, making them ineffective during bumps and crashes. To use thick items of clothing on your child, secure them with the straps first before covering them up.
Don't remove your child from the seat while the car is in motion
According to Ohio car seat laws, children must remain in their restraint system for the duration of the car ride. If you need to attend to your child while driving, ensure you find a safe place to park for the safety of both of you.
Removing your child from the restraint system increases the risk of injuries and death during a collision or crash. In addition, not having your child in a restraint system will attract fines and prosecutions from law enforcement.
To avoid such embarrassments and ensure the safety of your children, always keep children in their car seats while they ride with you.
Always use a seat belt
This one's for you and children that have advanced to using the adult seat belt in the vehicle. According to Ohio state law and federal safety laws, you should secure yourself with a 3-way seat belt while driving.
Also, it is your responsibility to ensure that the children in the vehicle are also using their seat belts appropriately.
Use the belt correctly
Using a seat belt correctly is important for your safety as the slightest misuse can render it inefficient and useless in the face of danger. A common misuse of seatbelts I have noticed is using one seat belt for two passengers.
This is common between an adult and a child. This will increase the risk of injuries and even death, and it is also illegal in the state of Ohio. if you're in a taxi, ensure to use the seat belt first then hold your child tightly to your body.
Use the child safety locks
The child safety lock is an important switch to keep your child from opening the door of a vehicle in motion, which can have dire consequences like death.
To avoid such, always use the child safety locks on the door, even in vehicles that are not yours. You may think it unnecessary, but always remember that children are always eager to get their hands on anything, the door included.
Frequently Asked Questions (FAQs)
Can my 8-year-old ride without a 

car seat
As your child develops, you'll be tempted to do away with a car seat and restraint system in its entirety, but according to Ohio car seat laws, children who are 8 must use a car restraint system all the time while they ride with you or another person. The same goes for children who 4'9". The preferred car seat for this category is the booster seat.
When can my child start sitting in front?
According to Ohio and federal safety laws, children below the age of 13 must remain in the back seat when traveling. Experts say this is the best and safest area of the car for underdeveloped children to ride in.
Even so, you still find adults riding in the back seat because of safety reasons. But why do underdeveloped children have to remain in the back seat? Because the force from the airbag located in the passenger's dashboard area can injure the child.
Do I need a 

car seat

 for my child in a taxi?
While the Ohio state government doesn't explicitly talk about whether or not your child needs a car seat in a taxi, the government, however, mandates parents and guardians to provide the appropriate restraint system for the children and wards.
Is it safe to use a backless booster 

car seat

?
A backless booster car seat is a preferred option for older children, so at some point, your child will request it and you can't do so.
But is it safe? Yes, when used correctly, a backless booster car seat is safe. Place it flat on the car seat with a headrest. Make sure the child's ears are in line with the car seat to reduce the risk of neck and head injuries.
Conclusively, ensure you register your car seat on the manufacturer's website to receive timely updates and notifications about your car seat, so you know if it has been recalled or a new and improved upgrade has been released.
In addition, some car seat manufacturers extend your warranty by a year if you register your car seat. All of these will help you keep Ohio car seat laws and protect your kiddo better.