The new Azdome M550 dash cam 3 channel comes with a triple camera function for security and data saving purposes. These cameras are placed at different locations in the car, one on the front dashboard, the other on the front area of the car and the latter on the rear area of the car. Each camera covers a 150° span within its radius.
In this Azdome M550 DashCam review you'll learn more about this GPS enabled dash camera as it can track and monitors the current location of your car at any time with its GPS.
It comes attached with a 32gb storage space SD card which serves as the storage capacity for saved recorded videos.
Sold at $179.88 on Amazon and other digital platforms, the Azdome m550 dash camera is comparatively expensive as there are other devices that perform similar functions at lesser prices.
GET EPIC DEALS ON AMAZON TODAY. UP TO 40% OFF.
About Product
Azdome made dashboard camera comes with three cameras, one for the front, cabin and rear area of your car each. This is especially useful for mothers, who have children in the car and need to monitor their activities.
This camera captures events with a resolution of 1440P x 1080P x 1080P respectively.
Also, it comes with a revolutionary 6-glass wide-angle lens with proprietary focal length technology, powered by Novatek96670 chipset processor.
Its extra wide angle lens enables each camera to capture a wide angle of 150°, giving you a wider view of all angles recorded. That way, you miss nearly nothing as you drive.
With its inbuilt Wi-Fi function and the free Azdome application installed in your phone, you can easily monitor and view live recorded events from your camera as you drive.
The application also allows you to share recorded videos with your friends and family. Additionally, the device comes with hidden infrared lights which enhances the quality of image from your car.
Its super night color display feature enables the device to capture every detail in full color even under low light conditions, producing high quality images and clips for you. It is one of best dashcam just like Kingslim Dashcam.
Azdome M550 Dash Cam 3 channel Review
The Azdome M550 dash cam 3 channel device was built with high quality materials which makes it very durable and highly resistant to high temperatures.
Moreover, the device can still maintain its quality at exceeding -20° and 70° Celsius, so you don't have to worry about your dash camera freezing or overheating when the temperature is extreme because of its quality production materials.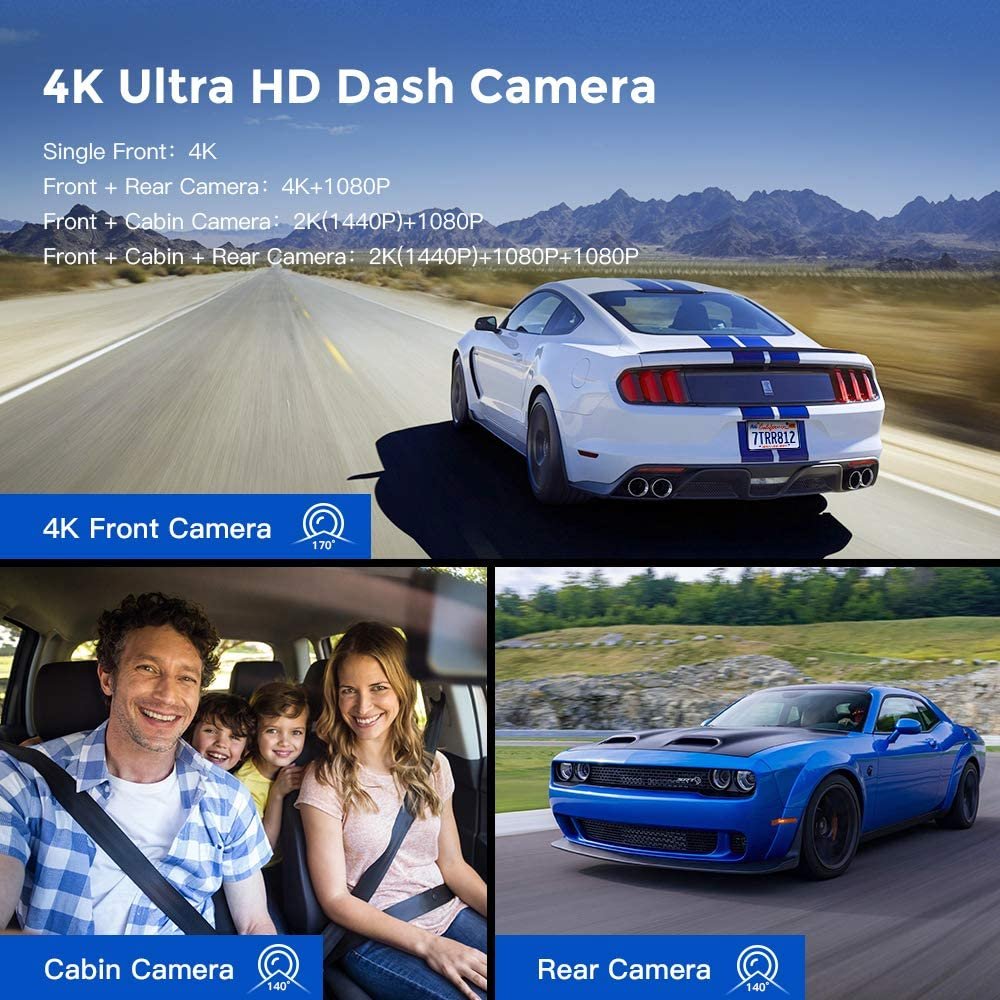 This dashboard camera also comes with a G-sensor enabled feature and this allows the device to lock and save captured events for one minute preceding an accident or impact.
In addition its cameras functions as parking surveillance gadgets as they record and transmit events that take place when your car is parked to your connected mobile device.
What Is the Product For?
Azdome M550 records and transmits events to your connected Android or iPhone device while you drive.
This device comes with upgraded features that allows you to experience level recording with 4K UHD videos at 3840 x 2160p, so its captured details are displayed very clearly.
Who Is the Product For and How is it Helpful?
The Azdome three channel dashboard camera is a multi functional camera that  monitors and prevents accidents while its GPS enable feature allows you to track the constant location of your car at any time.
The high cost of the camera may turn interested drivers away but this device is an ideal tool for every car and drivers who don't mind the costs, and want a device that is of premium quality.
 FAQ's Related too Azdome M550 Dash Camera 3 Channel
Can the three different camera channels be watched at the same time?
Yes, when connected, you can watch all the channels together or switch between any channel of your choice.
Will the device automatically transmit recorded data to your phone?
No, the device does not auto transfer recorded videos to your phone. You will have to connect to the device through its Wi-Fi feature, and then all the recorded videos will be transmitted to your phone and saved there.
 How to Install it on your Car
Read the manual and follow the installation instructions carefully to install.
However, you can consult the assistance of a professional if you find it complex.
Pros
24 hours surveillance monitoring
Smart accident or impact monitoring
Loop recording
32gb storage SD card
Built in Wi-Fi
GPS location tracking
Super night vision
Highly durable
Cons
A bit pricey
Does not support SD card below 32gb
Conclusion
The Azdome M550 is the perfect multi functional device with excellent design and amazing features that is very suitable for every car owner.
Purchasing this device comes with a lot of perks and benefits, as it not only gives you a clear view of what's happening ahead and in front of you.
It also gives you a view of what's happening inside your vehicle, providing all-round safety for the driver, passengers and other cars plying the road.
We hope you find our Azdome M550 DashCam 3 Channel Review helpful. If you have any Query, Leave it in comment box below. We will be glad to hear from you.