Most drivers are concerned with ensuring that their journey is smooth and have a safe, comfortable driving experience. Getting a dash camera is one important action every driver should never neglect. A dash camera acts as a safety device that monitors and protects your vehicle from accidents. One of such dual dash cameras is the Vantrue dashcam with GPS N2S dual 2.5k.
With a dash camera, you're also not scared of dealing with hit and run drivers as your camera helps provide useful proof or evidence when asked for one. While some dash cameras come as a single unit of either front or rear camera, others are sold as having both functionalities.
About Product
The Vantrue N2S Dual 2.5k Dash Cam with GPS is a device that is used for surveillance of your vehicle. It weighs 1.3 pounds and has a product dimension of 4.25 x 1.73 x 1.73 inches. The unit comes in a box that has a N2S Dual Dash Cam, a Type-C USB cable, a car charger, a suction mount coupled with a GPS Module, a quick guide, and a user manual.
The front camera of the device has a 4k video recording function that is based on the Sony Sensor technology and captures all that happens in front of you in high definition even down to a clear display of number plates. Both front and back cameras can record simultaneously at 1440P x 1440P with 30fps in super HD quality.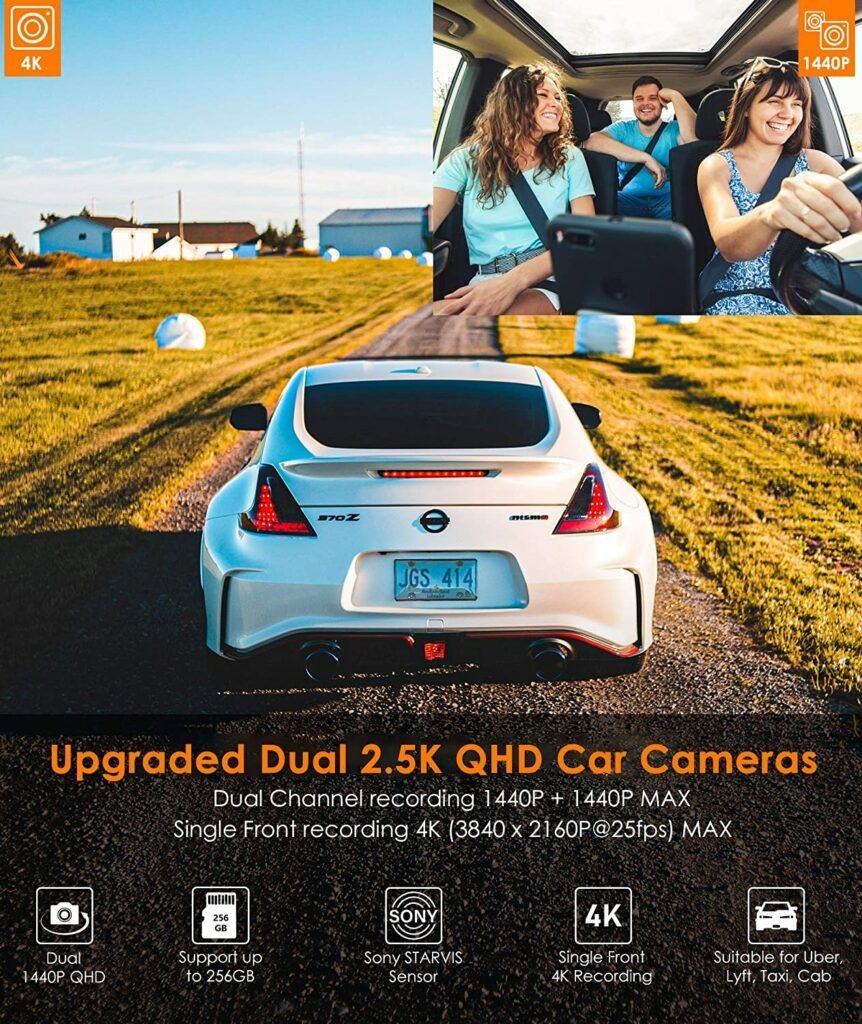 The Vantrue N2S 2.5k rear camera also has a super clear night vision that ensures that the camera can still record even when everywhere is dark. Also built to be heat resistant, the Vantrue N2S uses a supercapacitor that helps the device withstand harsh or unfavorable climate conditions and weather. More still, it can function properly between 14 – 158°F, which in turn ensures the longevity of the dash camera.
Most importantly, the N2S dash camera comes with an external GPS mount (you don't have to purchase this separately) that helps record your vehicle information like its location, time, date, routes, speed, etc at any given time and you can playback on maps by using the Vantrue GPS player. Its Time Lapse feature also compresses all the long hours spent driving into a recording of few minutes, therefore effectively managing storage.
What is Product For
The Vantrue N2S Dual 2.5k Dash Cam with GPS is a great device used for protecting your vehicles from accidents and false claims or fraud. It is used for monitoring all that goes on within and outside of your vehicle, ensuring you have a comfortable driving experience.
Who is it for and how helpful can it be
This device isn't for a specific set of motorists. It is designed to be used by all drivers. It provides visual evidence when an accident occurs and is useful in ensuring that you are protected from careless drivers and can easily lay a complaint or claim with the police or insurance company since you have video proof.
FAQ's Related too Vantrue N2s Dual 2.5k Dashcam
Can the Vantrue N2S Dual 2.5k Dash Cam with GPS device playback videos?
This device can playback video recordings perfectly. To do this, you have to use the Vantrue GPS player to effectively playback your video files.
 What is the recording resolution of the device's front camera?
The Vantrue N2S has a front camera resolution of 4k. That is, it has a resolution of 3840P x 2160 at 25fps.
Where is the best place to mount your GPS antenna for the best signal reception?
You're advised to mount your external GPS antenna directly over the surface of your dashboard close to your windshield. You also have to ensure the GPS mount is made to face upward for maximum signal reception.
Hi, is this device able to record audio?
Sure, the Vantrue N2S Dual 2.5k Dash Cam with GPS records in in-cabin audio.
How to Install it in a Car
Installing the Vantrue N2S Dual 2.5k dash cam is pretty easy. All you have to do is follow these steps
Attach your suction pad on the suction mount to your camera connector.
Attach the suction mount to the windshield and keep rotating till you hear a click sound.
Pros
Easy to install.
Great packaging.
Super clear video quality.
User friendly.
Parking protection
Night Vision.
Loop Recording function.
G-sensor technology.
Wide viewing angles
Cons
Comes with a suction mount.
No WiFi connectivity.
Conclusion
Overall, the Vantrue N2S performs as well as other dash cameras sold out there. It comes with every feature a standard dash camera should have, so it isn't so exceptional in terms of performance. However, the Vantrue N2S Dual 2.5k Dash Cam with GPS is one reliable device most users would find very useful. It's easy to install and it carries out its functions quite efficiently as advertised by the company. Therefore, the Vantrue N2S dash camera comes highly recommended for all drivers.
Although it comes at a whopping price of $219.99 which is pretty expensive, it's a great product from a reputable manufacturer that all car users should use. It's one of Best Dashcam Like Rexing Dashcam.
We hope you found our Vantrue N2S dual 2.5k dashcam with GPS review helpful. If you have a comment or question, leave it in the box below.  We will be glad to hear from you.