Safe driving should be the priority of every driver who ply major roads and highway. A dash camera is a necessary car accessory that comes handy when it comes to protecting your car from crashes and accidents. VanTop H612T 4k DashCam is best for protection.
Dash cameras are designed to give the driver a visual and sometimes, audio sense of what's happening around his vehicle while it is in transit. Without a dash cam, it can be particularly difficult to avoid crashes with careless drivers, but with one installed in your vehicle, this problem can be avoided.
One dash camera that is a great fit for vehicles is the VanTop H612T 12 inch 4k Mirror Dash Cam.
About Product
VanTop H612T 4k dashcam has a 12-inch screen that fits almost all car types and offers a wide horizontal view of your camera in a way that enables you to know what's happening on the road as you drive.
Also, the device adopted the Sony Starvis IMX415 technology enabling it record super clear videos and with its 4k sensor, the device can perform excellent at night and in poor weather conditions.
Furthermore, VanTop H612T dash cam costs $136.84 and also comes equipped with a GPS signal receiver that helps monitor the speed, driving route and location of your vehicle at any given time. It also comes with a technology that enables you to control the device either through touch or voice activation.
Its front camera offers a wide visual of 170° and the rear camera offers a wide angle of 160° that ensures maximum security of your car. This product weighs 2.48 pounds and requires 1 Lithium ion battery to work properly. It also has a dimension of 14.84 x 4.88 x 2.99 inches.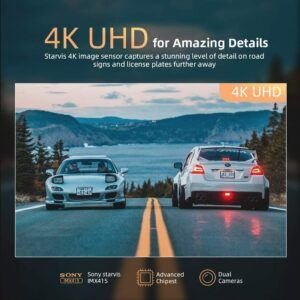 VanTop H612T dash cam also comes with a loop recording and emergency recording that immediately starts recording whenever an impact to your vehicle is felt.
It also has a parking monitor that serves as reversing and parking assistance which makes the process easier.
And 23ft rear camera cable that comes with the device is compatible with almost any type of car.
What is Product For
In regards to protection, VanTop H612T 12 inch Mirror Dash Cam is used for protecting your vehicles from incidents and unprecedented occurrences with careless drivers.
It allows you to park safely and easily. In all, the device is used to ensure that you have a smooth and comfortable driving experience. It's one of best dashcam like Rexing VI 4k dashcam.
Who is it For and How Helpful can it be?
There is no particular set of drivers that need the VanTop Dash Cam. The device is great for all vehicle owners, especially those who want to ensure that they have video evidence whenever a parking or car accident occurs.
This dash cam is very useful as it not only serves to provide crystal clear images and video evidence of your car activity, it also helps monitor and assist you when parking or trying to reverse.
FAQs on VanTop H612T 4k Mirror Dash Cam
 Can the Vantop H612T Mirror Dash Cam device playback videos?
This device can play back both audio and visual recordings perfectly. You can also choose to save these recorded files to your computer using a portable USB card to transfer from the camera to your PC.
What is the recording resolution of the device's front camera?
VanTop 4k Mirror Dash Cam has a recording resolution of 3840 x 2160P.
 Where is the best place to mount your GPS antenna for the best signal reception?
It is recommended that you mount your camera directly over the surface of your dashboard close to your windshield. Make sure the part of the antenna with the GPS lettering is made to face upward for maximum signal reception.
 What is the dimension of the product's screen?
This Mirror Dash Cam has a screen dimension of 11.9 x 3.2 x 1.4 inches.
How to Install it in a Car
Installing the VanTop dash cam in your vehicle is pretty easy. By following these simple steps, you'd successfully mount your dash camera.
Strap the dash cam over your existing mirror using the rubber straps that came with the package.
 Run the power cable, GPS module cable and the rear view camera cable along your upper trim.
 Drill a hole of about 3/16″ where your license plate should have been and place your camera cable there ensuring it is connected on the other end.
Pros
 Intuitive user interface.
 Great GPS tracking feature.
 Doesn't take additional windshield space.
 High quality cameras.
 Prevents overwriting of video files.
 Can switch between H2.65 and H2.64 recording.
 Easy picture capture.
Cons
 Camera cable isn't long enough.
Boot-up alert sounds distorted.
 Images may be blurry in poor weather conditions.
 Videos doesn't play on a Macbook Pro.
 Inability to use Bluetooth or WiFi download for the camera.
 Playback features don't work effectively.
 Cigarette lighter is always on newer Mazda cars.
 No interior video view.
 Difficult to take SD card out.
Mirror comes loose whenever the vehicle encounters bumps.
Conclusion
VanTop H612T 12 inch 4k Mirror Dash Cam is a good camera that has a lot of functions which should have made it a favorite among road users. However, the product has a lot of issues that need to be worked on.
For one, there should be an interior video view that monitors whatever happens inside the vehicle and not just outside.
This will be super handy in case of accidents within the vehicle and I'm sure most parents would find this really helpful especially when you have kids in the car with you.
In addition, its cable length should also be made to be longer than it is. Another thing is that there should be an update on the device's software that enables smooth performance of the product.
Although the product has these issues, I believe it doesn't override the fact that the VanTop H612T Mirror Dash Cam is a great product for drivers as it still performs excellently when it comes to identifying and eliminating blind spots, the super clear image and video quality of both the front and rear camera is another superb function.
Installation is also pretty easy and most importantly, the price is actually worth it when you critically examine what this device can do.
I'd still recommend this product to anyone who is seeking a handy dash camera for his or her vehicle as it will definitely be a useful technology or addition to your vehicle.