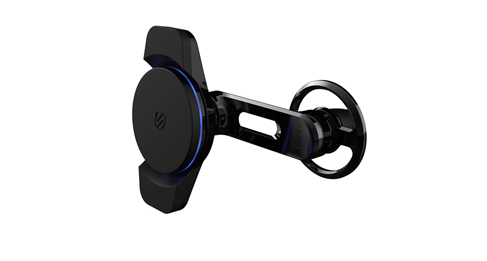 You deserve every convenience you can afford anywhere you find yourself. From charging your smartphone, tracking your loved ones on their trips to jump-starting your car without having to call any professional and avoiding stinky smelling interiors all day thereby keeping you comfortable in your car as you drive.
You will  to think and act right when your car serves as another source of happiness. However, this may be just a dream if you fail to equip it with the necessary gadgets to provide the much-needed convenience. Check below to see for yourself many of these cool smart gadgets for car.
1. Halo Bolt 58830 Portable Vehicle Jump Starter
Sometimes you encounter what is least expected like flat tires, battery missing power contact and so on. What's more, your smartphone may have battery drop due to huge pressure arising from usage all thanks to your music streaming, hands-free calls and so on and you begin to wonder, all alone in a remote suburb what to do, how and where to get a technician to assist!
HALO Bolt 58830 Portable Jump Starter is capable of recharging not just your smartphone but your car, even both at once! Aren't you lucky?
I wonder why you will carry multiple devices with you and overload your car interior with many devices when only one will do the magic?
This HALO Bolt Jump Starter is an emergency tool engineered to recharge both your phone and your car together without any ado.
With this jump starter in your vehicle, your parents or spouse will be assured of your safety when you embark on a long trip outside your vicinity cause you are pretty covered to take care of any emergencies on the road at least mechanically.
This jump starter is packaged with jumper cables that universally work on both small cars and SUV while still delivering the same awesome result. It is very compact and handy, yet small but mighty as it carries quite a generous power supply within.
This wizard does not only jump start and charge, the 58830 has a multi-purpose-built floodlight readily available to illuminate your environment even at dark nights if you have to change a tire.
Key Features
It comes in handy and compactly packaged to occupy little space
It is all-in-one jump starter for your car, your smartphone and for illumination
It comes with an AC charging port for quick service at your beckon
It puts your mind at rest for personal service even at dark nights.
The HALO Bolt is your great roadside personal assistant even when alone and your care sure needs a Halo.
2. Bouncie Smart Car Tracking Device
Wow! This is a blessing you have been waiting for. Bouncie Smart car tracking device is made to keep your family members safe anywhere anytime if you care to have one installed in the vehicle.
With this device, you can keep an eye on the whereabouts of your wife, that your stubborn ever-tripping son and other family members all for their safety.
So, if your parent or anyone for that matter is giving to excessive wandering, just install this vehicle tracker in the car you want to keep an eye on, then, keep your mind at rest!
For proper monitoring, simply customize the type of alerts you desire to receive, get notifications for start on, acceleration, over speeding, braking, leaving a designated perimeter, getting into club, pub, dangerous zone or something else.
Sometimes your teenager boy who is new to driving may want to be left alone to enjoy his privacy, the need for this vehicle tracking device becomes very imperative as it will help you know if he is practicing safe driving protocol or he's over staying beyond restricted periods such as curfew etc as you receive minute-per-minute updates.
What else, this device can provide same service to as many vehicles as you want giving you intelligent surveillance report on each and every one of them like you are in a control tower! Isn't this amazing?
Get one of this Bouncie car tracking device installed today, it will save you the trouble of emergency rescue operations.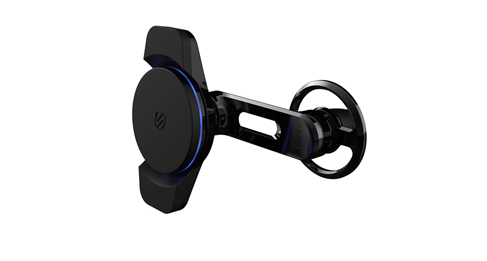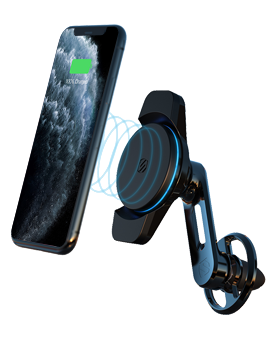 3. MagicMount Charge 3 Vent Wireless Magnetic Mount
There are many styles you can choose to charge your phone, but this is a unique way in the sense that the Magic Mount 3 Vent wireless magnetic mount will keep your Qi-enabled phone charged without compromising your car's airflow any time.
This wireless magnetic mount comes with designed open base freeflow that does not block your car's vent, giving you dual opportunity of seeing your device and staying warm.
At the same time, you can position this device wherever you desire for easy access courtesy of its sporty FreeFlow Swing Arm built with a 360degree adjustable charging head that displays your phone at any angle.
MagicMount Charge3 holds your smartphone right where you need it and very accessible at your beckon while you drive. It comes with neodymium magnets that are safe and the thermal management gap encourages cooler charging while notifying you with its lit-up LED light ring.
Key Features
It offers seamless Qi-enabled phone wireless charging as it comes in 10W power strength
It is Apple, Samsung, and Google compliant
Built with LED light ring to notify you when it is charging
This device help hold your smartphone at your disposal thanks to its magnetic design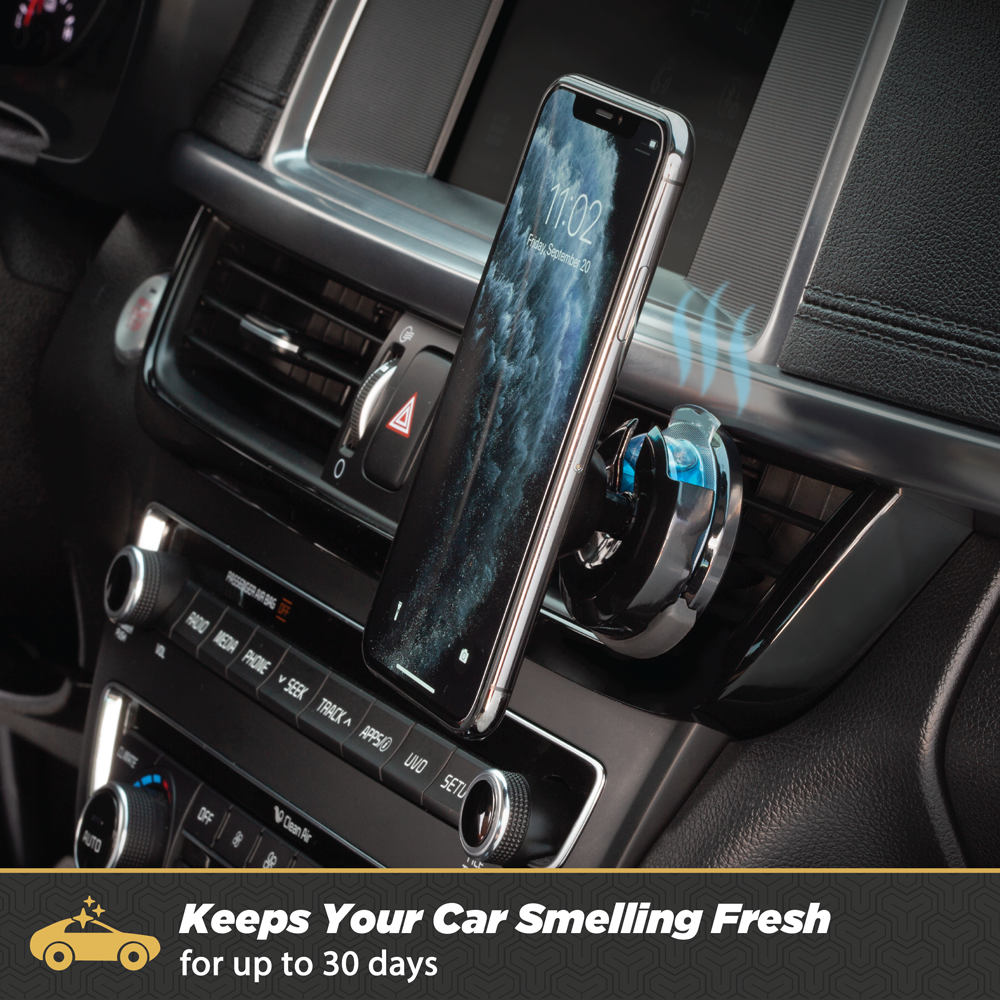 4. Scosche Fresche Smartphone Vent Mounts
The ambience in your car is very important too just as your smart dress is. Scosche Fresche Smartphone Vent Mounts make sure your car always smells delightful and pleasantly appealing.
You can banish stinky smells permanently from your vehicle with this two-in-one Vent Mounts that serves as car phone mount and yet an air freshener.
It is packaged with air-freshening packs each of which lasts for a full 30-day period, meaning that your budget is pretty safe as you will not have to replace them for at least one month while keeping your vehicle clean and tidy.
Scosche Fresche is available in four styles; the Scosche Fresche mounts come in MagicMount and Universal Grip options both of which come with or without FreeFlow technology, depending on your preference.
The MagicMount design is secured with neodymium magnet while the Universal Grip options have side grips that hold phones up to 3.5 inches wide. With FreeFlow technology, your vent mount will allow the air from your vehicle's air conditioner to flow through it.
It offers varieties of fragrance and scents like peppermint, cherry and strawberry you can choose from to liven up your next road trip and ignite better aroma in your car.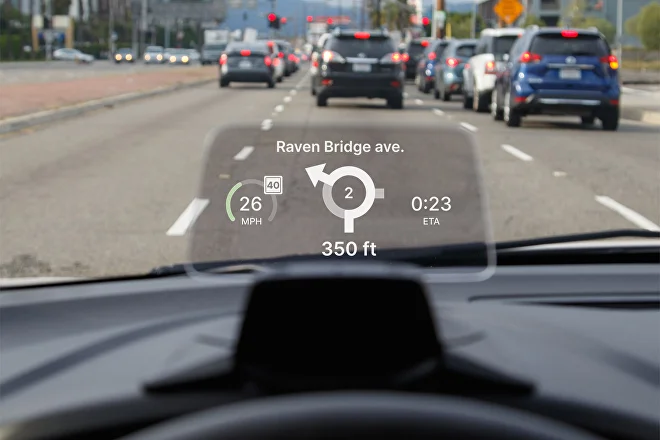 5. HUDWAY Drive Portable Head-Up Display
Your driving experience with the HUDWAY Drive portable Head-Up Display is being simplified as this exceptionally slim gadget secures your dashboard easily to deliver your much-needed comfort and provide information while keeping you focus on the road while you drive.
It offers all the details you could need while on the road such as directions, calls, and notifications right to your eye line.
It comes with a special design that has a transparent screen display, providing total and visible information of the road ahead while viewing directions and many more.
When your calls and any notifications come in, they appear alongside directions so you wouldn't miss anything. Besides, this device comes with a back-up reverse camera that enables you view what is behind you thus eliminating blind spots and a night-vision camera that gives you clear visibility in the dark.
This HUD device will also display pitch and roll, speedometer, time, weather, ETA, compass, eco-driving index, and more. Coming in a perfect slim design, HUDWAY Drive has a slide-in mechanism that makes its installation hitch-free as all the cables are plugged into the mount rather than the device.
Key Features
It comes with transparent screen display to give accurate and clear real time information
It is multi-functional as you can receive your calls and other information without interference
It supports your focus on the road driving while doing other jobs for you
It is easy to install
It comes with a night-vision camera to deliver visibility in the dark
It is engineered with a rearview camera that offers a full view of what is behind your car
6. Garmin Overlander Off Road GPS
You truly need a road companion most especially when you journey on an unknown road for the first time ever. We here present Garmin Overlander Off Road GPS to you as a great road trip companion whenever you intend to take a trip to an unknown destination.
Sometimes, you cannot fully rely on your phone to get to where you are heading to. There may be network failure or anything can just go wrong with your device.
Garmin Overlander Off Road GPS, unlike standard GPS that functions based on existing road data, allows you to go off-road as it is fitted with topographical maps and off-the-grid points of interest to lead you through even in the wilderness.
Amazingly, this device is engineered with powerful satellite that enables you to text from dead zones. It is embedded with great traditional GPS functions as it quickly updates road and highway data to give you the most accurate maps available.
Just attach it to your dashboard, this device will provide perfect companionship to you on your road trip to your new and expeditious destination. Whether you are an everyday driver, a camper or you are searching for a new hiking trail, this GPS system will get you there.
Key Features
It can surely work even in the remotest forest and wilderness
It is fitted with topographical maps and other interests for your directional support
Embedded with maps and gives updates on road and highway directions and data
7. Drive Reach by WeBoost Vehicle Cell Signal Booster Kit
Network signals are not everywhere even where you least expect, they sometimes go off and you begin to wonder. We hereby present Drive Reach by weBoost Vehicle Cell Signal Booster Kit to keep you connected on the road as you go.
With this cell signal booster kit, you will avoid the trouble of dead zone experience, whether on your summer road trip or driving out for work, this booster kit will ensure you have adequate protection as per network coverage.
This device is built to supply your vehicle with minimum of 29.5 dBm uplink output power, giving you a super strong cell signal not withstanding your network speed.
Drive reach cell signal booster is designed to deliver not just to you alone the expected full network but present your car as a first choice everyone will desire to travel with as your passengers too will tremendously benefit in this network boost as they travel with you.
At the same strong signal strength, you all will experience better phone call, quality hotspot connection and internet service all at the same time accessible even at a wide range.
Key Features
It is very easy to install
It is compatible with all cell phones and US carriers
It surely guarantees your network coverage even where you least expect
It is very affordable and super reliable
Get one of this in your car today and your network experience will change for the better!
8. Cobra Road Scout Radar-Detecting Dash Camera
You do not need to worry again about how the future will be. Ask me why? The Cobra Road scout radar-detecting dash camera is here for you to tell you right in your car what is ahead of you as you drive on.
We know for sure that it is very important you drive safely and that is why the Cobra Road Scout Radar-Detecting Dash Cam is presented to help you do just that.
This 2-in-1 driver alert system comes as both a radar detector and dash camera that will not only tell you about speed cameras and red-light cameras, but it also records anything that happens to your vehicle day or night.
It is engineered for long-range capabilities and with a GPS database of alerts to detect real-time new radar threats as well as tell you about known ones.
Additionally, this dash camera recording in full HD1080p has the capacity to detect impacts courtesy of its perfect connection to Wi-Fi. You can edit, view and share with someone else recordings from your smartphone.
You will be impressed to have this cobra radar detecting dash camera installed in your car as it will help you drive more assured, knowing it has your back.
Conclusion
You deserve the best anytime anywhere any day. Do not wait till you are told, hurry up, get any of these cool amazing smart gadgets for car and upgrade your driving life for maximum inside-the-car enjoyment while you cruise around. Or what else are you waiting for?
We hope you found our article informative, if you have a comment or question, leave it in the box below, we will be glad to hear from you.