Car refrigerators are essential for campers and busy motorists who have limited time to prepare for appointments. By simply installing a refrigerator in your car, you can enjoy an unlimited supply of cool on and off the road. So how much is a car refrigerator, and why should you get one?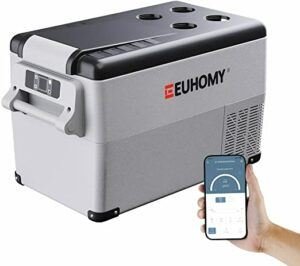 The price of car refrigerators varies depending on functions, features, and brand. Advanced car refrigerators are consistent across all weather conditions. You can buy a car refrigerator for as low as $36 and advanced mini-refrigerators for over $200. Compared to other options, car refrigerators are inexpensive and a great way to keep your drinks at the right temperature.
Car owners are choosing car refrigerators based on price and preference. However, there are several other important factors to also consider when choosing your car refrigerator.
HOW TO CHOOSE A CAR REFRIGERATOR
Advanced car refrigerators have more storage and temperature range that make them a favorable choice for motorists. However, without a proper buying guide, you're likely to buy too little for too much. This reduces ROI on investment and affects performance. A buying guide arms you with all the useful features for buying a car refrigerator.
Total Capacity
When buying a car refrigerator, make sure the size is big enough for all your needs. You can choose from different sizes and not compromise on quality and performance. Smaller car refrigerators are best for small and compact private cars.
However, if it's a family car, then a bigger size will suffice. Manufacturers also have bigger and better car refrigerators for commercial vehicles. These houses have more content and are preferable for road trips.
Controls
Each refrigerator comes with controls that help you switch between temperatures, modes, and additional features. Make sure the refrigerator has controls that fit all your needs and preferences. Advanced car refrigerators are equipped with up to 5 different controls, including LED Display, Switch on-screen button, unlock/set button, temperament switch, and USB charging port.
Indoor Use
Car refrigerators should be small, compact, and be able to fit into the smallest spaces in your car. Make sure your car battery can also power the refrigerator. If not, you may want to change your car battery or for a lower option. Either way, car refrigerators need optimal input power for optimal performance
Cooling performance
Summer burns us fast, but having a high-performing car refrigerator in your car makes all the difference. You can enjoy cool drinks as you race the sun to your next appointment. Identifying high cooling car refrigerators is another problem. You have to combine the information on the product review and customer reviews.
Storage
Where are you going to store it? Most motorists just dump it in their trunks. However, this can be difficult to reach. Motorists have to come down to pick drinks from the refrigerator. While luxurious cars have a dedicated space for car refrigerators, smaller cars have to use any available space near the driver.
Temperature Range
Advanced car refrigerators can switch between different temperatures suitable for the summer, winter, spring, and fall. Car refrigerators with only one temperature are not cost-efficient as you'd have to buy different refrigerators for only one car. Although more pricey, advanced refrigerators are way better than your usual one-range fridge.
Tight Seals
Driving on rough terrain causes your refrigerator to shake. Broken seals and damaged doors might cause the content inside to fly out in case of impact or fall. That's why your refrigerator needs to be protected with tight seals all the time. Advanced car refrigerators have a tight seal that prevents their content from dropping.
Warranty
There's no saying that your car refrigerator might get damaged shortly after purchase. Repairing and maintenance can cost a lot. To avoid that, motorists buy car refrigerators with at least a 1-year warranty. Also, check that it is designed with durable materials, strong seals, and has tight joints.
5 BEST CAR REFRIGERATORS
Car refrigerators come in handy in all situations, even during a 1-hour drive. However, performance varies depending on brand and product. The following car refrigerators have been tested and reviewed to be the best in the market. They have multiple temperature ranges and simple, yet advanced controls.
Here are the top 5 best car refrigerators.
BougeRV 23 Quart 12V Portable Refrigerator Car Freezer Fridge
Price $249.99
All it takes this refrigerator is 20 minutes to cool your drinks. Motorists don't need to hurry anymore. Simply switch on your fridge before the journey to enjoy cool drinks 20 minutes into your drive. The power-saving mode allows for longer use.
It is also equipped with 3 level battery protection to protect your car battery. If you're looking for extra battery protection, then install a battery insulator. The BougeRV 23 Quart 12V Portable Refrigerator Car Freezer Fridge is equipped with low noise.
Pros:
Battery Protection
Low Noise
Fast Cooling System
Cons:
AstroAI Portable Freezer 12 Volt Car Refrigerator
Price: $209.99
The AstroAI Portable Freezer 12 Volt Car Refrigerator 16 is bigger and has more space to store more drinks. The 3 levels of battery protection keep it from draining your car battery. It is also equipped with several functional buttons and a LED light to facilitate nighttime usage. This car refrigerator has two modes: max and eco mode. The max mode cranks up the cooling system to reach 95°F in 30 minutes. Eco mode is slower but conserves battery.
Pros:
Multiple Modes
 Battery Protection
LED lights
Cons:
JoyTutus Portable Refrigerator for Car
Price: $269.99
Everyone wants a fast cooling system and the JoyTutus Portable Refrigerator for Car promises just that. Get fast cooling of 15 minutes to enjoy cold drinks as you begin your drive. The 3-way battery protection keeps the item from draining your battery. It also features LED controls and a fast USB charge.
Pros:
 Rapid cooling system
3-way battery protection
LED controls
 Fast Charge
Cons:
Euhomy 12 Volt Car Refrigerator
Price: $299.99
The Euhomy 12 Volt Car Refrigerator has cup handles to hold your bottles and cup in place. It is designed with dual storage to keep different content in separate compartments. Enjoy a fast cooling system with the max mode or go-slow with the eco mode, which also conserves the battery. The refrigerator is also fitted with an internal LED for nighttime usage.
Pros:
 Internal LED
 Multiple Modes
 Dual Storage
Nil:
Setpower TC20 21 Quarts Portable Car Freezer
Price: $229.00
The Setpower tc20 21 quarts portable car freezer has a two-door design to facilitate quick access. This refrigerator is designed to house plenty of drinks and promises fast cooling. It is also equipped with detachable to facilitate quick transfer between cars and different environments.
Pros:
Two Door Design
Detachable Wheels
Fast cooling
Cons:
BENEFITS OF HAVING A CAR REFRIGERATOR
There are several advantages of installing a car refrigerator in your car. These advantages have caused a surge in the use of car refrigerators across the country. One major advantage is the multi-purpose feature of car refrigerators. Owners can use them inside cars and for outdoor activities. If you haven't made up your mind on a car refrigerator to buy, these might change your mind.
Convenience
Car refrigerators can be used anywhere, from cars to small hangouts. Their small size and weight also make them perfect for quick mobilization. Just pick it up with the handle and transfer it elsewhere. For proper convenience, we recommend buying smaller units. However, you'll be sacrificing storage space.
Back-Up
Your car refrigerator can serve as a quick backup for your main refrigerator. It's also a quick way to cool your drinks as you drive. Motorists no longer have to wait at home for drinks to cool.
Conclusively, car refrigerators have different prices depending on several factors. While higher-priced refrigerators serve additional functions, the basic refrigerator features include, fast cooling, two-way battery protection, and multiple cooling modes.