In the world we live in today it seems like there is a mobile version of everything. Almost everything is getting smaller and more efficient. A cool box is no exception to this. But how do car coolers work? You may ask. Well, that is what this exciting new post is about. So pull a cushion, sit back, and relax, as we take you into the world of car cooler boxes and how they work.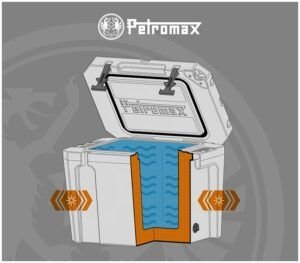 Car cooler boxes work by a phenomenon called a Peltier effect. It uses the Peltier effect as its method for cooling. This effect is usually seen on the lid of the cool box. It is designed this way so it stays away from the foods and drinks that it houses. So the cooler box also has a fan system that transfers heat from the inside of the box to the outside surroundings to make sure that its content remain cold.
Also, car cool boxes are powered by the 12V cigarette lighter port of your vehicle. If you are at an outdoor location, you can get an external power source. But make sure to remember to step it down to 12V maximum to avoid damaging electrical components with a power surge. If you are powering it up with your car, make sure that the engine is already running. If not, it might end up draining your car battery.
The importance of a car cooler box
Campers and people who love to go on picnics and get-togethers will tell you this an essential part of their luggage. Its main importance is to keep food and drinks cold, fresh and ready for a given time – even without loading it with ice! It gives a very good option to store food whilst making it cool at the same time. So whether is for outdoor use or for indoor use (it can be used in the house as a mini refrigerator), the electric car cooler is an essential device to have.
However, if you notice that you have to stay extended number of hours outside, and there is no means to a power source whatsoever, you can fill up the car cooler box with ice and then cover it. The insulation will still keep everything in the box intact.
How long do car cooler boxes retain temperature?
Upon full charge, a normal cool box can retain temperature for about two days. In fact, the bigger ones that serve other purposes can even retain for periods longer than that. But once you notice that the temperature in the box is beginning to rise, you might want to connect it back to a power source.
Car coolers can keep food and drinks at temperatures up to four degree Celsius. An advantage it has over the normal refrigerator in the home is a term known as differential cooling. This is the ability for the box to stay cooler as the temperature outside gets hotter. That's why this gadget is very important during the summer break.
Another important feature to note about the temperature of a car cooler box is that some recent types have the ability to freezer its content. So the same box that can keep your vegetables cool can also keep your ice cream frozen. This is a two-in-one package that saves you from getting another box entirely.
You should also know that for a car cooler box, you might not have the option to regulate the temperature. So it is recommended to keep food that you don't want frozen at the top of the pack. This is because the temperature is cold from the base of the cooler box.
Types of Car Cooler Boxes
AO Coolers Original Soft Cooler
For car cooler boxes, if being affordable and durable comes to mind, then you need to get the AO Coolers Original Soft Cooler. Its most unique feature is the insulation properties. This car cooler can keep items cold for up to 24 hours. It comes in different shapes and sizes, and can take up space even in the legroom of your vehicle. It can house about 24 cans and costs only about $80.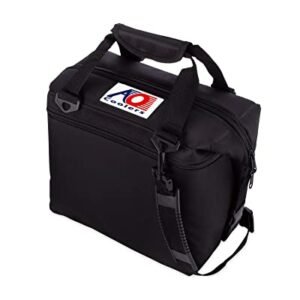 K-box 48-Quart Electric Car Cooler and Warmer
This car cooler has other functions apart from strong and cooling your food and beverages. For instance, it comes with two cables. One that you connect to the cigarette lighter port to the cooler box and the other to power up mobile devices. This cooler is large enough to house 60 cans of drink and about six 2liter bottles. Because of its size, it has to handles at the side that makes it easy for two people to carry easily. Apart from its cooling function, it heats food effortlessly, making it a dual-purpose car cooler box. It costs about $189.
K-Box 34-Quart Electric Car Cooler/Warmer
The K-Box 34-Quart Electric Car Cooler/Warmer is like the younger brother of the K-box 48-Quart Electric Car Cooler and Warmer. However, it is not as bulky as the former. It is more portable and only one person can even carry it. It can house about 48 cans of drinks and one 2 liter bottle. Worry not, for there would still be enough room for food, snacks and other perishable items. And because it comes with a (removable) divider, you can actually partition the items in this car cooler for easy accessibility. It costs about $141.
Wagan

 EL6224 12V Car Cooler/Warmer

This car cooler box comes from the staples of Wagan, and I promise you they do not disappoint. Because of its size, it is ideal for outdoor engagements with friends, family and colleagues. It can house about 27 cans and 2 2liter bottles. That's some huge space there! It has a handle that runs from side to side. However, if you are going mountain climbing or hiking, this car cooler might be heavy for you to take on the way. It has a price tag of about $104.
Koolatron

 18-Quart Compact Car Cooler

This car cooler also has dual functions, in that, it can work as a cooler as well as a warmer. The Koolatron 18-Quart Compact Car Cooler has a slim, slender body that is ideal for storing cans of drink. By just connecting to your car cigarette lighter port, you can get it all powered up. Without occupying so much room in your vehicle it offers plenty of storage for your food and drinks. It costs about $111 to buy.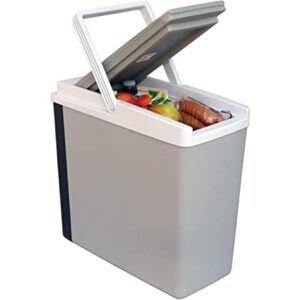 Cooluli

 Mini Fridge Electric Car Cooler and Warmer

This compact looking car cooler box is just 10 inches wide and 11 inches tall. It can sit pretty at any corner of the vehicle or simply just take up some leg space in the vehicle. It can accommodate about 6 cans of drink. This box is quite stylish and comes in different light colors. It has a car 12V plug, wall outlet and a USB charger. Though using a USB charger is not advisable, because it does not generate enough power to cool the system. It costs about $50.
BODEGA Car Refrigerator
The BODEGA Car Refrigerator box is massive and unique. It has two removable baskets and two different compartments that can be controlled independently. So you can have butter, cheese and ice cream on one side and fruit and vegetables on another. Because of its size, it has wheels attached to the base of the cooler box for easy mobility. Now, this is the big one: upon purchase, you can control the temperature with the use of an App on your mobile device. It is $359 well spent.
Dometic

 CFX 40W 12v Electric Powered Portable Cooler, Fridge Freezer

This car cooler has an exquisite design with stainless steel upper body construction. It is rugged, durable and ideal for camping expeditions. It has a 26 liter capacity storage. That's room enough for food and 43 cans of drinks. When the lip is open, it has interior light for proper visibility. It can also be controlled with a phone App.
Conclusion
Car cooler boxes are essential, once you know how they work, they are easy to operate without issues.