Owning a dash camera has become almost a necessity for most drivers. With its functions, a lot of drivers are beginning to embrace the dash camera and now, most manufacturers are tasked with the job of making quality dash cameras to meet the ever growing demands of these drivers.
The Rexing company has become a common name when it comes to the production of quality dash cameras for vehicles and once again, they've come with a new but popular dash cam called the Rexing S1 Pro DashCam.
About Product
The Rexing S1 Pro Dashcam is a device that serves three purposes which is offering front, rear and cabin view of your vehicle. Sold at a whopping price of $219.99, you get a triple action device that records both front, rear and cabin views simultaneously at a 1080P +720P + 720P video resolution quality.
An amazing feature of this device is that you get a wider and adjustable screen as it comes with a 2.7 inch LCD screen that offers you a wide and excellent view of all three cameras as you drive. Also, it weighs just 1 pounds and is very compact and easy to mount.
If you're a sucker for clear night images when purchasing dash cameras, then it's worth mentioning that the Rexing S1 dash camera produces super clear night images and recording high-quality footage, owing to its Superior Night Vision Technology.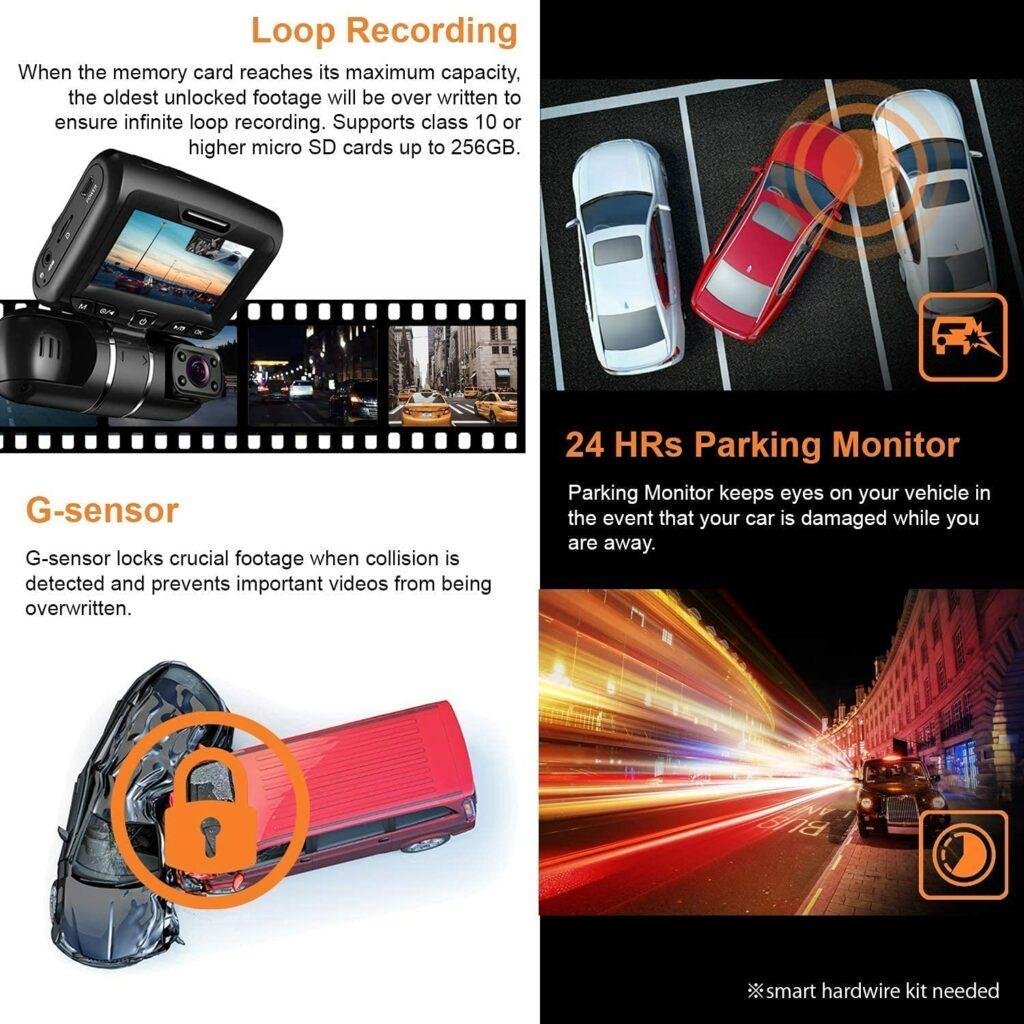 Another function you get with the Rexing S1 is that it comes with 4 Infrared lights that clearly shows all occupants of your vehicle, allowing you see them clearly even if the interior is dark, and this is exceptionally useful to drivers especially mothers as they can monitor the activity of their kids while they drive whether during the day or at night.
Rexing S1 pro dash cam Review
One more specification the Rexing S1 has that is quite valuable to users is its 24/7 parking monitor which helps keep your vehicle from being damaged.
This works by automatically turning on the dash cam and recording a 20-second video once impact or collision. This is especially useful in serving as evidence in catching the culprit should he be in denial.
With its Gravity Sensor technology, the Rexing S1 also locks and saves current video once motion or impact to your vehicle is detect. That way, your videos are protect from accidental deleting.
Unlike some dash camera that requires you getting an SD card separately, the Rexing S1 Pro Dash Cam comes with an inbuilt High Speed 64G SD card that is durable and will help save your videos as your devices function daily.
Thankfully, the device comes with a Loop Recording function, so you don't have to fret over storage space as the loop recording function overwrites older videos when your storage becomes full.
Since most drivers are getting familiar with using apps for their vehicles, the Rexing S1 dash camera also has an app interface that allows you to play, download and share your video footage from your camera to your smartphone directly using its WiFi connectivity function.
With all of these features and specifications,and the fact that the Rexing company offers an 18-month support for all of their dash cameras, it's easy to see why Rexing S1 pro dash cam is a favorite among drivers.
It's so easy to use and provides an overall comfortable driving experience. It is one of best dashcam like Rexing 4k UHD Dashcam.
What is Product For
 This product is for recording front, cabin and rear views of your vehicle. It comes with a GPS Logger, microphone, supercapacitor and a 7-layer fixed focus lens, all aimed at ensuring that you have the best views and footages of all that happens within and outside your vehicle.
Who is it for and How Helpful can it be
 The Rexing S1 is made suited for all drivers who require a powerful device that can act as the perfect driving assistant.
With this product, you're protected from accidents, and have the luxury of driving with ease and comfort as the dash camera offers real time information of all that happens as you drive, whether internally or externally.
FAQ's Related too Rexing S1 pro dash cam
How many hours of recording can the Rexing S1 Pro Dash Cam get?
With this device, you can get 4 hours of recording, and all of these are stored in its inbuilt 64G SD card before it starts loop recording over older videos once storage is near its limit.
What type of card does this device require?
There isn't much use for getting an SD card separately as the device comes with an inbuilt 64G card but if you still have need for one, it's advisable not to use the SanDisk Ultra SD card for this device.
Instead, you use SanDisk High Endurance microSD, Kingston Canvas Go! Plus microSD, or Kingston Canvas React Plus microSD.
How can I format the memory card directly on the camera?
To format the memory card directly on the camera, press the MENU button twice to view the setup menu. Once there, use the MIC button to scroll down to where you'll find the Format function.
Under what temperature can the Rexing S1 record?
The Rexing S1 Pro Dash Cam can operate within – 20°F to 176°F temperature.
How to Install it in a Car
Installing the Rexing V1-MAX  is quite easy as it comes with a 3M adhesive mount and a plastic mount.
To install, you simply have to slide the device down the plastic mount piece which has to be placed on the adhesive pad, and secure firmly to your car's windshield.
Pros
Great image quality
Clear night vision
Triple function of front, cabin and rear camera
User interface is intuitive
Wide adjustable screen
Easy installation
WiFi connectivity
Has an app interface
Records immediately its powered up
Parking monitor and loop recording functions
Cons
App malfunctions sometimes.
Parking monitor is too sensitive.
User manual is hard to comprehend.
Doesn't come with strong adhesive.
Cable may appear too long for some vehicles.
Conclusion
Without doubts, the Rexing S1 pro dash cam lives up to expectations and perhaps surpasses as it performs all listed functions exceptionally.
From high quality video resolution, super clear night vision, parking monitor function to having an app and WiFi connectivity that all aim at providing ease of its users.
Although user satisfaction is solely personal as the product with all its functions still has a few negative reviews on popular sites, it's still safe to say that the Rexing S1 Pro Dash Cam hits the mark when it comes to usefulness and overall efficiency.
The price, which might be a discouraging factor, should however not deter you from purchasing the device as it offers what most dash cameras do not, i.e. a 3 channel unit that offers front, cabin and rear recording. Surely, you can see why getting the Rexing S1 Pro Dash Cam is a sure bet.