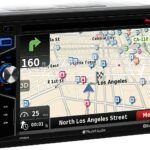 A GPS car navigator can be one of the most important devices you could ever get your vehicle. This statement becomes even more true if you are someone who travels a lot or when you recently move to an area of which you have little to zero knowledge. However, when the device comes with features such as an audio player, FM radio, a touch screen monitor, and Bluetooth calling, it doesn't take much to understand why the Planet Audio pnv9674 GPS navigator is a must-have!
A GPS car navigator is a navigation system created for your automobile. It is a third-party add-on that helps you find directions while you drive. And achieves this by simply receiving signals from the GNSS satellites through which it can calculate your position and provide you with routes to your destination.
Moreover, It can also provide you with routes based on your preferences, such as the shortest route, the fastest, or the cheapest route towards your destination. It's easy to understand why this product is indispensable to your road trips or daily commute.
About the product
The Planet Audio pnv9674 GPS navigator is a car navigator constructed specifically for your automobile. The 5-pound device functions as both an in-dash Double DIN DVD player and a GPS car navigator.
This device is 11 inches in height and 7 inches in width. With 80WATTS x 4Max power, it doesn't just provide you with directions. It allows you to play your favorite tunes from music apps such as Spotify while driving or opt for listening to your favorite radio station. You also get to choose how you want your music to sound with the built-in preset EQ.
It comes with several input options such as USB, Auxiliary inputs, steering control, and SD ports.
Using Bluetooth technology, the Planet Audio pnv9674 GPS Navigator allows you to listen to your favorite tunes from your device while also receiving calls without taking your arms off the steering.
The device comes with the map of all 50 states and Puerto Rico, alongside preloaded points of interest. It will guide you as you drive through visuals and voice as it is constructed with text to speech technology.
Planet Audio pnv9674 GPS navigator
The Planet Audio navigator is a touchscreen device. Nonetheless, with this GPS navigator, you never have to take your eyes off the road as it comes with a wireless remote and steering controls.
It also provides you with a rearview camera. With this product, when you reverse, you can see exactly what the rearview camera sees. It's noteworthy to mention, though, that the rearview camera is sold separately.
The Planet Audio pnv9674 GPS navigator comes with a massive three-year warranty when the product is purchased via Amazon and a one-year warranty when it's purchased from other sources. It goes for about $440 on Amazon.
What is the product for?
The Planet Audio pnv9674 GPS navigator provides GPS navigation for drivers and car owners. It also acts as a music player and rearview camera. This product offers routing directions based on received satellite signals. Other best Gps Navigator are Manvy Gps Navigator.
Who is it for, and how helpful can it be?
This GPS car navigator is build explicitly with drivers in mind, regardless of whether you are a commercial or regular driver.
Nonetheless, it is essentially helpful and valuable to those who often go on road trips or those who, due to their work or other factors, constantly have to go to unfamiliar terrain or locations. Even if you are just a regular driver using known routes, the Planet Audio pnv9674 GPS navigator can also serve as a music player and rearview camera. Plus, you never know when you might find yourself in an unknown location or search for a different route.
FAQ's Related too Planet Audio pnv694
Is it possible to use a SiriusXM adapter with this device?
Yes, it is. It works perfectly fine with the Planet Audio pnv9674 GPS navigator.
Does it come with free or paid lifetime map updates?
The device comes with a map of all 50 states of the United States of America and Puerto Rico. Nonetheless, map updates are done via a micro SD card and not by the company.
How do the steering wheel controls work?
The steering wheel controls of this product allow you to control the device from your steering wheel, this way, your eyes never have to leave the road! However, it won't work if your steering wheel isn't first equipped for such a function.
How to install it in a car.
The unit is relatively easy to install. However, it is essential to mention that it may not fit some vehicles. For these vehicles, you will need three post-purchase additions to aid your installation. These are a Dash kit, Antenna adapter, and a wire harness to connect your car to your stereo.
To install, take the device out of the box and follow all instructions given in the installation manual. Place the GPS device into your holder, then mount it on your vehicle. The best location to mount it is somewhere where it doesn't distract your driving; this is usually the center of your dashboard. Then plug in the power cord.
Pros
More music options: DVD/ CD, Mp3 player, Bluetooth, SD card
More input options: SD ports, steering wheel controls, USB,Rear Camera
Wireless hand free calling using Bluetooth technology
Touch screen control.
Wireless remote.
Text to speech graphic interface.
Rearview camera.
Three-year warranty when purchased from Amazon
Cons
The Rearview camera is sold separately.
Sometimes needs aftermarket accessories.
No map updates and often requires users to update the maps manually. For this reason, maps can often be significantly outdate.
It contains chemicals which the state of California argues causes cancer alongside birth and reproductive harm.
A 1-year warranty if purchase is not make through Amazon
It contains small parts and shouldn't be around children below three years old as it presents a choking hazard.
It seems to focus more on its function as a music player than on its role as a GPS navigator
Conclusion
Alongside its long list of pros, the Planet Audio pnv9674 GPS navigator equally comes with a long list of cons. Nonetheless, it remains an indispensable tool for driving, provided you are willing to update the maps manually.
Compared to competitors and other like products, the Planet Audio pnv9674 GPS navigator is clearly a great product with a fantastic value for money.