Getting a dashcam is very necessary if you're searching for a device that will provide security to protect your vehicle and give you a clear view of every scenery you pass through. Mini5 4k Dash Cam Review is Here. This dash camera records events and comes with lots of useful features that will aid you as you drive every day. Sold at just $139.99, the DDPai Mini 5 4k Dash camera comes packed with these useful functions that ensure that you get the best view and real-time information about all that goes on around your vehicle.
About Product
 The DDPAI mini5 dash camera comes with a 4k image and video resolution (2160P x 3840P) at a 30 frame per second function and a Unique UHD Technology, which makes it great for drivers who love a device that can record clearly both during the day and at night.
It also comes with an 8MP CMOS SONY IMX415 image sensor and a 7-glass dual-lens with a proprietary focal lens that ensures the camera captures even the tiniest details clearly and with this, you get really clear clips regardless of the time it was recorded.
With this device, you can mount your camera anywhere on your vehicle and still get a wide view of everything happening around as it comes with a 140-degree wide-angle that offers a wide view of the road entirely. It also produces natural and well-balanced footages that are appealing to the eyes.
Mini5 4k Dash Cam
You also don't have to worry about your mount falling off as the DDPAI Mini 5 4k Dash Cam is made with ABS materials which produces an overall discreet design, that is long-lasting and it is powered by a supercapacitor instead of the regular battery that other dash cameras use hence, it has a longer life-span.
The device also comes with useful buttons for Wi-Fi access as well as for easy recording and resetting. Also useful as a navigation device, the DDPAI Mini 5 comes with an external GPS module that can efficiently record your vehicle's speed, detect your location and perform directional duties.
You can also use your WiFi to connect to the device's app for easy download and sharing of files on social apps and this function is compatible with android and iOS devices.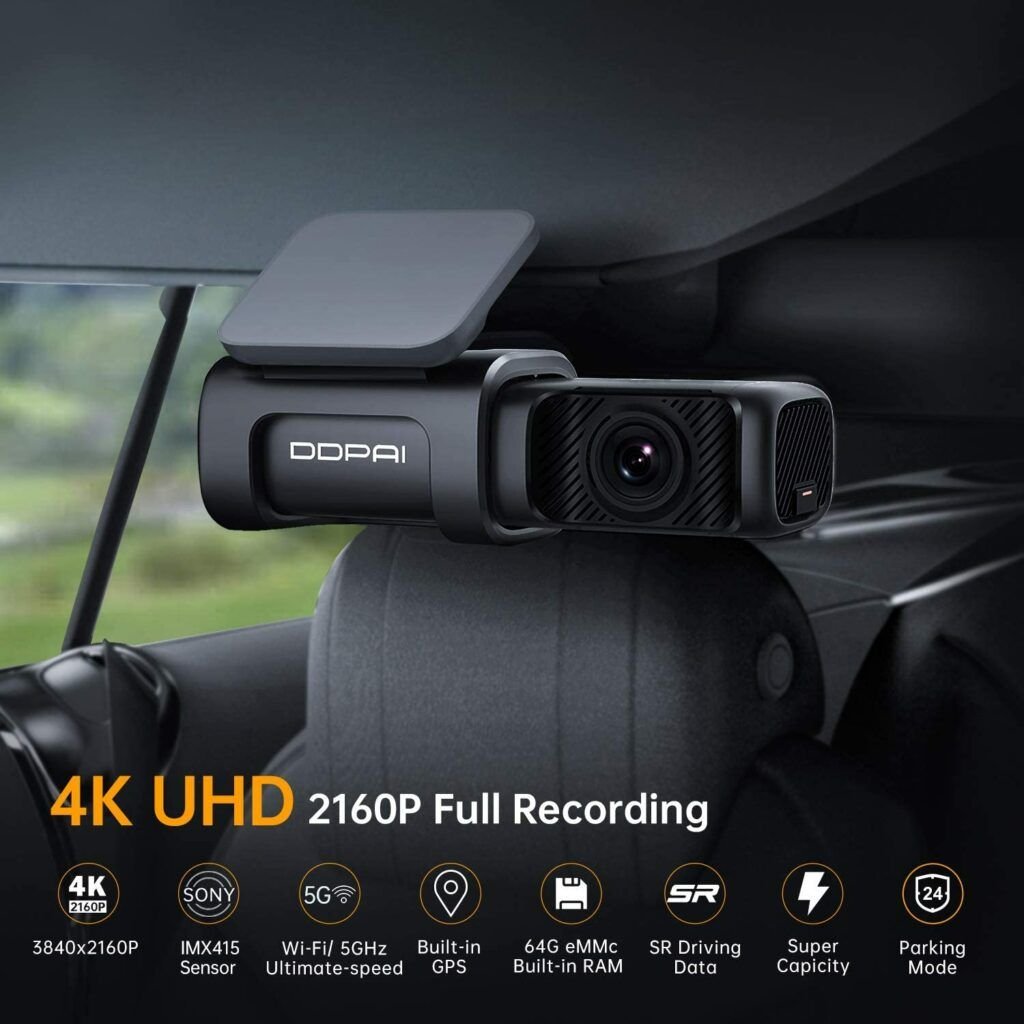 Its G-sensor technology will ensure that your dash camera automatically starts recording once motion is detected. The Parking Surveillance Mode also performs this function but works when your car is parked.
These videos are recorded and saved as evidence in cases of unexpected driving accidents and collisions.
Thankfully, the manufacturer offers a free firmware upgrade when you purchase this product. It also has a 1year warranty and excellent customer care service
What is Product For
The DDPAI Mini5 4k dash camera is designed to record events that happen as you drive daily. It captures all that happens around you and is great for its parking function.
Who is it For and How Helpful can it Be
 This dashcam is created for all types of drivers who would like to have records of all events that happen around them and ensure the utmost security of their vehicle.
The product gives you protection in case of accidents from hit and run drivers, providing evidence that can be useful with insurance agents.
FAQ's Related to Mini5 4k Dash Cam
How do I install the DDPAI app on my smartphone?
Go on the Google play store or Apple App Store and search for the DDPAI app and install it on your smartphone. After that, tap on the allow button where an authorization request will pop up. Just click on accept
Do I need to get an SD card for this device?
 This dashcam comes with a built-in 64G eMMC storage, so there's no need to get an SD card for this device.
Why can't I view my live preview on the App?
Ensure that your app is update to the latest version and then disable the cellular connection on your smartphone's network settings
How to Install it in a Car
To install the device in your car, you'd need to follow the instructions on the instruction manual that comes with the box. Make sure your SD CARD is  first before inserting it onto the camera
Pros
Easy installation
Discreet design
Motion detection
Comes with a parking surveillance mode
5ghz WiFi connectivity
Automatically records and saves videos
Clear image/video resolution
Cons
The camera doesn't come with a screen
Device overheats
Conclusion
The DDPAI Mini5 4k Dash Camera is a good camera that comes in handy for drivers. It comes with some nice features that although not too spectacular, carry out their functions quite well.
Sold for a price of $139. 99 on Amazon, this might be a no-no for drivers who are working with a tight budget. However, it's a useful device that is recommend to most drivers who are okay with using a simple, functional dash camera.   We hope you find our DDPAi Mini5 4k DashCam review informative and helpful. If you have a comment or Question. Leave it in the box below. We will be glad to hear from you.