Today there are many categories of amplifiers used for multifarious purposes— there are innumerable applications of amplifiers and it is not easy to enumerate all of them. Some of the common types of amplifiers are used in electronic gadgets and audio systems. Massive Audio has been an industry leader in high performance audio products since 1999. They laid their roots in high quality audio reproduction through in-house engineering and a dedication to customers.
Massive Audio is now the leader in 'Micro Circuit Topology' by fusing micro technology, intelligent design and precision assembly in their manufacture of great products.
The PX4— four channel amplifier from Massive Audio enhances and regulates audio contents.
About Product
If your budget allows you to spend a little more, the PX4 is one of the best on the market today. Massive Audio has used class A/B design with their own Trans-ANA circuitry to deliver lower noise and some of the best sound quality available in this price range of about $329 on Amazon.
Massive Audio PX4 comes in a polished aluminum fin-less heat sink with a blue back lit logo. The sleek design of this product allows it to be the perfect unit for your vehicle interior. Its firm and compact build provides an optimum factor for rigorous competition.
This device has an advanced 5-way protection circuitry put in place to prevent failure from accidental thermal overload, impedance, voltage, short circuit, and clipping.
When you get the PX4, you'd discover that the device also supports a 'Docking Port' to easily plug in an optional custom matching 4 Farad Railcap Booster (RCX). It has a 12v remote output for external devices, along with additional functions of built-in noise Reduction Circuitry, used to overcome the noise produce due to electrical signals, poor shielding effect, and is used in various music systems to suppress unwanted sounds, and an auto sensing turn-on function.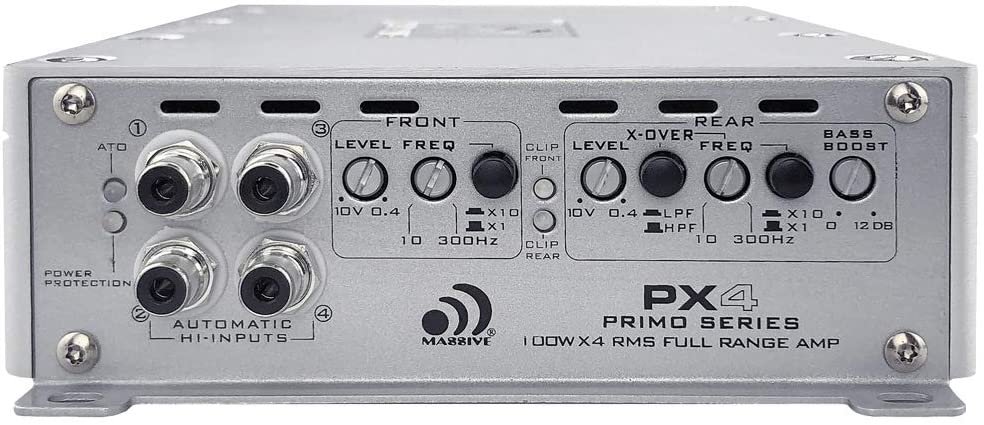 With physical dimensions of 11.8 x 8 x 4 inches, the PX4 has a frequency response of 15 to 25Hz and can be bridge, which means: it can combine two of four channels into one or two channels with half the ohms.
This technique has become very popular among many car owners and is sought out for because it allows the amplifier to send out a more powerful mono signal to the Best subwoofer or speakers.
 What Is Product For?
Massive Audio PX4 functions as a power source for the entire car sound system. It typically operates on four different channels, one for each speaker.
Who Is It For And How Helpful Can It Be?
Purchasing the Massive Audio PX4 amplifier enhances the volume of sound and also adds clarity to the contents. Both vocal and instrumental outputs are regulate to offer a comfortable noise level without diluting the contents.
A listener can give accent to vocal contents in a programme or alternatively to the background music from instruments by adjusting the amplifier.
This product is designed for all car owners that own vehicles that fall within range specifications of this product's size that wish to skate up their Best car stereo system.
FAQ's Related too Massive Audio PX4-100 Watts
Can this work with any brand amplifier or is it only compatible with just Massive amps?
The Massive Audio product is only compatible with Massive audio amp.
Does this amp allow me to adjust the bass?
This 4 channel amplifier does not have a bass booster, but it has a frequency adjuster.
What class is this amplifier?
The product is an A/B class amp.
How To Install It In a Car
There are 3 basic ways to get a signal to your device, and are outline below.
Firstly, Connect speaker outputs to your amp's speaker level inputs.
Secondly, Connect a line-level adapter to the radio then use RCA cables to the amp.
At last, Connect your radio to the amp using RCA cables directly.
Since the installation process would involve cutting, joining and identification of wires.It would be ideal to get the services of a professional during installation. Moreover, to enhance full functionality.
Pros
Compact size.
Solid bass production.
Easy to install.
End caps for clean install.
Cons
The amplifier has low power efficiency.
The power dissipation of this amplifier generates heat.
Conclusion
Getting the PX4 for your vehicles, allows flexibility to design your audio system without sacrificing sound quality.
Though high priced, this comes in as a handy device for all audiophiles behind the wheels.