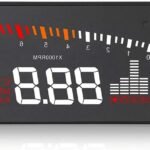 Driving has a number of principles and protocols, but one that stands out is the principle of always keeping eyes on the road and hands on the wheel. Distractions, however, make this impossible. Kimiss 3.5 inches HUD is smart size Hud
Good drivers have their eyes and ears connected to their vehicles while driving, and might not resist the temptation of turning their head to check for unusual sounds or smells coming from the car's engine, tires and everywhere.
Considering this factor of distraction, the Kimiss 3.5 inches HUD comes in handy as a way of optimizing the best driving experience while serving the function of keeping the driver up to date with everything that goes on with their car while driving.
About Product
The Kimiss 3.5 inches HUD for car goes for about $31.99 on Amazon and weighs about 5.6 ounces with a relatively mini-size built with a display screen of about 3.5 inches.
The device can be placed on your dashboard, and does not require excessive stress in reading out the presented details as it has a sharp display feature with which the status of the car is being displayed.
The device has a three-way wave button that uses the up motion to navigate up, the down motion to navigate down and when pressed inwards, it serves as the OK function.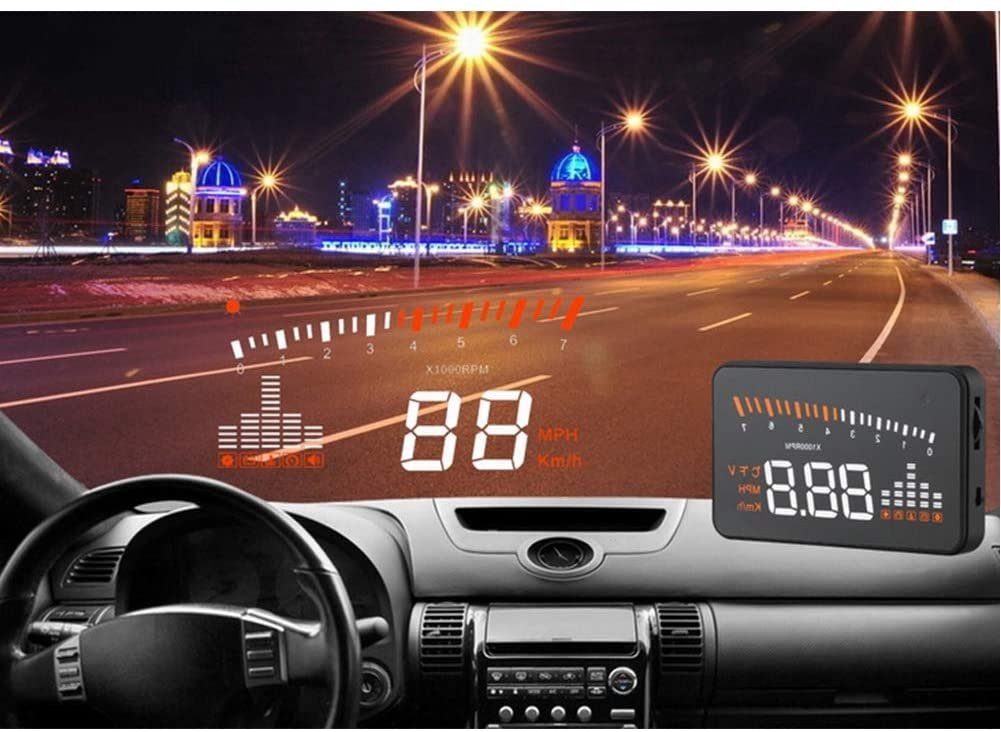 This car head-up device is properly wired to not drain the vehicle's battery while in use. The device comes on when the keys are in the ignition and the engine is on. When the engine is turned off, the device also goes off.
This unique design makes sure the device does not unnecessarily drain the battery's life when it is not in use, rather it serves the function of protecting the car's battery.
The compatibility of this device is probably an item of concern, as it is, sadly, not compatible for just all cars. Vehicle models like Dodge, JEEP, Sail, Chrysler models manufactured before 2004 and 2004 in the United States of America are not compatible with this device.
All legal systems and Italian models of the OBD2 are not available: for Fiat, for Maserati, for Lamborghini, for DS, for Citroen, for Simka, for Amirka, etc; Japanese models are not available: for Suzuki, for Mazda 6, for Infiniti (QX50 q50 q501), for avanza in 2013, for Lexus (is250, ex250, ES300H), for Honda (jazz, CRV) and cars manufactured before 2008; South Korea's for KIA and modern models do not use OBD models (2013 fit for Hyundai Sonata, 2017 fit for KIA Soul PS, etc.); Hybrids with diesel and electric vehicles, pickup trucks, RVs, and modified car computers cannot use HUD.
The Kismiss 3.5 HUD operates based on the OBD2 protocol and is compatible with gasoline vehicle manufactured by the US after 2004 and the OBD2 agreement gasoline vehicle manufactured in other regions after 2008.
The device presents information concerning driving speed, engine speed, water temperature, voltage, automatic brightness adjustment, mile switch, Celsius temperature switch etc.
The device also sends an alarm about over-speeding, water temperature, and voltage functions. It totally serves as the mind's eye into your vehicle.
What Is Product For?
The Kimiss 3.5 inches HUD serves the function of presenting parameters of interest about your vehicle directly to you while you drive. It's one of best HUD like Lufi XF HUD.
Who Is It For And How Helpful Can It Be?
The head-up device is for car owners who would like to keep their attention fixed on driving while looking out for sensitive details about their car without having to make a fuss about constantly distracting themselves off the road. It is a medium your vehicle can use to interact with you.
FAQs and their Answers
 Does this device have an active alarm feature for over speeding?
Yes. The Kimiss 3.5 inches HUD has an over speeding alarm.
 Is the product compatible with Lexus ES300H?
No. The device is not functional with the ES300H.
 Does it come with an OBD cable?
Yes. The product comes with an OBD cable at the time of purchase.
How To Install It In a Car
The head-up display is easy to install, plug and play, just connect the power supply to use, no other requirements— save time and effort.
Pros
 User friendly.
 Sold at a decent price.
 Mini-size.
 Reminder and alarm functions.
 Easy to install.
Cons
 Not compatible with all vehicle types.
Conclusion
Although not compatible with all vehicle models, the Kismiss HUD device is sold at a decently affordable price and serves just the right function of showing your vehicle's units right on your dashboard in clear visuals.
With its repertoire of functions, the Kimiss HUD device is suitable for almost any driver and is recommended.