After installing a car alarm system, you need to enable it before it can start protecting your vehicle. That means enabling your car alarm involves its installation, activation, and deactivation. How to enable car alarm system? Keep reading to find out.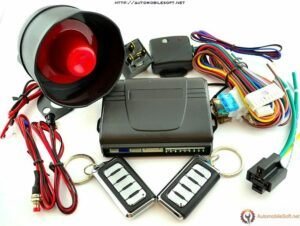 The simple answer to this question is to activate the alarm system with the remote. However, it also encompasses wiring, connecting the battery, and testing the alarm. This process is straightforward for anyone.
Let's get straight to the point.
Step 1: Choosing The Right Aftermath Car Alarm System And How To Enable Them
 A car alarm system should be easy to use. This is to enhance performance and usage. You don't want to be confused whenever it's important to activate your car alarm. Clearly knowing what to do and when improves performance by 100%. The type of car alarm you choose is important.
An immobilizer is one of the most advanced types of car alarms. It's an electronic device that prevents a car engine from starting. There are two types of immobilizers. Advanced cars come with OEM immobilizers while there are also aftermath options that you can buy for your vehicle.
You can also differentiate an immobilizer by how it is activated and deactivated. Some immobilizers can be enabled remotely, while others require physical contact. The former can be activated and deactivated by a remote fob.
An immobilizer consists of 3 essential components, which are the keychain, circuit breaker, and control block. These components have to be working in good condition to guarantee maximum performance.
How To Enable An Immobilizer
To enable an immobilizer, you have to send a signal from a transmitter (remote fob) to the immobilizer installed inside the vehicle. This works by cutting a circuit in the engine, which prevents the car from starting.
This is the most common type of car alarm system. An audible alarm can be installed on its own but it's more effective when you combine it with other types of alarm systems. This is partly because audible car alarm systems come pre-installed in vehicles from the manufacturers. While they have downsides, manufacturers have continued to upgrade them to fit the needs of modern-day car owners.
Audible car alarm systems are easy to use as they do not require additional connections. Their longevity in the security industry has enhanced adaptability and made them a preferred choice for car owners everywhere.
They have a simple working principle. The alarm goes off with a loud alert when an intruder comes in contact with your vehicle. The volume can be adjusted in some advanced audible alarms while you may just have to deal with the default volume of the others. However, you can replace an OEM alarm with an aftermath option.
An additional feature of audible alarms is flashing headlights.
Audible alarms are more efficient at deterring intruders and thieves. However, because of the high occurrence of false alarms, motorists ignore car alerts. Others just turn it off without inspecting the vehicle.
How To Enable An Audible Car Alarm
Audible immobilizers come equipped with a remote fob. They have 3 or 4 buttons for toggling between on and off, locking and unlocking your vehicle, and muting the alarm system.
Another popular type of car alarm system is the silent alarm system. Most motorists prefer the silent option as it leaves no trace. It is the preferable option for car owners who want to nab the car thief red-handed.
The alert sends a signal to the car owners without alerting the intruder. This gives you enough time to react. You can either contact the police or apprehended yourself, if possible. Don't approach an armed person for your safety.
You have to be alert when using this alarm type. We recommend combining this system with an immobilizer to make it more efficient.
We use the terms passive and active to identify how the car alarm system is activated and deactivated. A passive alarm system is activated automatically when the car door is locked. This eliminates the risk of forgetting to lock your vehicle manually.
On the other hand, the active alarm system requires physical input to activate and deactivate the alarm. This might be inside the vehicle on the remote fob in the driver's possession. If you're using an active alarm system, then you need to always remember to lock your vehicle. 
Decide Your Preferences And Needs Before Choosing 
Before you choose a preferred option for your vehicle, make sure to put down your needs and preferences. What exactly do you want from a car alarm system? If you want something to simply deter intruders, then an audible alarm system is right for your needs. However, if you want something to deter any theft attempt, then add an immobilizer.
Step 2: consult the manual
Manufacturers include how to enable each car alarm system in the manual guide. This helps motorists to quickly understand how best to use their alarm systems efficiently. You should make sure the unit has a manual that explains the activation and deactivation of the device in great detail. Take out the manual and read it, even before installation. This helps you to avoid common installation errors and to learn the best method of using the alarm system.
 While the manual may be a great guide, it is no replacement for factual knowledge and experience. If you don't have experience installing electronic devices in your vehicle, hire a professional to handle the installation instead.
 How To Choose The Best Car Alarm System
We've identified the different types of car alarm systems available in online and offline stores and why it is important to consider your needs and preferences before choosing a specific type of car alarm system. This section of the article will guide you on how to choose the best car alarm system for your car.
Consider the type of alert of the various car alarm systems you have selected. If you have an audible alarm system installed, you'll hear loud alerts whenever someone touches your vehicle while the alarm is activated. The other type of alerts is common with advanced alarm systems such as 2-way and level alarm systems. They work by displaying the alerts on the display of the remote fob in the driver's hand. You can combine the LCD alert with audio to make sure that you don't miss any alerts.
The starter kill feature works like an immobilizer. It allows you to kill your car engine remotely. This process is automatic once the car is armed. All you need to do is activate the starter kill with your remote fob. Some systems also work like passive alarms.
This is an important feature to have in an alarm system as it means you can quickly kill your engine once you suspect an intruder trying to make away with your vehicle.
Shock/tilt sensors are designed to pick up activities around your vehicle. Some sensors go off by touch while others are activated by proximity. These sensors are also triggered by collisions, attempted breaks in, and tilt.
Once the sensors pick up activities around the vehicle, it sends an alert to the car owner. This could be an audio alarm or via the LCD on the remote fob. Make sure the alarm kit comes with sensors and can accommodate other types of sensors.
Last but definitely not least is the GPS tracking system. This is an additional device that stores and communicates your exact location to any device. GPS trackers are attached to vehicles to aid vehicle recovery in case of theft. If your vehicle doesn't have an OEM factory-installed GPS device, buy one of the aftermath solutions here.
Conclusively, enabling your car alarm system depends on the type and mode of operation. Usually, you can activate and deactivate an alarm system with a remote fob. However, you need to consult your user manual to learn the specific way your alarm system works.