There are lots of enhancements we can add to our cars to make our journeys smooth and nice. One of these enhancements is installing a rear view camera. And with technological advancement, you can connect this camera to your mobile phone. But do you know how to connect rear view camera to mobile devices? Keep reading, we'll show you in a jiffy.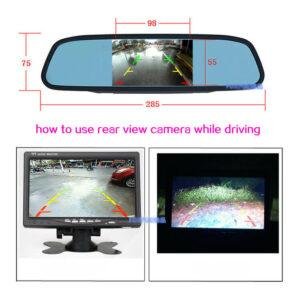 The best way to connect your rear view camera to your mobile device is by first installing the camera at the back of your car, download the product software on your mobile device, pair the both devices with Wi-Fi and boom! You can see your rear view with your mobile phone.
DETAILED APPROACH
The previous paragraph did not do enough justice to answering how you can connect your rear view car camera to your mobile phone. Let us take a more extensive view.
Installing the camera
The installation process could be different in various products, but since the idea is to have a rear view camera, it is only appropriate that the camera be installed at the rear of the vehicle. After this, you need to connect the camera to a power source in the car.
The power source could be the car battery, the fuse box or the ignition switch. Choosing which power option to use is another kettle of fish. We have covered camera installation extensively in one of our previous posts. We recommend you refer to it for better understanding.
Install the App
After successfully installing the camera on the car, the next thing to do is to download and install the App on your mobile device. Make sure that the App you downloaded is specific to the product that you installed on your vehicle. The particular one to download will be specified on the product manual of the camera.
Use Wi-Fi connection
When you are done installing the camera and the phone App, the next thing to do is to turn on the Wi-Fi on your phone and the camera to they can connect to each other and send/transmit information. When the Wi-Fi on your phone is switched on, you will see the camera's network on your phone. So you can go ahead and connect.
Open the App
After all the connections have been made, you can now go and open the App on your device. You will connect automatically to the camera and see the rear view of your vehicle from your phone.
IMPORTANCE OF CONNECTING REAR VIEW CAMERA TO MOBILE
There are lots of benefits you will get when you use your mobile phone as the display for your rear view camera. Some of these benefits are:
§ Parking is sometimes a problem for people who just started driving. But with the help of your mobile rear view camera, parking just got a lot easier. You can double park, parallel park or just align with the vehicle up ahead of you.
§ With the help of a mobile rear view car camera, you can easily spot pets or little kids that might be in the way of the vehicle, when you have to do a reverse drive. This will go a long way to prevent accidents on our roads and instill more confidence in the driver.
§ If a driver is stuck in traffic, you would know if you can move backward safely so you can negotiate other options with the help of the mobile rear view camera.
§ The display of the mobile rear view camera is equipped with guided lines that help you when moving backward. These lines are as wide as the sides of your vehicle. They take account of the space behind the car as well. Following these line guides to the letter will help avoid collisions.
§ Except you are driving backward, you are only allowed to look forward with just a glace backward. With the mobile rear view camera, blind spots in the path of the driver are eliminated. In fact, you do not even need that occasional glance backward as you can just look at your phone screen and you can see your rear view.
The next thing we will consider is the best mobile rear view camera for your car.
BEST MOBILE REAR VIEW CAMERA
After very careful considerations, we have selected three of the best rear view cameras to connect to your mobile device. The following are the top picks:
EsiCam EH-05-B
This rear view camera is a top choice for all designs of vehicles including trailers and trucks. It uses a wireless feed to transmit live video to your mobile device. It is compatible with Windows, Android and iOS operating systems and uses Wi-Fi connection. It is very easy to install, set up and use. It also has lots of good reviews from customers who have used it.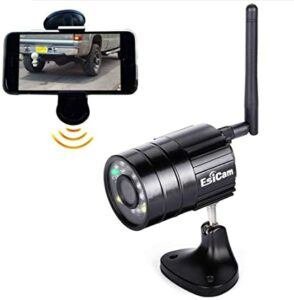 SVTCAM
This product is relatively new in the market, but is already giving the old ones a run for their money. It is also relatively cheaper and smaller in size as compared to other rear view car cameras. Since this product is new, there isn't enough information to go by.
However, it has good spec and is good for a budget. This rear view camera works well with iOS and Android user interface and send live video feeds via Wi-Fi. It is very easy to install and use. Backup is provided by bright LED lights and the best part is that the camera is waterproof.
SWIFT HITCH SH04
For drivers who use large vehicles like trucks, trailers and RVs, this brand is highly recommended. It is not however limited to only these large vehicles as standard vehicles can use them as well. It comes with a smart phone mounting device equipped with a magnet base with which you can use to place your phone.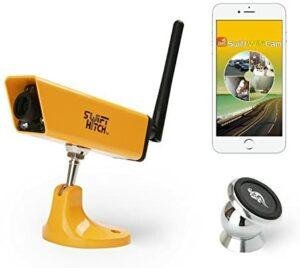 It has excellent Wi-Fi connection and works well with iOS and Android platforms. It is one of the best rear cameras money can buy. This amazing car camera can cover up to 200 feet range of live footage. It also has a one-year warranty period. A lot of customers have very good things to say concerning this rear view camera.
OVERCOMING CHALLENGES WITH CONNECTION
We have gotten feedback from customers who said they had challenges connecting their mobile devices to their car rear cameras. Some ways to mitigate issues with connecting your mobile device and your rear camera are listed below:
§ Make sure that you are inside your car before connecting your camera Wi-Fi to the mobile device. You cannot in any way compare the camera's Wi-Fi to the one that provides internet. They are two different things entirely. The bandwidth and signal strength of the former is lesser. Make sure you are at about 5-meter range of the camera before you connect to your phone. The signal strength is also not strong enough to go through doors and walls. Being inside the vehicle is the best bet.
§ Make sure that your rear view camera is powered on in the first place before it can start broadcasting Wi-Fi signals. Remember to also set the profile to driving mode and not parking mode so the camera can connect to external devices.
§ Make sure you disconnect from any other Wi-Fi connection you have made with your phone so you can connect to the rear view camera of the car as your mobile device can only connect to one Wi-Fi device at a time.
§ Make sure that mobile device features like the Adaptive Wi-Fi and Wi-Fi Assist are turned off on your mobile device. The function of these Apps are to toggle between Wi-Fi connection and mobile data. If these Apps are on, it could make and break the Wi-Fi connections of your camera and device. This will in turn disrupt live video stream by the camera.
Conclusion
Connecting your mobile device to your car rear view camera is fast and easy. We have even highlighted solutions to some of the challenges you might encounter.