Securing lives and property has been a major concern for man from time immemorial. This is why people who plant GPS trackers in their vehicles always want to know if the car GPS tracker makes noise after installation or during use.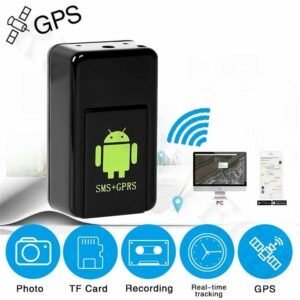 The best car GPS trackers do not make noise. When you issue a command to it remotely, it makes no noise, if you have to call it, it makes no ringing sound and most importantly, it does not make a single sound when the battery is draining. Stealth is the idea.
Experience has shown that having a car tracker in your vehicle is really important. Below are some of the reasons why people install noiseless GPS trackers for their cars.
Reasons Why People Install GPS Trackers That Make No Noise
There are various reasons why people install GPS trackers in their vehicle that make no noise. Chief amongst these reasons are highlighted below:
Exact position of your vehicle
At any given time, you can pinpoint the exact location of your car. Most of these trackers are linked to the owner's mobile device. So in the event or cases like theft or your vehicle being towed without your knowledge, your initial response will not be to panic.
You simply track your car to its new location and then you can decide on the next step to take depending on the situation you found it.
Knowing the exact position of your vehicle also has another advantage. If an emergency happens and you are stranded, it will now become easy to call out your position to law enforcement or any other emergency response team that can offer you help.
Track Teenagers
Teenagers can be a thorn in the flesh of their parents sometimes. To ensure compliance to house rules, you might need to put a GPS tracker in their vehicle. This will also help to ensure the safety of both their lives and the vehicle. You can also enforce the time you want them to return home.
Recover a stolen vehicle
A noiseless GPS Tracker would not only tell you the exact position of the vehicle, you can now inform the police and they will help you recover it as soon as possible. In the event of car theft, the longer it stays stolen, the less likely the owner is to retrieving it. With a GPS car tracker, the time taken to spot the exact vehicle location and reporting to the police is highly minimal, thereby making it easier to recover the stolen vehicle.
Journey Management System
Some of the GPS tracking devices don't just tell locations. They also provide a means for getting information like the exact time a journey started and ended, the mileage it covered for that trip, the average speed, and even acceleration and brake application frequency. Companies and transporters make use of these functions the most. They use it to monitor drivers and use it as yardstick for customer feedback and review. The data can be logged and spooled out anytime for decision-making. All of these can help to foster better business efficiency.
Central – Locking System
Another feature of the GPS tracker is that it has a centralized locking system where all doors and trunk can be shut remotely. This can help to keep a car thieve in place until he or she is being apprehended by law enforcement. You can be rest assured any valuable in the car is also secured.
Features of The Best GPS Trackers That Are Noiseless
Before acquiring, let alone installing a Car GPS Tracker that makes no noise, there are some factors to consider. Some of these factors are:
Networking
The best car trackers are such that can be connected to a functional network either using a GPS or GSM network. It should be able to upload accurate information to the end user in real time without effort.
Ease of Use
You do not want to buy a gear that becomes difficult for you to install. The app that you install on your phone with which to use the tracker should also be easy to navigate and have good user interface and user experience. This can help to perform simple operations with the tracker seamlessly.
Notifications
Even without asking, once you enter the right command with the App, your GPS tracker should be able to send notifications to your phone in real time, rather than making a noise in the vehicle. This makes you aware and in control of whatever situation your vehicle is in. As we have earlier stated, other vehicular issues like mileage, speed, time, date, brake and acceleration should also be features that are reported without noise.
The Best GPS Car Trackers Without Noise
In the market today, there are lots of Car GPS trackers to buy and install. We have been able to narrow our search especially not by price (though the price is being included), but by the category of the user.
If you are someone who just started driving and you are new to being behind the wheels, you can get a MOTOsafety GPS Tracker. This one is very good for teenagers. It is easy to install and monitor and costs about $70.
For a subtler, less detectable tracker, you can go for the SpyTec STI GL300 GPS Tracker. With just $40 initial purchase, this two-inch tracker can be placed literally anywhere in the car. Even you have to be careful you don't forget where you kept it.
Individual or companies that want a long term, all-in-one long term GPS tracker can install a 

Vyncs

 GPS Tracker. It has extra features like engine diagnostics, enhanced battery life, fuel level notifications and car maintenance records. It comes at a $90 price tag.
Transport companies would like the 

Bouncie

 GPS tracker because it excellent at storing vehicle maintenance data. For a price of $67, this newbie does not behave like one. But it has a high level of accuracy in reporting maintenance details that no other GPS tracker comes close.
The 

Optimus

 2.0 GPS Tracker is slightly bigger than the SpyTec in body size. However, it is also difficult to detect and carries out its tracking functions effortlessly. It has a price tag of $40 on amazon.

How to Know If Your Car Is Being Tracked
If a GPS tracker is put in your vehicle without your notice, it is criminal. And since the tracker makes no noise and is not easy to detect (like know the exact position in the car), below are a few tips on how to detect:
Know what you are looking for. The biggest size of a GPS tracker can fit into your palm. They could look different depending on the manufacturer, but usually has an antenna and some form of blinking light. So check hidden and dark places of your car.
Call a professional. If you are in doubt, you can take the car to your mechanic and have him inspect it. there could be some compartments in your vehicle that you had no idea existed and this is where the tracker could be planted.
Electronic Sweeper. You see them mostly in movies, but truth is that even in real life, they exist. This device can check for radio-frequency transmission and cellular-signal transmission., two of the technologies a GPS tracker relies on to give information. You can use this device to scan the whole of the vehicle thoroughly. If it intercepts signals from the tracker, it will notify you with a buzzing sound.
Check specific parts of the car. This includes the bumper and the fender, the roof of the vehicle, the wheel, the bonnet, the engine compartment, the dashboard, under the seat, the trunk and the wheel.
Conclusion
Now you understand that you can have a noiseless GPS tracker and explore all of its functionality. In the event that you find a tracker in your car that you didn't place there, even if you do a thorough check and find it, do not hesitate to contact the police.